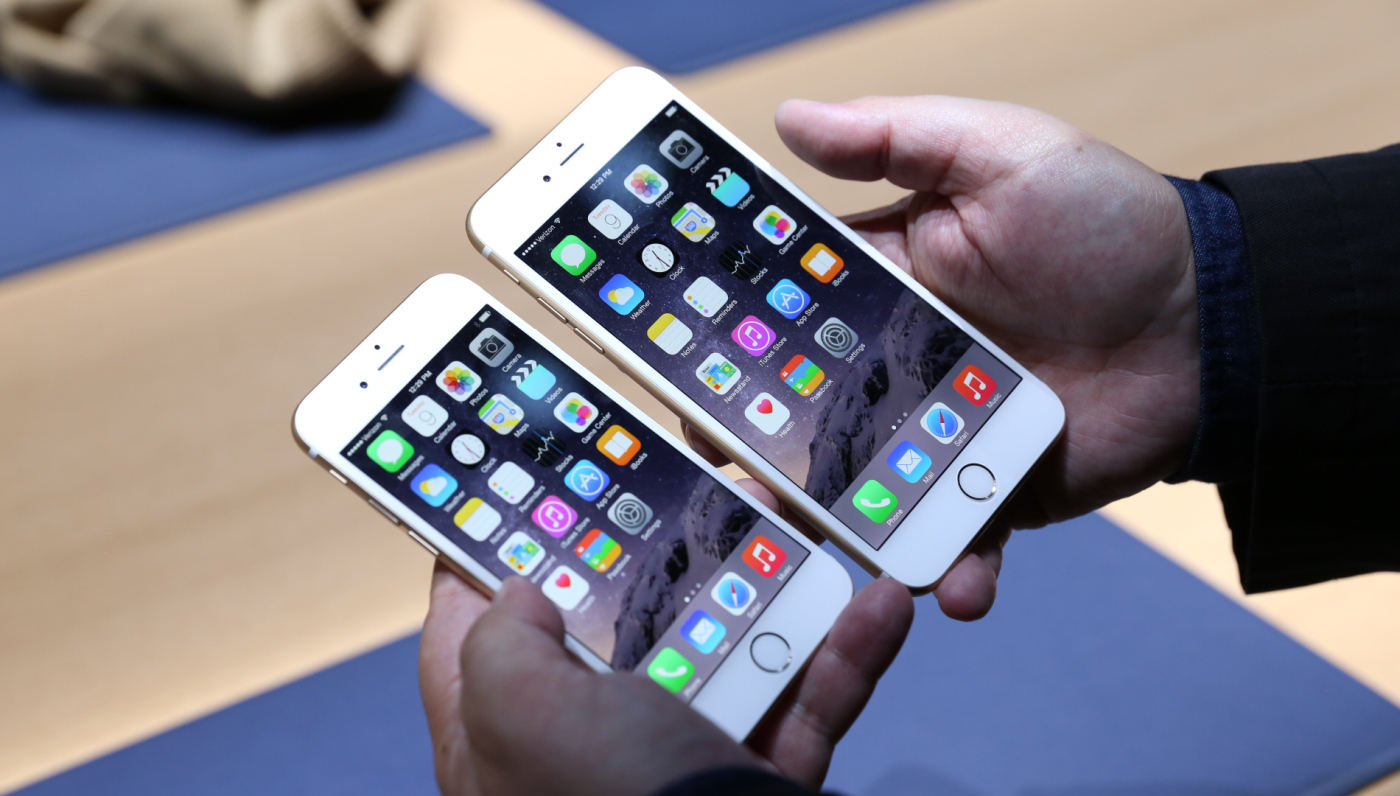 When Apple announced the iPhone 6 Plus, it never once said the word "phablet".
That's good, because phablet is a stupid word. Nevertheless, it's the only word we really use to describe phones larger than 5 inches. "Mega-phone" was already taken.
So who wins this year's phablet wars? Today, I'm putting the two biggest flagships head-to-head to help you decide which big-phone is right for you.
Display
For the first time in Apple's history, the company has created a full HD smartphone. Here's how the specs break down:
iPhone 6 Plus: 5.5-inch LED-backlit IPS LCD screen with 1080×1920 resolution (401ppi). The display is "shatter proof" and features an oleophobic coating (repels the oil on your fingertips)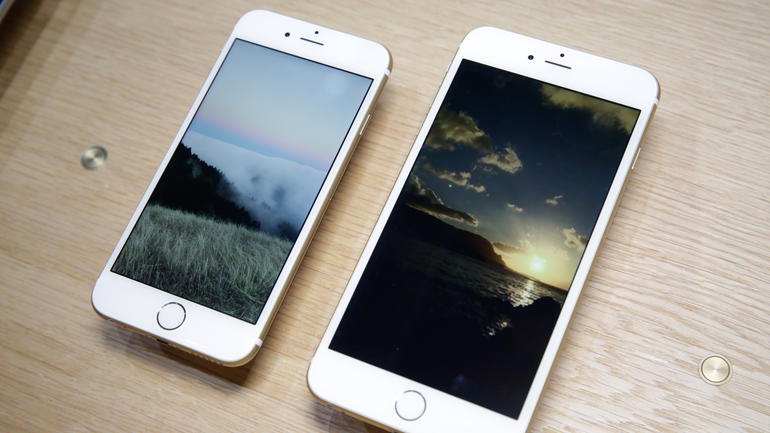 Galaxy Note 4: 5.7-inch Super AMOLED display with Quad HD (1440×2560) resolution (515ppi). Features Gorilla Glass 3 protection.
This category isn't really close. In fact, the iPhone 6 Plus is more similar to last year's Note 3, which featured a 1080×1920 screen with 386ppi. This year, the Note 4 has a significantly higher resolution along with a significantly higher pixel density, both of which result in a noticeably improved appearance.
Winner: Note 4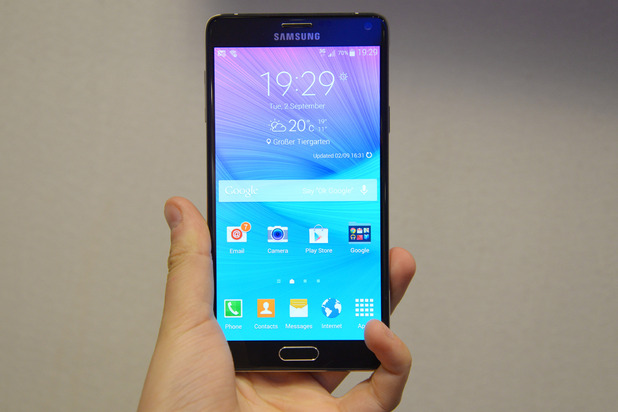 Processor
This category is difficult to compare because the iPhone 6 Plus and Note 4 use totally different processors. While the iPhone 6 has 64-bit processors (like the iPhone 5), it's only dual-core and tends to perform below the Galaxy Note 4's quad core chipset.
iPhone 6 Plus: A8 SoC processor with dual-core 1.4GHz Cyclone CPU and a PowerVR GX6650 GPU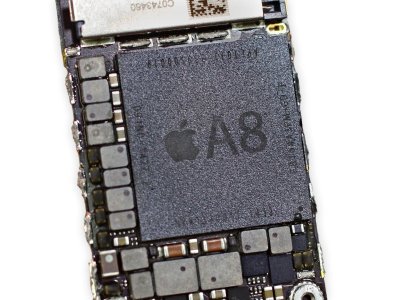 Galaxy Note 4: Snapdragon 805 SoC with quad-core 2.7GHz Krait 450 CPU and an Adreno 420 GPU
This category is difficult to judge for a number of reasons. Based on tech specs alone, it's easy to give this category to the Note 4. But Apple heavily optimizes its processors, which can lead to impressive benchmark scores.
So far, however, the iPhone 6 Plus's benchmarks show limited improvements over the iPhone 5. In Basemark X, for example, the iPhone 6 scored 21204.26 – only a slight improvement over the iPhone 5 (the iPhone 6 has the same processor as the iPhone 6 Plus).
Galaxy Note 4 Basemark X tests have not yet been performed, but the Galaxy S5 scored an impressive 23501.52 using a Snapdragon 801 processor – so you can expect the Note 4 to beat that impressive mark.
Winner: Note 4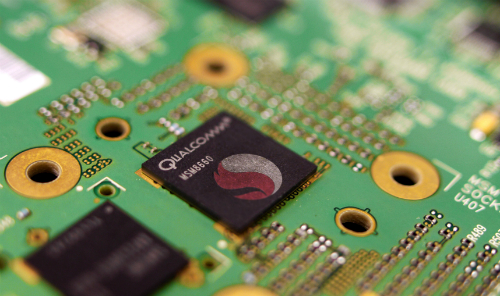 Camera
The iPhone 6 Plus is a mixed bag when it comes to cameras. On the one hand, it features the same 8MP sensor as the iPhone 5, but on the other hand, Apple has also added optical image stabilization (OIS) and other features that provide impressive photo quality.
iPhone 6 Plus: iSight primary camera with 8MP sensor and OIS, dual-LED flash, phase detection autofocus, 1/3" sensor size, geo-tagging, HDR panorama, HDR photo, and 1080p@60fps video recording. 2MP front-facing camera.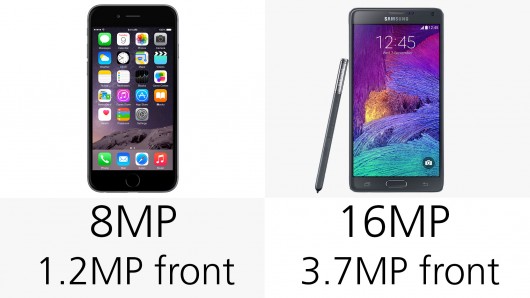 Galaxy Note 4: 16MP primary camera with OIS, phase detection autofocus, and LED flash. Geo-tagging, HDR, image stabilization, face and smile detection, and 4K video support. 3.7MP front-facing camera with "wide-selfie" feature.
Megapixels don't tell the whole story. If they did, then the Note 4's camera would be twice as good as the iPhone 6 Plus's camera. Nevertheless, the Note 4 has all the killer features of the iPhone 6 Plus camera – like OIS – along with an excellent front-facing camera for taking those all-important selfies. This round goes to the Note 4.
Winner: Note 4
Memory and storage space
When it comes to on-board storage space, the iPhone 6 Plus beats the Note 4 due to its variety of options.
iPhone 6: 16GB, 64GB, and 128GB models available
Note 4: 32GB option available
However, you can add up to 128GB of storage with a microSD card for a total of 160GB of storage. 128GB microSD cards cost about $100 these days. So if you add a massive microSD card onto your order, you'll still be spending less than you would on an iPhone 6 with 128GB of storage (plus, you'll have more storage).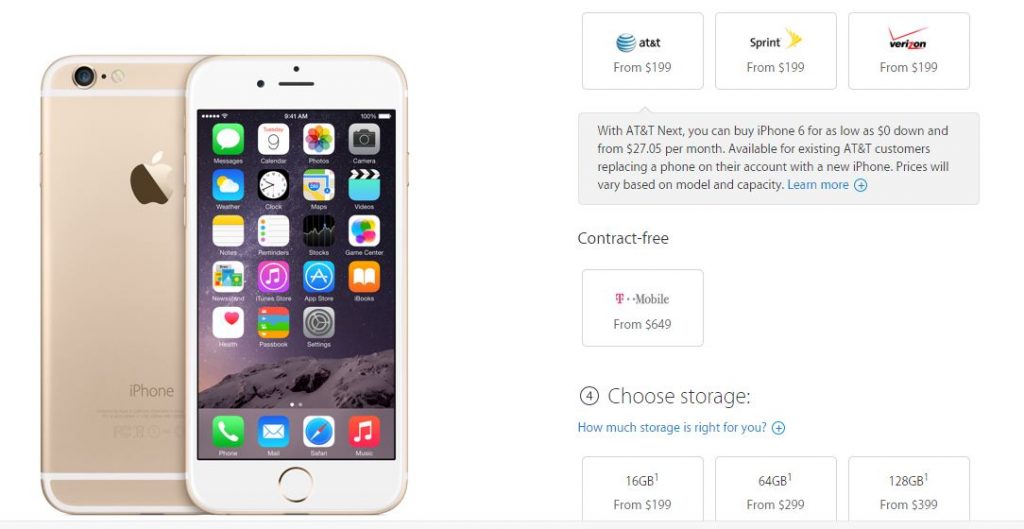 It seems weird that the iPhone 6 Plus has just 1GB of RAM. Most phones made since 2012 have had 1GB of RAM. But RAM doesn't tell the whole story about the iPhone 6 Plus's performance because iOS and Android are two different operating systems.
Still, 1GB of RAM doesn't provide too much wiggle room for multi-tasking – especially since today's apps are more performance-intensive than ever before. With 3GB of RAM, the Note 4 is simply the best multi-tasking phone out there today.
Winner: Note 4
Battery life
Battery life has been a contentious factor among iPhone users over the past few years. The iPhone 4 and iPhone 5 have become notorious for their battery life issues.
The main problem is that battery life doesn't sequentially drop. It will suddenly go from 12% to 0%, for example, and once you're below 40% battery life, your phone will randomly shut off if you try to open a battery-intensive app.
Apple – in its usual fashion – did not release specs for its iPhone 6 Plus battery. But thankfully, the folks at iFixIt tore the new phone apart to discover what was inside. Here's what they found:
iPhone 6 Plus: 2915 mAh battery size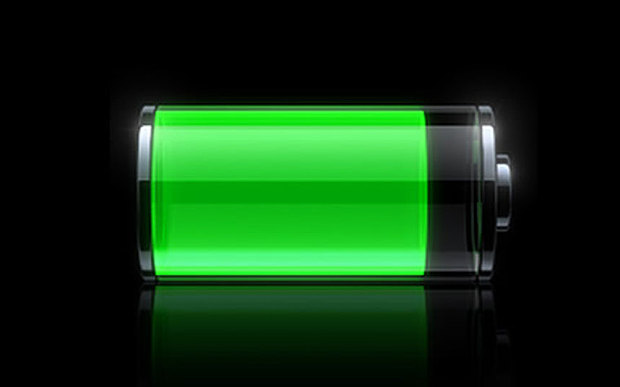 Galaxy Note 4: 3220mAh battery size
The iPhone 6 has a battery size of 1810, which makes the iPhone 6 Plus's battery seem massive in comparison. But when compared to modern Androids with larger screens, the iPhone 6 Plus is at the back of the pack.
The Note 4 also has a feature called "Adaptive Fast Charging" which lets you charge the phone to 50% battery from 0% in under 30 minutes. Plus, of course, the battery is removable.
Of course, none of this really matters yet because no conclusive battery tests have been done on either the iPhone 6 Plus or the Note 4 – yet. We don't want to jump to conclusions, but the Note 3 had a sizable advantage over the iPhone 5. It lasted over an hour longer than the iPhone 5S despite having a significantly larger screen.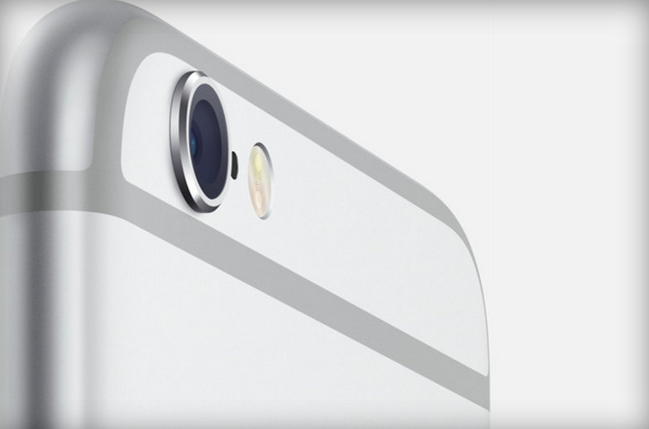 Winner: Inconclusive until more battery tests are done
Design and dimensions
The iPhone 6 looks remarkably similar to every iPhone ever made before. However, the changes that Apple has made have made it worse.
First, we have the awkwardly placed camera which sticks out from the back (Apple is so embarrassed of this problem that it uses deceptive marketing to hide this feature), which ruins the iPhone's sleek and seamless appearance.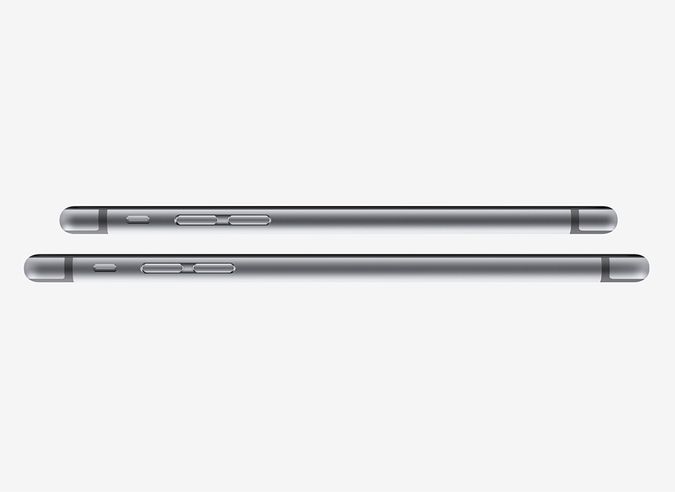 Next, Apple hasn't done anything to narrow its bezels – which are still larger than most modern smartphones. Ultimately, it makes the iPhone 6 look like the same iPhone you've been using since 2008 – just on a bigger scale.
The Note 4, on the other hand, offers minor improvements over previous Samsung devices. The Note 4 features sharp edges and rounded corners with a faux-leather back that replaces the cheap plastic feel of previous Galaxy smartphones.
But the real improvement with the Note 4 is its real metal frame which goes all the way around the edges of the phone.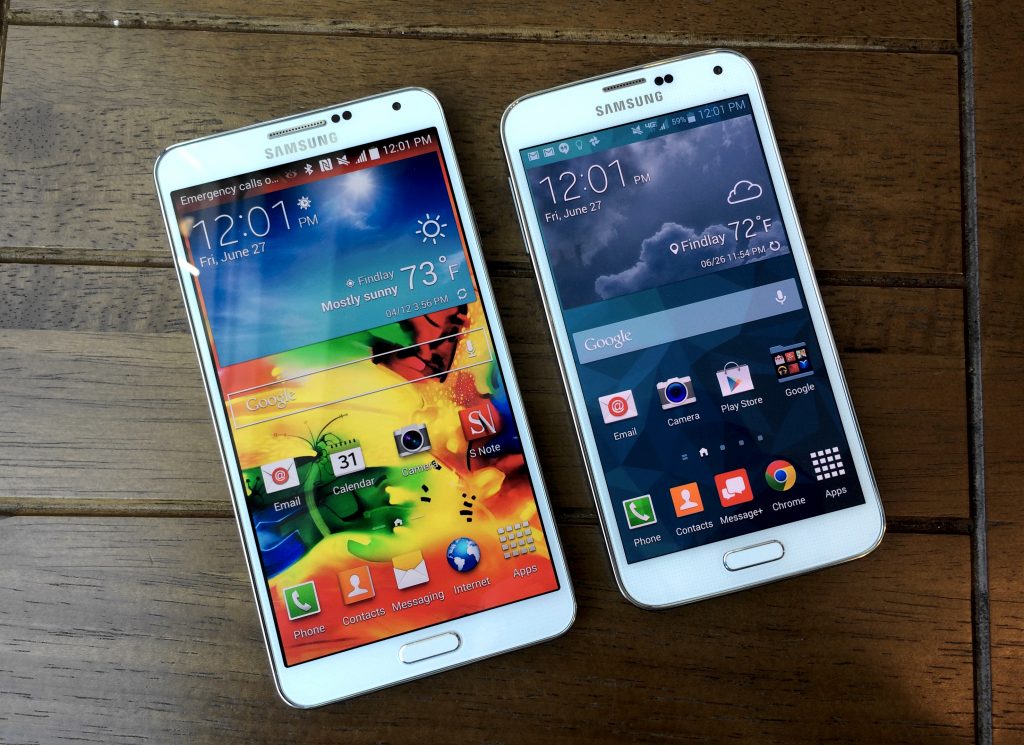 Still, the iPhone 6 is (slightly) thinner and lighter than the Note 4. This makes it (slightly) easier and more comfortable to hold in your hand.
This is another hugely subjective category. But if you care about things like the look, feel, and "elegance" of your smartphone, then the iPhone 6 Plus is your best option here.
Winner: iPhone 6 Plus
Operating system
I'm going to leave this category up to you to decide. It's the most subjective category on this list. iOS8 is a decent operating system, and Samsung's TouchWiz skin applied over Android 4.4.4 is pretty good too.
Both operating systems have their complaints.
On iOS8, many people strongly dislike the lack of customization options and the inability to add widgets or other info to your homescreens.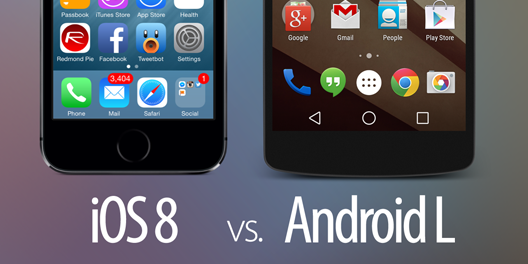 On Samsung's TouchWiz, many people dislike the occasionally-sluggish performance (although that's gotten much better in recent versions of the OS).
Both operating systems now have widgets – although iOS8's widgets only appear in the notification center.
As someone who has used both OSes, I prefer the Galax Note 4's OS. But this one comes down to personal preference.
Winner: It's up to you
Pricing
Most people do not buy high-end phablets off-contract. So we might as well compare the on-contract price of these phones.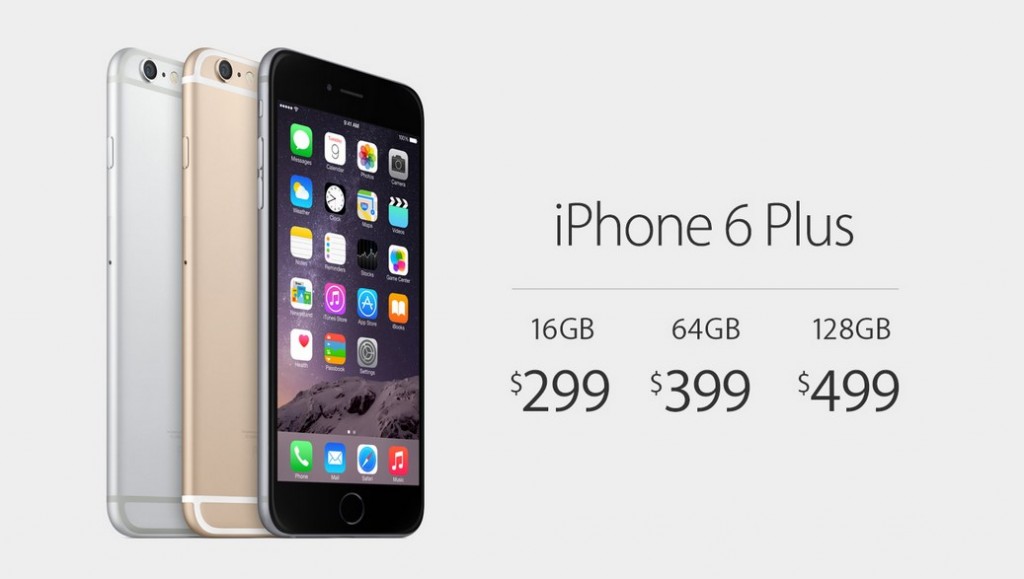 iPhone 6 Plus on a two-year contract: $299 (16GB), $399 (32GB), $499 (128GB)
Samsung Galaxy Note 4 on a two-year contract: $299 (32GB)
The cheapest iPhone 6 Plus has the same price as a Galaxy Note 4 and half as much storage space. This category is difficult to decide, since the Note 4 is one of the most expensive Androids ever released. Still, if you're on a tight budget, we have to give this category to the Note 4 – especially since you can add more storage any time you want simply by buying an SD card (or using an existing SD card).
Winner: Galaxy Note 4
Conclusion: The Note 4 Wins
I can't tell you which phone is right for you. But I can tell you that the Note 4 wins this comparison by a total of 5 categories to 1 for the iPhone 6 Plus (with two categories, OS and battery life, tied/up for debate).
The Note 4 wins because of its higher resolution screen, its vastly superior camera, and its incredibly powerful processor. It also offers a greater range of storage options and more connectivity features (unlocked NFC as well as an infrared port).
If you're going to buy one phablet in 2014, make it the Note 4.