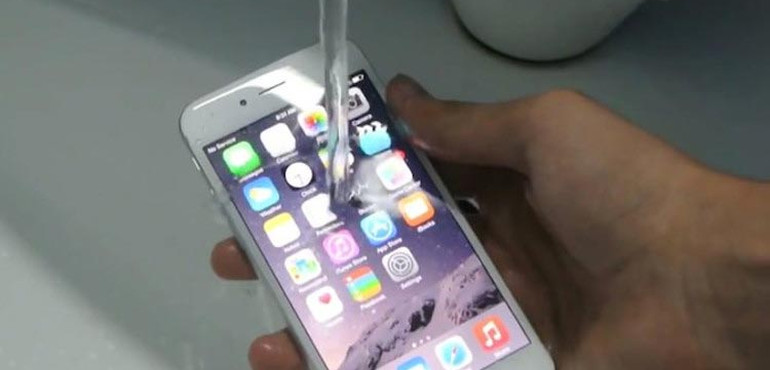 If Android has a unique feature, it's only a matter of time before it arrives on the iPhone – and vice versa.
Such is the case with the new iPhone 7. According to the latest rumors, the iPhone 7 will be waterproof (not just water-resistant).
This rumor comes from a more official source than usual: Fresh Patents spotted a patent application from Apple, published by the US Patent and Trademark Office, that describes a new waterproof technology that could be used on smartphones.
It's unclear if that patent is related to the upcoming iPhone 7 or if it's being planned for future iPhone releases.
The iPhone 7 Could Have Wet, Working Speakers
The patent specifically covers a technology with a membrane using at least one waterproof, elastic material as well as a supporting structure.
Here's how the patent words it:
"The membrane may include an outer surface, an inner surface, and at least one inwardly-extending region that is indented toward the inner surface.
"The supporting structure may be coupled to the membrane and include a support structure that mates with the concave region of the membrane when the speaker is subjected to a hydrostatic load.
"In various implementations, the support structure may be shaped to correspond with a shape of the concave region. In this way, the membrane may be resistant to tearing or rupture due to hydrostatic load."
The device won't be totally waterproof at all depths: according to the patent, the device will only be waterproof to a certain limit. The patent even explains that devices labeled as "waterproof" aren't waterproof up to all depths. In order to be called waterproof, devices must prove they allow no ingress of water up to 12 feet in depth. That's it.
Will It Be Ready In Time for the iPhone 7?
Basically, we know that Apple has created some type of waterproofing technology that could potentially be used on iPhones and iPads in the future. What we don't know is whether it's a fully-fledged technology launching on the iPhone 7 – or if it's being planned for some future Apple release.
The iPhone 7 will be announced in September. We may have to wait until then to find out further details about the iPhone 7.