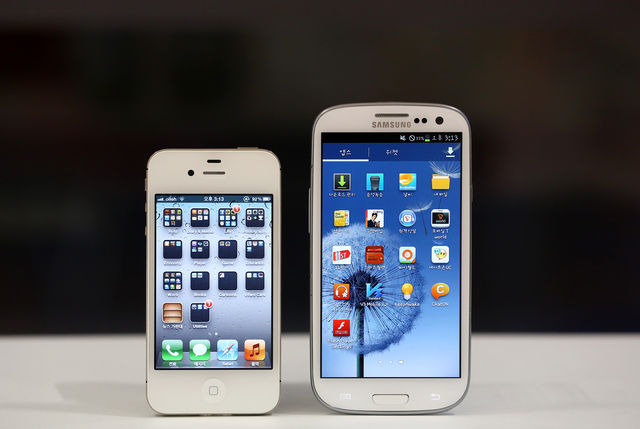 The latest Kantar World Panel market share statistics have been released and they indicate some surprising results.
It's no secret that Android is the most popular operating system in Europe and most developed countries outside of the United States. That fact was easily seen on these latest results.
But here's where things get surprising: iPhone sales experienced a huge drop in the United States, which has traditionally been a bastion for iOS sales and a huge haven of iPhone ownership.
Specifically, iPhone sales dropped 6.8% in the United States year-over-year from April 2013 to April 2014. In April 2013, iPhone owned 41.4% of all smartphone sales in the United States, and in April 2014, the iPhone owned 34.6%.
Meanwhile, Android gained huge market share, rising from 51.8% to 59.1% over the same period, a change of 7.3%.
These were the most significant changes across the board, as most parts of Europe experienced small growth for Android and small losses for the iPhone. China experienced the largest increase in Android sales, reporting an increase of 7.9% compared to a loss of 6.2% for the iPhone: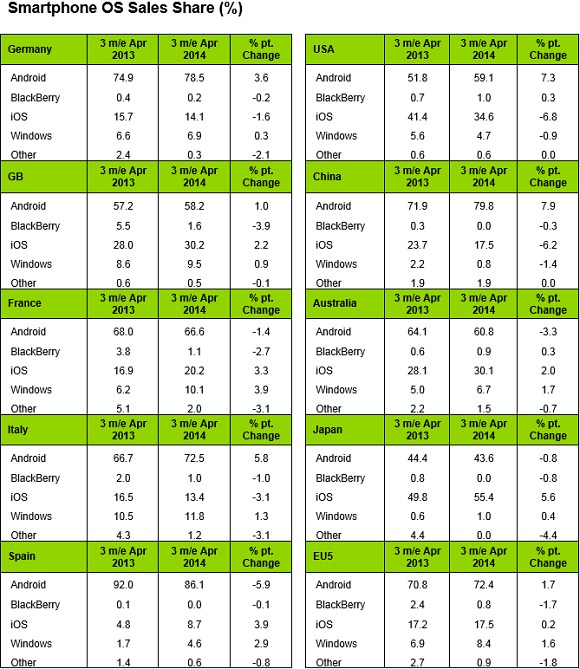 As you can see in the above reports, the numbers got really ugly for Blackberry between April 2013 and April 2014. Blackberry sales share dropped below 1% in many markets around the world, including the United States (1.0), Germany (0.2) and Japan (0.0). Windows Phone sales grew in all measured markets except China (-1.4) and the United States (-0.9).
Germany and Spain continue to lead the way for Android sales. 86.1% of all smartphones sold in Spain are Androids and 78.5% in Germany. China also boasts a commanding 79.8% sales share for Android.
Flagging iPhone sales have been caused by lack of recent innovation. The iPhone 5S made impressive sales but failed to convert many smartphone buyers. Apple will be depending heavily on the iPhone 6 to turn these numbers around. The iPhone 6 is expected to arrive in September 2014.