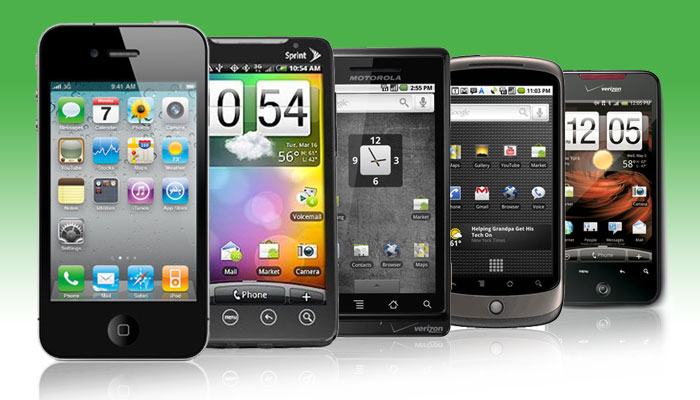 Android's meteoric climb to the top over the last few years has been exciting to watch. Almost every country in the world enjoys a majority Android market share. But there's one country where Android is still struggling to get past its biggest competitor, and that country is the United States.
The iPhone's special place in American consumers' hearts was on full display this past week as a market research company released its choices for "Consumer Electronics Buying Intentions in the US for 2013".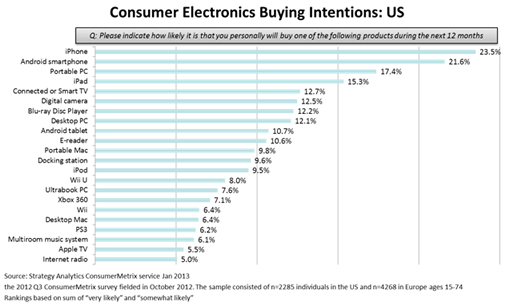 The list is basically a wish list for every popular piece of consumer electronics on the market today. It provides a good cross-section of what people want to buy. Consumers are asked the following question:
"Please indicate how likely it is that you personally will buy one of the following products during the next 12 months."
According to the study, the average consumer has a 23.5% likelihood of buying an iPhone, or about 1 in every 4 American consumers will buy an iPhone this year.
Meanwhile, Android lags behind at 21.6%, followed by portable PCs (17.4%), the iPad (15.3%), and a Smart TV (12.7%). After that, it's a slew of desktops, laptops, gaming consoles, and TVs crowding up the bottom of the chart.
The study was performed by a company called Strategy Analytics, which sounds like a madeup name. But they're a real company.
In short, it looks like Android still has some work to do if it wants to move back on top of mobile market share in the United States. Judging by this most recent report, Americans aren't falling out of love with the iPhone any time soon.
There's still hope, Android fans
It's not all bad news for Android fans. At 21.6%, "Android smartphone" trails in a close second to Apple's 23.5% with the iPhone. Meanwhile, Apple's products compete fairly evenly with the PC market as you go down the list, which is good news for those Android fans who particularly despise Apple.
Unfortunately, Strategy Analytics didn't perform this study in 2012, so we don't know how far consumers' intentions have shifted away from the iPhone and towards Android. But I'd be willing to bet that there was a slide in iPhone % on the wish list and a rise in Android's share – and I think that trend will continue unless Apple absolutely blows its competition out of the water with the inevitable release of the iPhone 6.