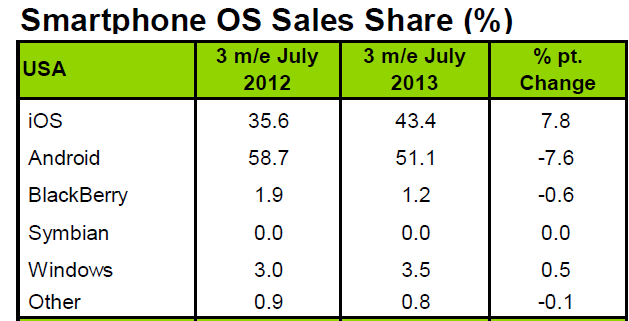 iOS and Android have an unshakeable grip on the smartphone industry. However, Windows Phone continues to chip away at the dominance of the two smartphone giants according to the latest market share numbers.
Kantar World Panel recently revealed market share data for the American and European smartphone markets. The European market share data was most surprising, but here are the highlights from the US market share data first:
-Windows Phone made for 3.5% of all smartphone sales in the 3 months leading up to July 2013, a rise of 0.5 points from the year before
-iOS rose 7.8% year over year to account for 43.4% of all smartphone sales
-Android fell from 58.7% of all sales to 51.1% of US sales
-BlackBerry dropped from 1.9% of all sales to a pathetic 1.2% of all smartphone sales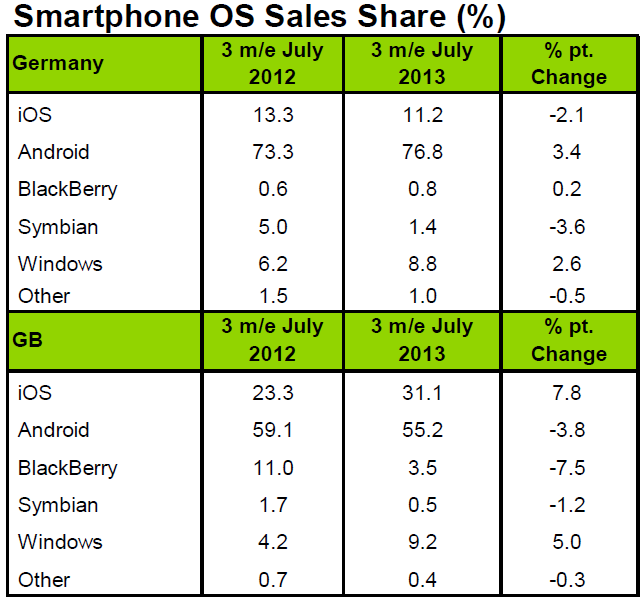 Kantar World Panel also revealed its market share data in Europe for the three months leading up to July 2013, and they illustrate some surprising trends. Here are the most important facts from that report:
-Windows Phone 8 made up 8.2% of smartphone sales across the UK, France, Germany, Italy, and Spain in the three months to July 2013
-iOS accounted for 17.9% of smartphone sales during that time period, which was a rise from 14.8% last year
-Android accounted for 69.1% of smartphone sales, which was a rise from 66.2% from last year
-Blackberry accounted for a dismal 2.4% of European smartphone sales, a fall from 6.7% the year before
Interestingly enough, Windows Phone 8 sales are not fuelled by iOS and Android users who are making the switch. Instead, they're fuelled by low-cost Nokia Windows Phones like the Lumia 520 which sell for about 60 in the UK on a plan.
The Lumia 520 apparently hits a sweet spot for price, affordability, and quality and is popular among first-time smartphone buyers looking for their first phone.