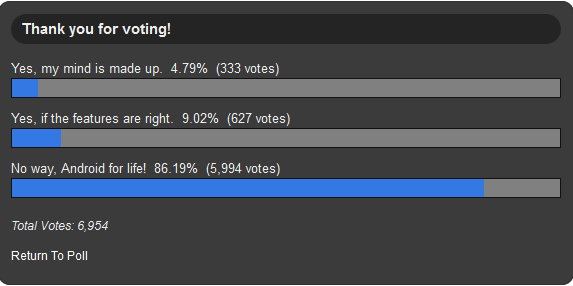 It's Wednesday, September 12, and even the most hard-core Android fan blogs need to talk about the biggest industry news of the day – the announcement of the iPhone 5.
We're not going to bore you with details of the iPhone 5, but the full spec sheet and information breakdown can be found here. It's not much different than the iPhone 4 or iPhone 4s, but Apple's main fanbase doesn't seem to care about things like that, and the iPhone 5 will probably break sales figures regardless of what kind of changes have been made to it.
Here are the most noticeable advantages that the iPhone 5 has over its predecessors:
-Largest iPhone screen yet (4 inches, which is still nearly a full inch smaller than the S III's 4.8-inch screen)
-Price of $199 for basic 16GB model
-Slimmer than previous iPhones
-Access to 4G LTE networks
-1080p video recording
Sure, the iPhone 5 looks like a cool smartphone. But will Android users jump ship and move to the iPhone 5? According to a Phandroid poll released today, Android users aren't too impressed with the iPhone 5 thus far. With approximately 7,000 votes counted, 86.2% of voters say they will not even consider switching to the iPhone 5. Meanwhile, 9% of voters said they'd only switch if the features were "just right" and 4.8% of voters said they were committed to switching to the iPhone 5 from Android no matter what.
If Apple's goal with the iPhone 5 was to draw users away from the popular Android operating system, then it doesn't look like they succeeded. With iOS's market share dropping a few percentage points over the last year, it will be interesting to see what kind of market share iOS holds by the end of the year, when the iPhone 5 has had a chance to hit the markets.
Where do you stand on the issue? Are you impressed by the iPhone 5? Is the larger screen enough to make you switch away from devices like the Samsung Galaxy S III? Or are you happy to stay with Android? Let us know in the comments below!