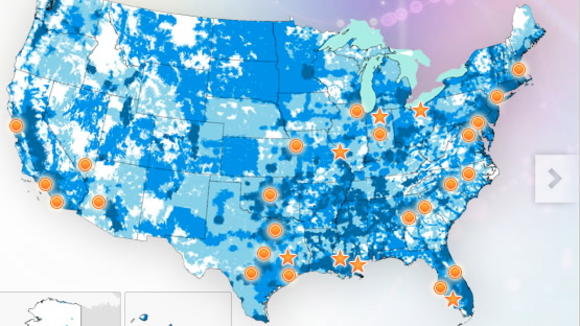 What's the point of owning a high end Android smartphone if you don't use the fastest mobile network? America is home to a handful of major providers and each one offers different speeds throughout the country.
In some parts of the country, AT&T reigns supreme. In others parts, Verizon is better. Fortunately, to help mobile users sort through all this information, PCMag.com decided to compile detailed statistics on mobile speed throughout the country, including speeds on the latest 4G LTE networks and the older 3G networks.
The full results of the test can be found here. Those results include a map that you can simply click on to select your city. Most major cities are covered, although there are still large swaths of the map where results were not studied, including Idaho, Montana, Wyoming, North/South Dakota, Wisconsin, and a handful of southern states.
How testing worked
Instead of asking a bunch of mobile fans to provide subjective data on how fast they thought their mobile networks were, PCMag actually hit the road and traveled throughout the US using powerful mobile network testing software.
-Phones were loaded into a car while constantly charging
-The testing software (called Sensorly) sent out a ping every three minutes to test network latency, multi-threaded HTTP upload, and download tests and other measures
-The final speed score is an amalgam of measurements, with the most weight being given to HTTP download speed followed by HTTP upload speed, web page download speed, and HTTP download time to first byte.
The results
Fastest mobile network in the Northeast: AT&T 4G LTE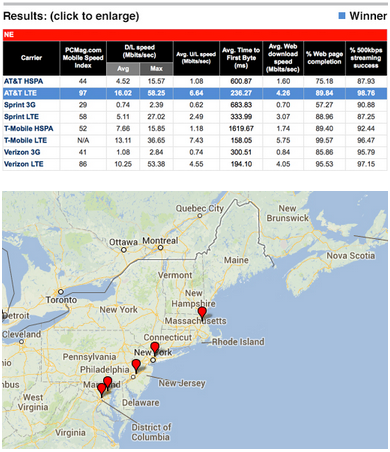 Fastest mobile network in the Southeast: AT&T 4G LTE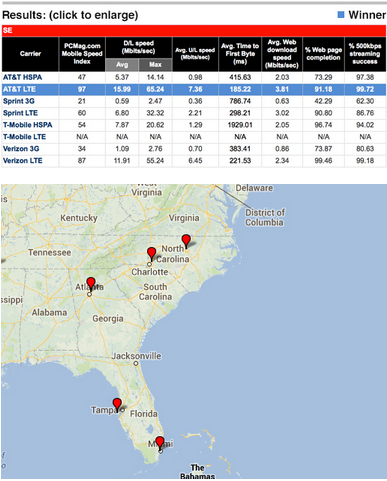 Fastest mobile network in the North Central region: AT&T 4G LTE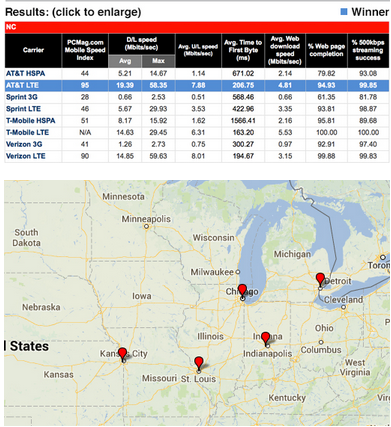 Fastest mobile network in the South Central region: AT&T 4G LTE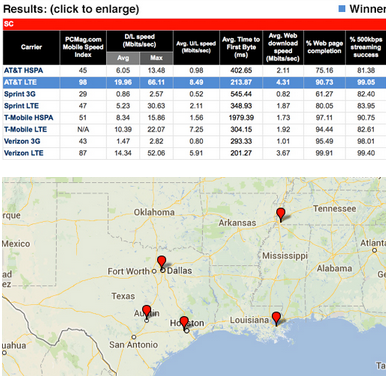 Fastest mobile network in the Northwest: AT&T 4G LTE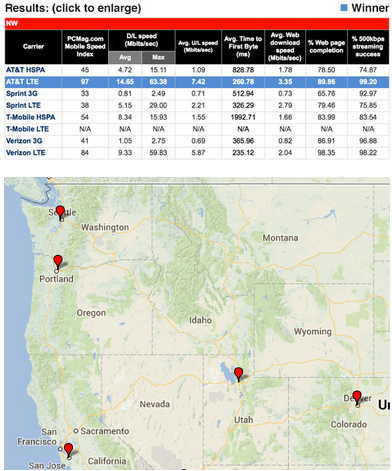 Fastest mobile network in the Southwest: AT&T 4G LTE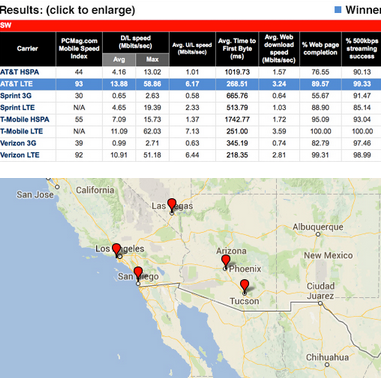 Best coverage in rural and suburban areas nationwide: Verizon 4G LTE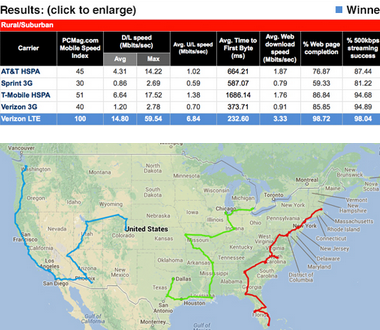 So clearly, AT&T knows how to make good 4G LTE networks. But Verizon knows how to best cover the nation. If you're looking for the best mobile network in a big city, then AT&T 4G LTE is the obvious choice. But if you spend a lot of time outside of cities, then you'll want Verizon 4G LTE.
It's also important to note that AT&T 4G LTE was only slightly faster than other networks in some areas. And in rural areas, both the speed and coverage of Verizon routinely trumped AT&T.
Verizon was also equal to or faster than AT&T in specific cities, including Detroit, Houston, Dallas, and Los Angeles.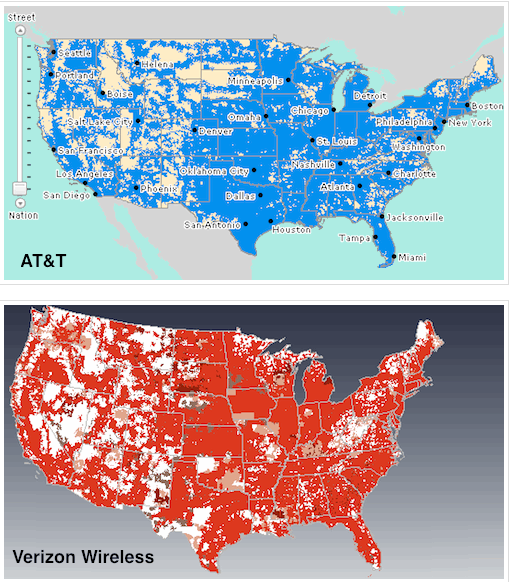 Meanwhile, T-Mobile's LTE network was fastest in a couple of cities, including Seattle, San Jose, and Phoenix. But the coverage wasn't enough to win any regions.
Unique carrier traits
Aside from some networks being faster and others being slower, PCMag's testing revealed other unique traits about each carrier:
AT&T: Fastest LTE network in the country in most major cities. Tends to deliver the first byte of a webpage more promptly than other networks.
Sprint: Only recently upgraded its network to LTE, although coverage tends to be spotty in many cities and speeds lag behind those offered by AT&T and Verizon. Sprint's 3G network – which used to be notoriously awful – was also upgraded to provide modest speed boosts.
T-Mobile: T-Mobile's HSPA+ network delivers excellent download speeds, but this speed is negated by the fact that it takes a long time for phones to "negotiate the connection" with the network, which in other words refers to the "time to first byte"
Verizon Wireless: A master of coverage and reliability, Verizon lives up to its promise as the only true nationwide LTE network. Verizon's LTE network can be slightly slower than AT&T's, but its coverage area and other perks – like high consumer satisfaction – make it the number one choice for mobile users across the country.
If you want to learn more about the testing methods and results, check out the full PCMag.com writeup here.