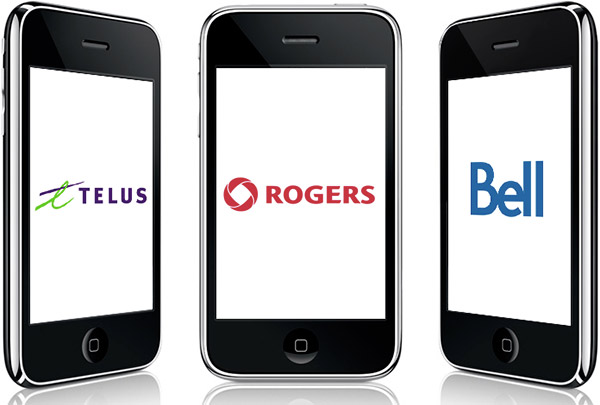 Talk to any Canadian and they'll tell you how awful our mobile networks are here in Canada.
We pay way too much for way too little. We say things like "Telus sucks" or "Rogers screwed me over once" or "I don't get cell coverage at my cabin with Bell."
And it's all because our networks are dominated by the infamous "big three", which are Rogers, Telus, and Bell.
Together, those three companies account for a total of about 25.2 million customers across the country:

The next most popular company is Wind, with 702,000 subscribers, followed by Sasktel, Videotron, and MTS.
To put that number in perspective, it's estimated that 90% of wireless users are subscribed to Bell, Rogers, or Telus.
Oh, you have other options. But anti-competitive tactics – like last year's ridiculous campaign against United States telecom providers marketing to Canadians – frustrate companies. And of course, many smaller providers – like Koodo – are simply subsidiaries of larger companies like Telus.
But the truth is, Canadians do have pretty good network speeds. We just pay a little too much for them because of the whole oligopoly thing. I'm not going to through around a word like "price fixing", but I mean…
If you ignore pricing for a minute, we Canadians enjoy faster average mobile speeds than Americans. The main problem is that we can't enjoy those speeds because of strict data caps.
Today, I'm going to share the results of a recent study with you. Here's what you need to know about the fastest networks in Canada:
The study
PCMag.com launched a study comparing network providers across the country. PCMag literally drove across Canada and visited major cities across the country. While in the big cities, PCMag took 20 samples across the central city as well as its suburbs. In smaller cities, PCMag took 8 to 10 samples.
The search wasn't confined to urban areas. It also measured speeds on certain major highways, like Autoroutes 40 and 50 between Ottawa, Montreal, and Quebec City.
PCMag actually does this every year in both Canada and the United States. This is the fifth year they've launched the study in Canada.
How they tested
PCMag focused on "speed and reliability". It did not test call quality, dropped calls, or overall coverage.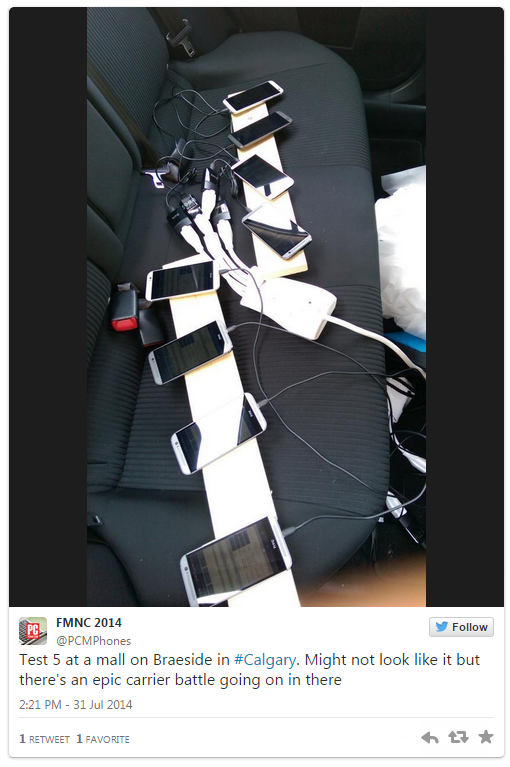 Each area and carrier received a "speed score." This speed score was a weighted average consisting of 70% download speed and 30% network reliability. Specific aspects of the score included:
-HTTP download speed (20 percent)
Percentage of downloads above "good" threshold speed (10 percent)
HTTP upload speed (10 percent)
Percentage of uploads above "good" threshold speed (10 percent)
Webpage download speed (10 percent)
HTTP download time to first byte (10 percent)
Successful webpage completion in 30 seconds (30 percent)
Where they tested
PCMag went everywhere. Well, just about everywhere. Not only did they visit every major city in Canada, but they visited multiple suburbs throughout those cities.
In fact, looking through the tests, I see that PCMag drove right past my house and did one mobile test just down the street. That's pretty cool.
What they found
These two images sum up wireless performance across the nation: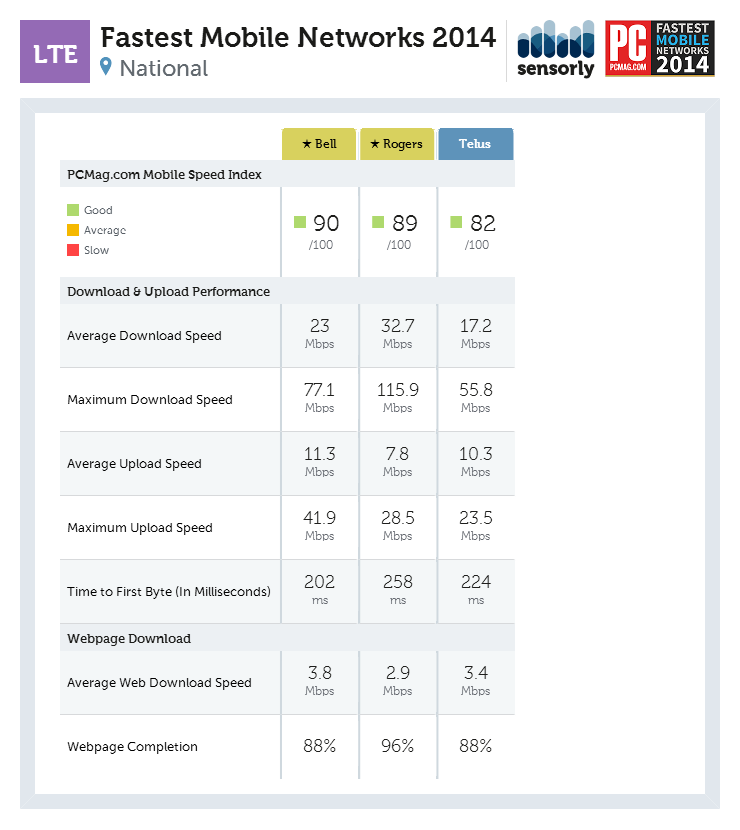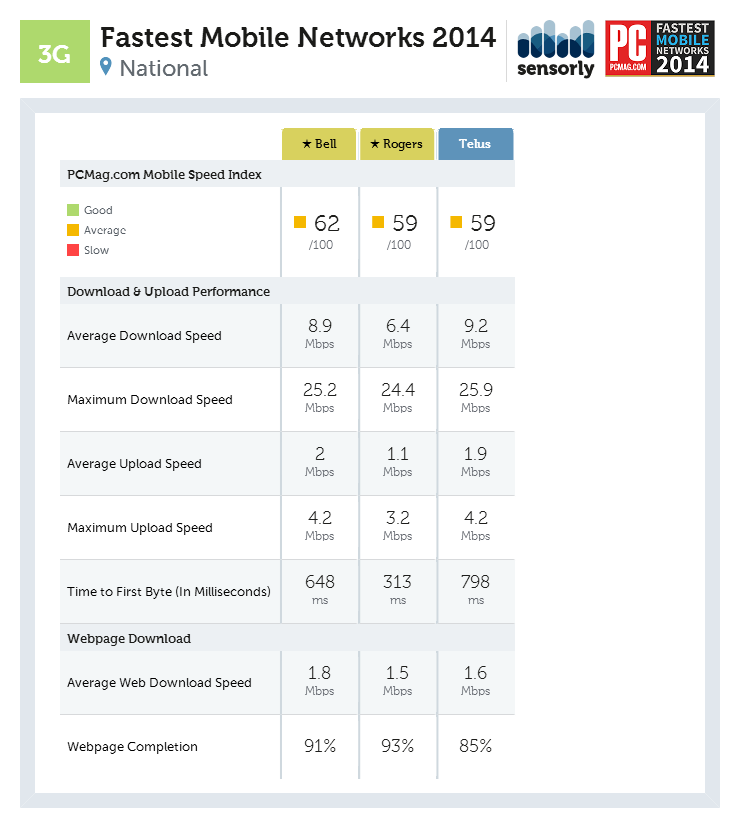 Key points from the study include:
-For the first time in five years of fastest mobile network in testing, PCMag had a national-level tie. Bell and Rogers tied for the fastest networks in Canada
-Rogers was the fastest in Quebec and Vancouver, while Bell dominated southern Ontario as well as Calgary and Edmonton
-Eastlink and MTS, regional carriers for Nova Scotia and Manitoba respectively, were no slouches and displayed competitive speeds in their regional areas
-In Canada, the big three typically offer 2GB data plans for about $90. In the States, Sprint and T-Mobile both offer $45 2GB plans. Even when compared to countries like Australia, Canadians pay more on average.
-Regional carriers are Canada's "best hope" for competition. MTS, Eastlink, and Quebec's Videotron deliver excellent local networks while charging $30 less per month than the big guys. The major problem of course, is that the majority of Canadians can't access these networks.
For more area-specific performance information, check out the full article here. That full article lists pictures of every testing spot – from the downtowns of big cities to the middle of the suburbs. Like I mentioned above, you can basically see my house in one of the photos. So if I want to know the fastest city in my very local area, I can look at this study.
Different carriers have different strengths
Each carrier has different strengths. While they're all pretty equal in speed, you might want to choose a carrier based on their other strengths. PCMag broke those speeds down, saying:
–Rogers "has the fastest download speeds nationwide, thanks to its speedy 2600MHz network in Canada's most-populated cities." Download speeds reached as high as 115Mbps in suburban Vancouver. The main problem with Rogers is its limited data caps, which "prevent Canadians from truly leaning into these breathtaking speeds."
–Telus didn't have the same download speeds as Bell and Rogers. However, it shares a physical network with Bell in most of the country, and Bell doesn't let Telus use its 2600MHz spectrum.
–Bell offers competitive download speeds and strong upload speeds and offers a consistent 4G experience across the country. Bell and Rogers are equal in the east, and Bell is better than Telus in the west.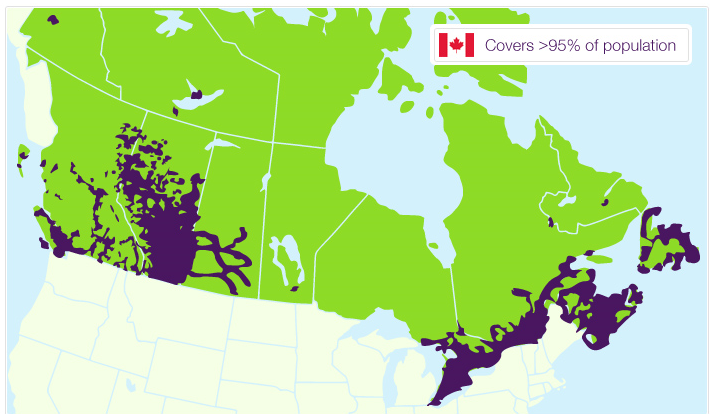 Do we really have it that bad in Canada?
Actually, no.
We pay more than our continent-sharing friends in the States. But we tend to get better, faster coverage. Even rural areas have solid 3G coverage and PCMag summed it up by saying:
"Bell and Rogers, especially, could really teach U.S. carriers how to build urban LTE networks."
One of the most interesting parts of the study was this: suburban Vancouver download speeds reached as high as 115Mbps, which was the "fastest LTE download we've seen in North America, ever."
Of course, one problem with Canada is that we have a lot of rural. If you're like me, and were raised in a town with fewer than 2,000 people, then you probably don't care about speed. You just want a carrier that gives you a signal – who cares about how fast it is?
Nevertheless, carriers are expanding 4G networks every day and coverage maps are constantly growing.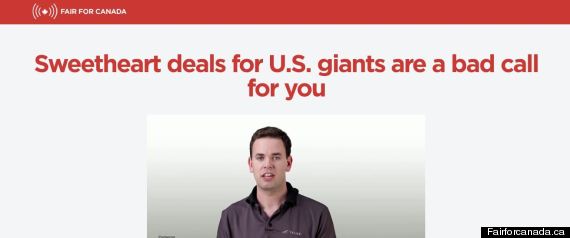 Now if we could just solve the whole "price gouging" and "oligopoly" issue, we'd be one of the best countries in the world for mobile coverage.