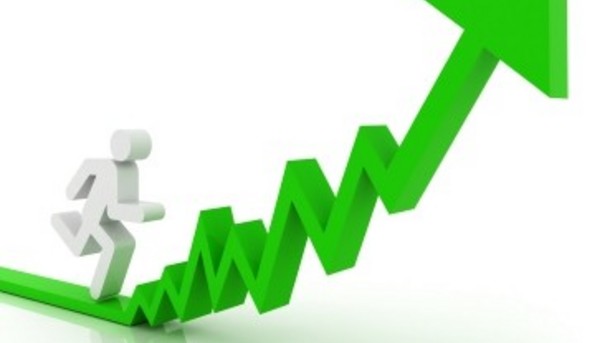 We're 3 months into the year and it's time to look at the latest Android market share numbers. The future is getting brighter and brighter for Android as market share continues to increase across the board.
The latest official market share figures – posted by Google on its Developers website here – show that users have been slow to adopt Android KitKat while Jelly Bean usage has exploded over the past year.
More importantly, the latest sales figures show that Android tablet sales have finally surpassed iPad sales in terms of growth and that Android tablets now have a 60% market share in the tablet industry.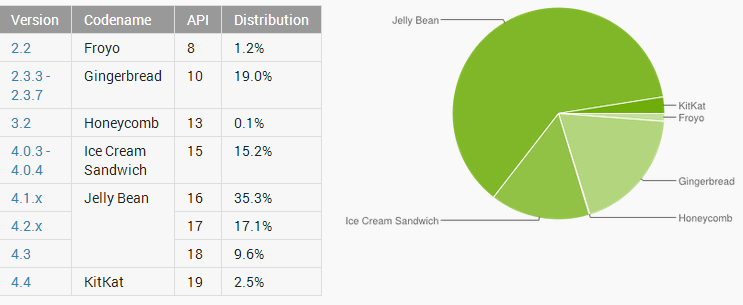 The above data was gathered from the Google Play Store app over a 7 day period which ended on March 3, 2014. Don't forget that the Play Store app only supports Android devices running 2.2 or higher, so devices from before that time are not included (although they likely would not hold more than a 1% to 2% market share.
Here's the interesting facts you should get out of that market share data:
-Android 2.2 is run on just 1.2% of all active Android devices, although Android 2.3 still holds a faily sizable chunk of the market at 19%
-Android 4.x versions – including Ice Cream Sandwich, Jelly Bean, and KitKat – now appear on 79.7% of all active Androids
-KitKat continues to hold a small corner of the market at 2.5% (it's only available on a handful of devices and only one really popular one, the Nexus 5). That number might seem small, but consider this: it was only on 1.8% of all active Android devices in February, which is a pretty sizable month-over-month gain for such a recent release.
-Jelly Bean and KitKat – which run on most Android devices sold over the last 2 years – account for a total of 64.5% of all active devices
Google's regular market share studies do more than just show us operating system information. They also tell us about screen size and other configuration info – stuff that is useful for developers and interesting for users: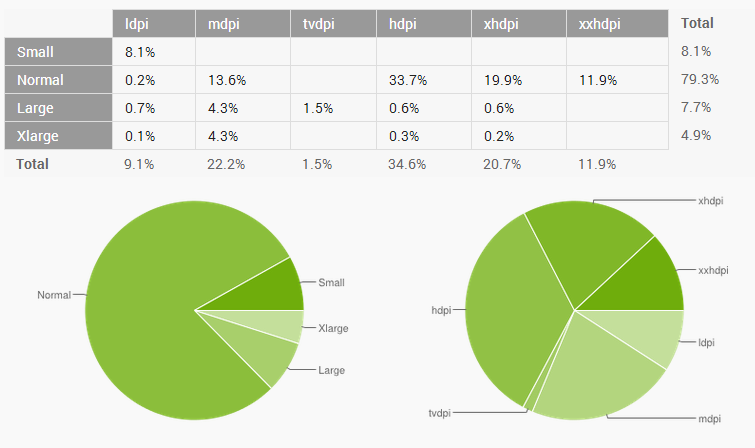 For those who care, the final data set released in Google's study looked at OpenGL. 91.1% of Android users currently use OpenGL ES Version 2.0, while 8.8% use OpenGL ES Version 3.0. A measly 0.1% of all Android users who visited the play store between February 24 and March 3, 2014 were running OpenGL ES Version 1.1.
Android now world's leading tablet operating system
Separate market share data was also recently released – but not by Google. Gartner issued a press release stating the following:
-Tablet sales grew 68% in 2013
-Android accounted for 62% of global tablet sales for a total of 121 million devices sold
-In 2012, Android accounted for 45.8% sales market share while Apple accounted for 52.8%
-In 2013, those numbers showed considerable differences, with Android accounting for 61.9% of global tablet sales and iPads accounting for 36%
-Microsoft's tablet sales grew significantly between 2012 and 2013, more than doubling from 1.0% to 2.1%
-All other tablet sales combined accounted for 0.3% of market sales in 2012 and less than 0.1% of sales in 2013
Android tablet sales were fuelled by the following manufacturers in order of their market share:

Clearly, the "Others" category is a major reason behind Android's success. As a free, open-source operating system, Android is popular with manufacturers of all different sizes. That's why you see Android on everything from kids tablets to underwater diving tablets. It's a customizable operating system that can be edited for all different types of devices.
Apparently, hybrid "ultramobiles" showed particularly strong growth in 2013, turning users away from single-purpose devices like the iPad.
This is great news for Android fans and tablet sales should continue to experience strong growth throughout 2014. The iPad hasn't changed in several years, and unless Apple reveals something groundbreaking at its next unveiling event, the numbers above should continue to rise.