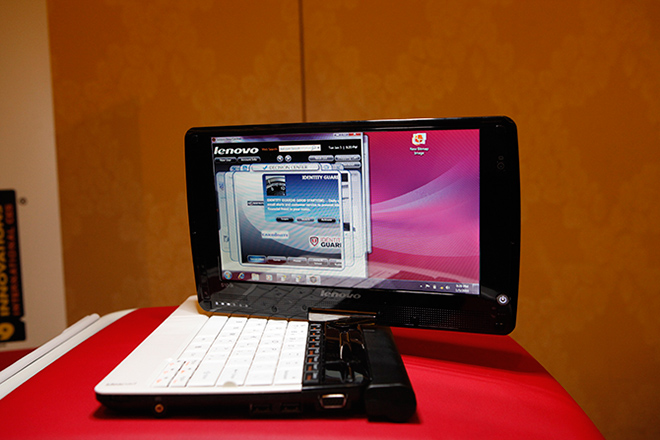 More and more electronics manufacturers are switching to Android from Windows. Lenovo, which is the only PC manufacturer that is actually doing well these days, recently launched its first Android-powered laptop.
The laptop, which is called the A10, is currently only available in the UAE, for whatever reason, and contains a number of unique features that distinguish it from a 'normal' PC laptop:
-10 point multi touch screen
-Weighs just a single kilogram
-The screen can flip 300 degrees around
-1366×768 display on a 10.1-inch screen
-1.5GHz quad core CPU
-1GB of RAM
-16GB internal storage
-Built in keyboard
-Android 4.2 Jelly Bean operating system
Yes, there are PC laptops that contain the features listed above, but the unique Android OS should appeal to a niche group of computer users who want a change from Windows or Mac OS.
The A10 is built specifically for web browsing and "entertainment on the move". Its specs are more similar to that of a smartphone or tablet than a full-fledged laptop, but if you're just using your laptop for basic web browsing and entertainment, then it should be more than enough to get the job done.
Of course, the biggest advantage for Lenovo with the Android-powered laptop may be the fact that they don't have to pay $70+ licensing fees just for the privilege of installing Windows. That's a lot more change in the pockets of Lenovo. Microsoft will surely be hoping against hope that Android laptops don't become a major sales force.