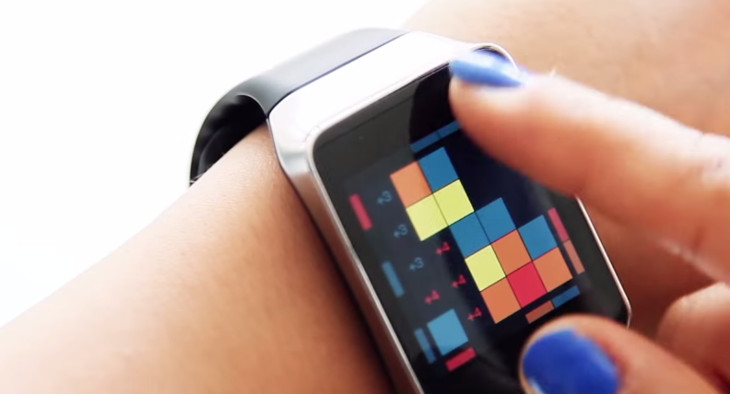 Many users of Android Wear smart watches have loved this gadget for the ultra modern convenience and ease of using it. However, they have been feeling the need to also play games and wanted the luxury of being able to download them from the Google Play apps market.
Finally, they can now have that facility, with one of the developers Unit 9 Games coming out with Swip 3. This is the very first one that has been designed purely for Android Wear smart watches. Now it does not matter which of these timepieces you are using. Both Motorola as well as Samsung timepieces now allow its users to not only enjoy email, get updates and notifications from social media but also enjoy games like the exciting playfield 5-by-5 that are filled with all types of colored blocks
What is the game about?
All you have to do is connect 3 blocks of the same color to get points. This game can also be played on tablets as well as smart phones. Unit 9 even has one version that can be played on the internet. The games market is a huge one with players spending more than $16 billion last year. That made the games app category the hot revenue earning model and developers are hoping the touch screen watches too will help them make something similar. The wearables market has already been estimated to be worth between $3-5 billion.
Flirting with futuristic concepts
The idea of being able to play games using your wrist watch is a novel one and a futuristic one. The Swip3 has been tested to work on various Android Wear smart watches to demonstrate its effectiveness. The business development team at Unit 9 began the project only after they were convinced about the Android Wear technology and potential for the future. They quickly figured out that they could develop a game that can be enjoyed on the Android Wear smart watch without a lot of extra work. They have been successful in coming out with the Swip3 – an uncluttered and clean game.
They also knew that since the game had to fit into a very small or tiny screen of the watch, the user should be able to use the finger to just swipe and start playing. Choices of up, down, left and right also has to be made using the swipe and with minimal effort. The response time should also be quick or else the person will lose interest.
Smart watches are still relatively new stuff and Google too is poised to enter this market. There are unconfirmed rumors about Apple coming out with a smart watch as well, though there has been no such announcement from the company.
Games continue to dominate and are an important constituent of the apps market. Based on the success of this first initiative, other developers too would like to enter this sphere. We seem to be in for some exciting times and gaming will never be the same again – played only on smart phones.