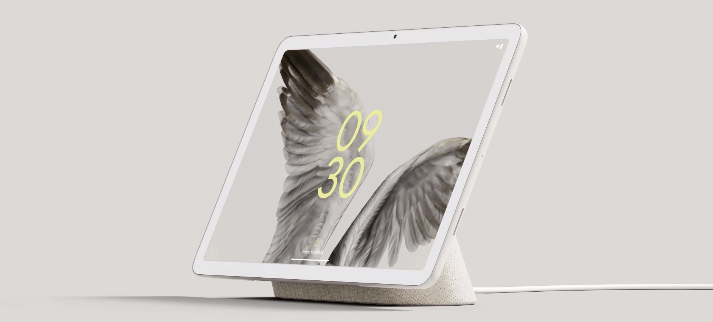 It's been quite a while, but it's finally here – a new Android-powered tablet!

Along with two other new devices, Pixel 7a and Pixel Fold, Google announced the Pixel Tablet at its I/O developer conference on May 10. The tablet is currently available for pre-order at a price of $499 and shipping should start in the second half of June. 
Here's a rundown of its main features.
What's the Pixel tablet bringing to the table?
Pixel Tablet look
The tablet flaunts a smooth design that comes in 3 colors – white, called Porcelain, pink, called Rose, and gray (with a greenish tint), called Hazel. The edges are rounded and the 11-inch display features bezels on the Porcelain and Rose versions, and an all-black frame on the Hazel edition. The appearance pretty much follows the rest of the newest Pixel series members – simplistic yet elegant.
The tablet comes with a Charging Speaker Dock (more on that later), which it's paired with both in terms of color and material (a combination of aluminum and nano-ceramic coating). 
Display
The Pixel Tablet uses an LCD panel with a resolution of 1600 x 2560 pixels, 16:10 ratio and 276 ppi density, so quite similar to, say, Samsung Galaxy Tab S8. The refresh rate seems a lot lower though – 60Hz compared to Tab S8's 120Hz. The brightness comes in at 500 nits.
Overall, the display is still quite decent for what it needs to do. It should be satisfactory for artists as well. But do be aware that the Pixel Tablet doesn't come with its own dedicated stylus pen, so if you want to use it for art, you'll need to see if it's compatible with the ones you already have.
Charging Speaker Dock
This cool new accessory that comes with the Pixel Tablet out-of-the-box has multiple capabilities. Primarily, as you can gather from its name, it acts as both a charging station and a set of speakers.
As previously mentioned, it matches in color and look with your tablet, and it can easily connect with the Pixel Tablet Case. The case, sold separately, also includes a ring stand so you can position your device at an angle that works best for you.
The dock's central feature is probably Hub Mode, though. This mode is pretty useful for those of you who have some of Google's smart home devices or simply love the idea of voice commands. With its powerful voice and home control capabilities, it integrates seamlessly into your Google-powered home.
Too, Pixel Tablet supports Chromecast, which is exciting news for all those who want to stream content onto the tablet while it's docked.
Memory, performance and battery life
The Pixel Tablet is powered by a Google Tensor G2 chipset and 8GB RAM, while the storage options are 128GB and 256GB (which costs an extra $100). These specs are quite decent for a tablet, but nothing too impressive.
It also features a 7020mAh battery, which is slightly disappointing in comparison to, say, OnePlus Pad's beast of a battery (9510mAh). The charging speed seems to be about 15W both wired (USB-C) and via the dock, so that's not too fast. Given the purpose of the Charging Speaker Dock, though, the low(ish) battery capacity sort of makes sense, as you'll probably leave the tablet attached to the dock whenever it's not in use.
In any case, Google does expect the new tablet to support up to 12 hours of consecutive video-streaming over Wi-Fi when off the dock, which sounds pretty promising.
Camera
Both the front and the rear camera are 8MP and f/2.0 aperture each, so you won't be getting supreme photo and video quality. But then again, the camera typically isn't a crucial factor for tablet users, so this shouldn't really be a deal breaker. 
Summary
The bottom line is that the specs of this long-awaited addition to the Android tablet market remain largely average in the grand scheme of things. The critical aspect of this release is the dock, though, which is probably meant to make up for the lack of other powerful features. And if you look at the big picture, $499 seems like a pretty decent price for what you get from Pixel Tablet.