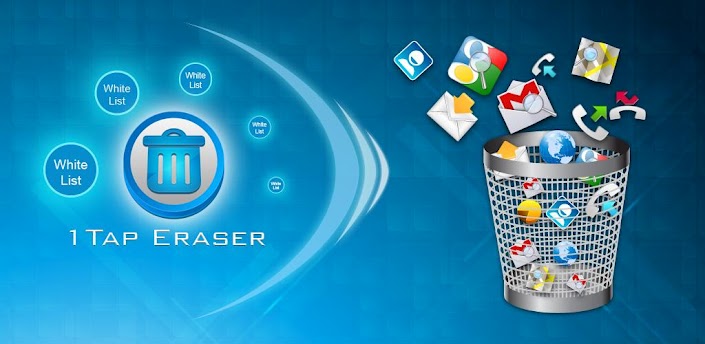 Just like a computer, Android smartphones and tablets need to be cleaned on a regular basis to ensure optimum performance. But cleaning an Android can be difficult if you don't have the right apps installed. The default Android operating system only allows users to remove certain files from their device, and users who want to make sure their device is as clean as possible may be sorely disappointed.
Thankfully, an app called 1 Tap Eraser seeks to make deleting files from Android as easy as possible. With 1 Tap Eraser, users can instantly delete temporary internet files, app cache data, and all sorts of other information that is clogging up their device.
Over time, the app cache can grow to a significant amount. The average Android user will build up a cache of several hundred megabytes over the course of a week or two. This cache takes up valuable space on your device and can impede the performance of your favorite apps.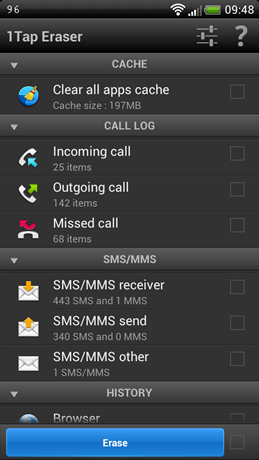 1 Tap Eraser also allows users to protect their privacy by erasing browser history, call logs, messages, and other personal information. This might not make that data completely inaccessible to someone who is determined to access it, but it will keep personal information away from any prying eyes that use your phone.
Here is a full list of the data that can be deleted using the 1 Tap Eraser app:
-App cache
-Call logs
-Call history
-SMS/MMS history and messages
-Browser history
-Other search history data
The Pro version of 1 Tap Eraser also allows users to delete more data from their phone. For just $1.99, users can remove picture albums and photo data as well as any app cache data from the SD card. Of course, since most Android users won't install apps onto their SD card, the Pro version simply won't be necessary for many users.
Automatic cleanup mode
What's the point of having an Android if you don't use it to automate your life? 1 Tap Eraser allows users to schedule routine maintenance clean-ups on their device. So, if you want to remove app cache data and message history on a regular basis, then you can easily do that with 1 Tap Eraser.
The app even comes with a homescreen widget that makes it as easy as possible to use. Just drag the widget onto your homescreen then tap the garbage can to instantly clear out your entire apps cache. This is where the app gets its name '1 Tap' Eraser.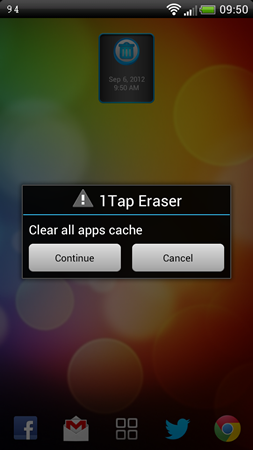 Sure, you can navigate through the Android settings menu to manually delete data from your phone, but why bother doing that when you have the free convenience of 1 Tap Eraser? Whether you're looking to make more space on your phone or you just want to prevent people from knowing who has called or texted you in recent weeks, 1 Tap Eraser makes Android cleanup as easy as possible.
Download 1 Tap Eraser for free today from the Google Play Store.