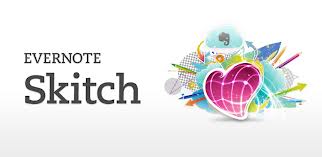 Behold the high and mighty Skitch from the Evernote Corporation. This promising Android app helps integrate all kinds of photography with a corporate feel that helps you fancily amalgamate everything from taking a photo to mailing it for a business purpose, or even a personal one at that and then saving it as memos and what not. Ideas stand bolder with Skitch and what you want to present and show to a group of people can be presented with a bold and beautiful little touch to make it a natural extension of your life.
This nifty Android app will help make your memos and mails a lot more descriptive and catchy with the use of images, and in the spate of this you can make a solid impact on your co-workers or customers that you may not have been able to make without the app.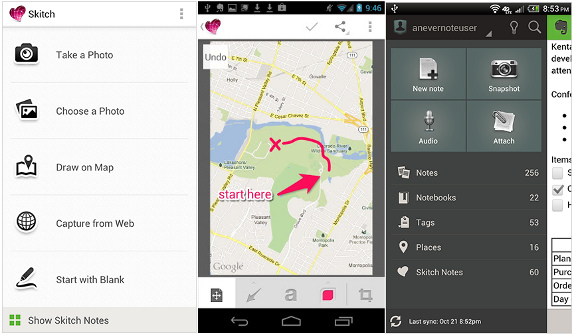 The fact that the Skitch Android app is a part of the Evernote Corporation makes you believe in it all the more. You can begin with the annotation if images. Here you can add in note and arrows and direction to your business.
This means that if you have an explanatory note that you would like to use to explain say a note or point out to a specific location on the map you can use this tool to do just that.
This could be for a work purpose or just to explain something to someone in general.
So next time when you want to ask someone to 'Sign Here' or tell them this is the place where you are exactly at, you know what to do. This could work for pointing out something on a building plan or a simple directive.
You can select an image form the gallery or take a photo directly and then mail it to the required person.
The Evernote Android app shares a stark resemblance with Skitch in terms of its interface, which means that many users will feel a familiar air of comfort and professionalism while using the Skitch app. There are multiple categories of designs and drawing that you can use to point out specifics using multiple colour and shapes and design styles in general.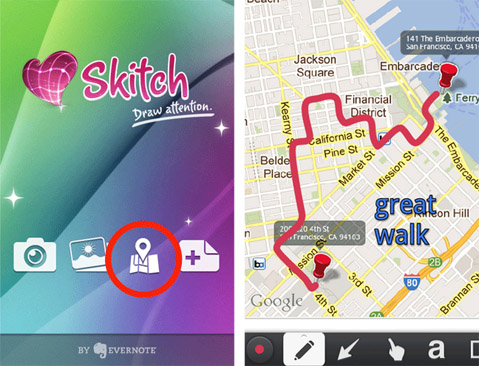 The Skitch Android app also integrated with your email and then gives you a drop down when you need to send in an email. This cool app can also be used on PDFs, which is a great boon for employees and employers as nearly all corporate docs are rendered in this format.
Additionally, the Skitch app has all your notes to the left in the form of list where you can pick up anything that you want from the list and you have a whole new list to amend and perfectly organize your day/week/month exactly the way you need to and never be unprepared for anything.
The Skitch Android app boasts of an amazing set of reviews from the users and has over 31,000 users rating it above 5 stars, which has helped it notch a solid overall average rating of 4.2 stars on Google Play Store.
You can also directly map on to a map to show people where you are incise someone's looking for you or vice versa. There are different ways to mark images are through lines and arrows, colors and letters where you can write on the image as well.
All in all, the Skitch Android app is pretty tightly packed with topnotch features meant to sync all your essential notes and reminders on your Android device and keep you one step ahead of the rest of the world. Download it from Google Play Store and refine your business lifestyle.