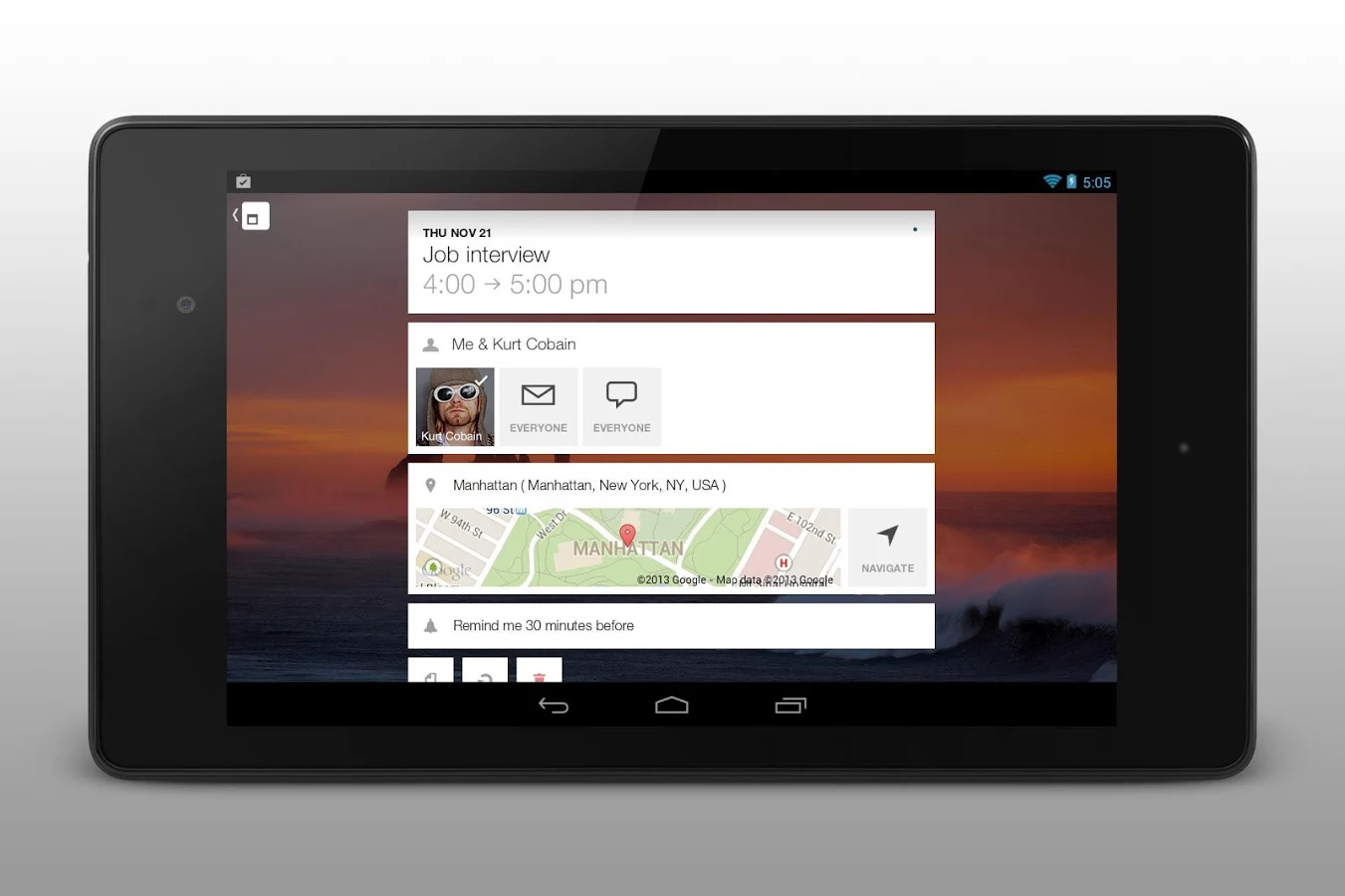 Topping the Next Web's list of 2013's Best Apps, Any.do's Cal is definitely one of the best Calendar apps available on Android. After being a popular app on iOS for quite a while, Any.do finally released an Android version of the app and might I say, boy is it great!
The problem with most calendar apps today is that they aren't appealing or they're hard to use. As great as Google Calendar is, it could definitely improve to give you a better experience. This is where Cal comes in. Cal marries a well-designed calendar with simplicity and utility that will transform your Android device into a virtual secretary of sorts that you wish you always had.
Now here are some key reasons why you should download the Cal Android app right away:-
Design: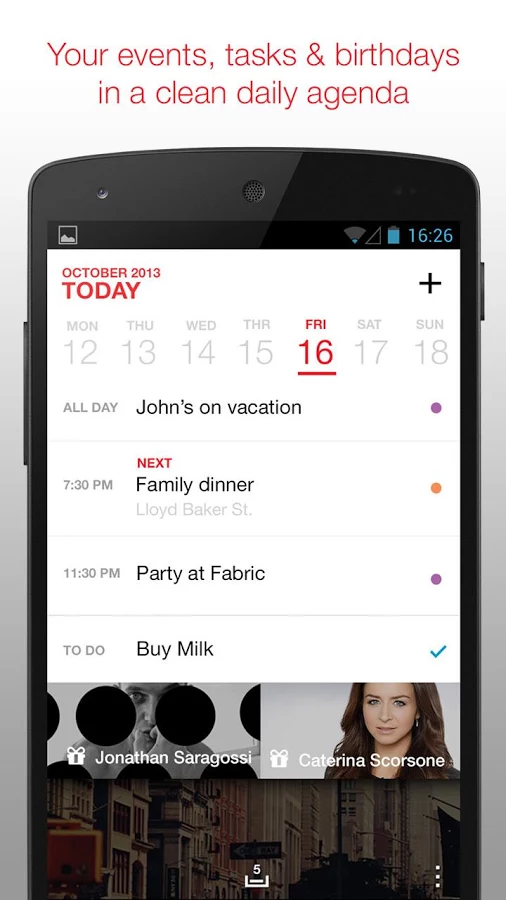 The first thing that will catch your eye (quite literally) about Cal, is that it looks simply amazing! Cal is a smartly designed app that makes every day new and fresh without ever feeling anything less than unified. The app uses a different image for every day from a wide variety of images. The categories of the image backgrounds can be adjusted manually from the settings. Some of the categories include Art, Fashion, Landscape, Cars, Architecture, etc.
Real-time syncing:
The great thing about Cal is that it allows you to sync with any other Calendar under the sun! It syncs with Google Calendar, Microsoft Exchange and Outlook, Yahoo, AOL and iCloud.
The app even has a Facebook syncing option. It tells you when your friend's birthdays are and with a tap or two, you can wish them directly through the app by texting, mailing or posting on their profile wall!
Adding Events:
Adding and managing events is the crux of the experience while using a Calendar App. Cal has a great interface for the same.
It's very easy to ass an event – just fill in the proper fields and you're set to go. Cal will pull in events and additions made on Google Calendar as well. You can then invite friends to that event. Cal even allows you to add in a location. The cool thing about that, is the location appears as a mini-map where you can ask for directions, check out routes, etc.
Pulling down on the date reveals your monthly calendar. This is great for a glance look at how hectic your month is. A red line beneath each date shows how packed your day is. The line gets wider as more and more events are added to the schedule. This helps make it a perfect app to help busy people manage their schedules and setting meetings on less stressful days.
Landscape View:
The app even offers a very neat design for a landscape view! This is especially useful while looking at the Calendar on a Tablet. It shows you the month view on the left and the current date on the right.
Integration with Any.do:
Finally, this is the main reason why Cal is such a huge hit – Any.do Integration!
Any.do is a To-do List and Task Manager by the same developers (i.e. Any.do). Android users can place task lists from their Any.do app right into Cal, thus allowing you to set deadlines for your tasks and to-do lists.
GTasks Task List for Android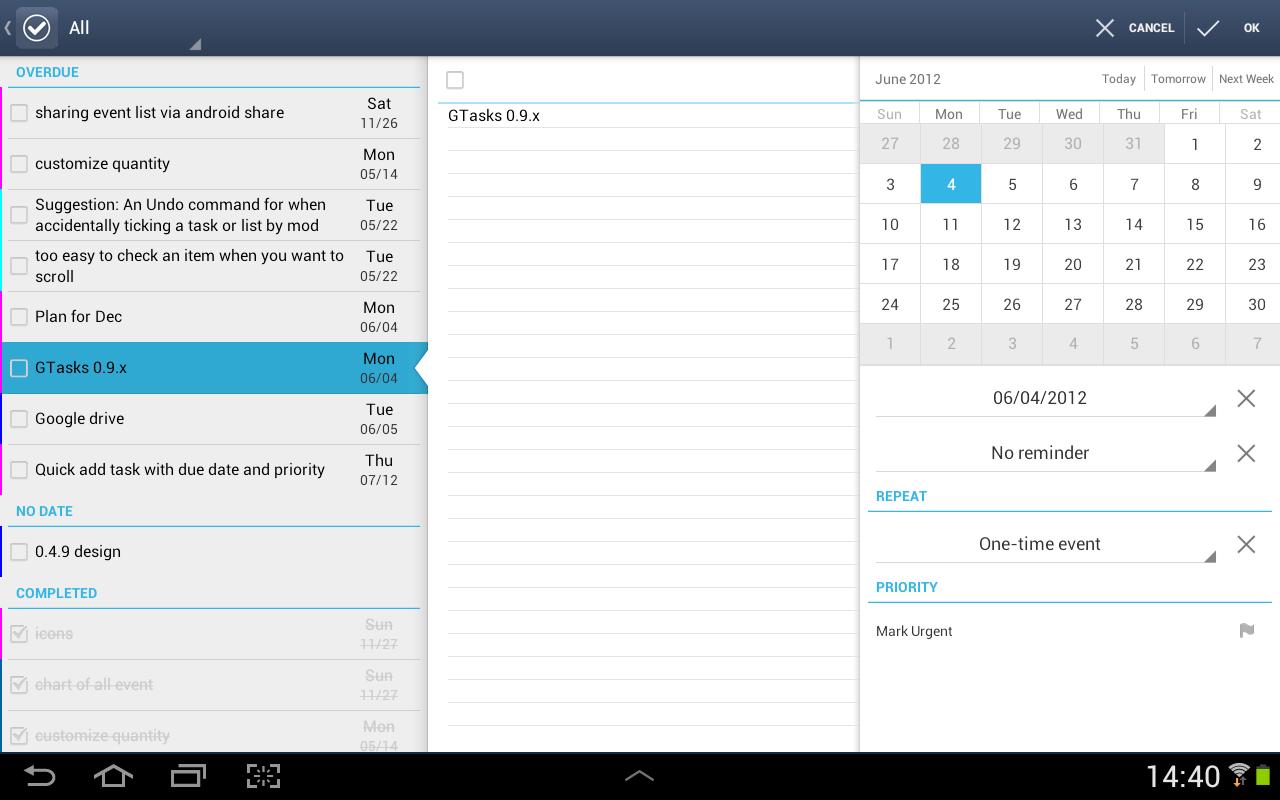 Behold GTasks – an app that promised to never let you forget you had something to get done, and does it in a way that you will wonder what life was like before it came into your life. GTasks is a straightforward yet elegantly designed app that makes you want to remember your tasks just by simply looking at the look and feel of the app.
GTasks a pretty well-known app and well used app on the Android market opens up in a task list for you to type in what your reminder is.
Once you do this you add in the time and the date of the reminder like a typical reminder. Post this you set a list of other tasks too.
Now the app allows you to set as per priority the different set of reminders and all of this will appear to you in a neatly compiled list.
When using this app on a tablet, which is the best way to use this app, you get a list of tasks that have subsections like :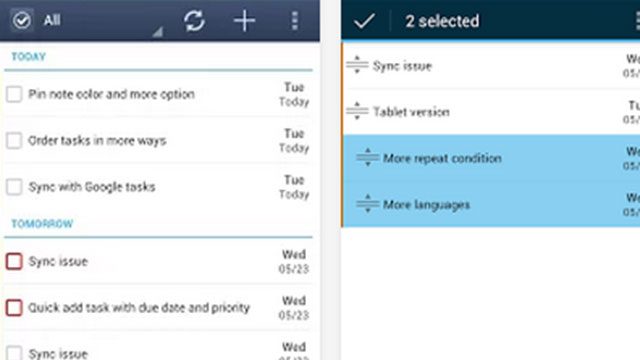 • Completed
• Pending
• No Date
• Overdue
Below these the reminders are displayed to the left and once you click on any of them the 2nd part of the screen out of 3 parts in total will have the notepad looking screen open up which has the list of what all has to be done.
To even more to the right of this is the calendar pin pointing the exact date of your task and the level of importance via the 'priority' and if there is any other task on that day and the number of repeats in the reminders.
The app allows you to integrate with your Google tasks and calendar so that anything that you want to cross sync can be done easily and if you don't have access to one of the two you still have it featured on both as they are connected.
Not only that, you can easily sync multiple Google accounts to the app to have as many reminders on as many accounts.
GTasks allows you add in bulk tasks so that you don't have to type one after the other and waste time.
Once a task is open, you can scroll horizontally to switch between tasks. You can call upon your tasks as by due date, priority, title and name, created time etc. The app also allows you to drag your tasks to auto arrange them just like icons on a desktop.
The GTasks app allows you access to look straight into your Google Calendar through GTasks.
These tasks can also be indented and unindented and also be further shared across multiple other apps like Facebook, Twitter, Google + and other integrated apps onto GTasks.
With scrolling in LauncherPro/ADWLauncher/GO Launcher, the GTasks app has an ingenious feature of supporting a widget functionality as well straight to your home screen where you simply scroll the list and you have all your reminder in front of your eyes.
And thus with a totally justified 4.5 star rating on Google Play Store, GTasks is a frontrunner when it comes to business utility applications and organizers on the Android platform.