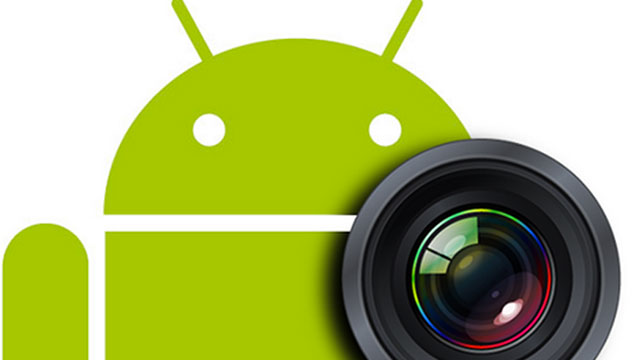 The Android app world certainly faces no shortage of photo editing apps that keep the ever-growing community of photography enthusiasts constantly engaged and excited. However, there are only a handful of photo editing and camera effects apps that actually live up to the hype and give you proper bang for your buck.
So let us take a look at two Android photo editing apps that are beloved by shutterbugs worldwide and offer some really cool features.
Cymera is everything you needed in a photo editing app and a lot more than just what your wildest imagination could think of. As the names sub title may suggest it is cantered towards providing beauty effects to the already classy mages that you will click through Cymera.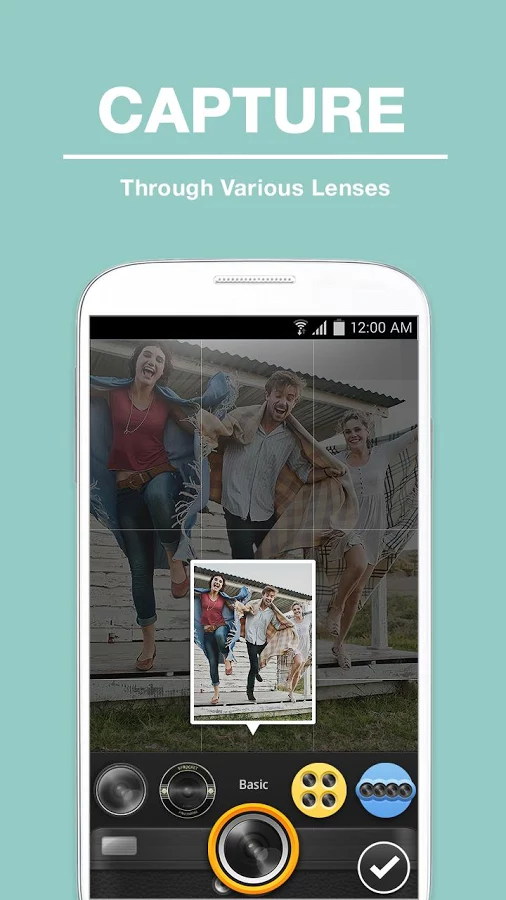 When you launch the Cymera app, the first thing you notice is the camera screen interface for you to click the photo. You have a 3×4 grid blocks to maintain accuracy and imaging consistency.
Features and Functionality                                                            
In an effort to hone your photography skills further, Cymera allows you to pick from a wide variety of lenses that range from single reflex to double reflex and multi focus. The burst mode feature is great for clicking multiple images in one smooth shot. It has the fisheye mode, panoramic mode, and best photo modes to capture the beauty and candid nature of different situations and expressions.
The top right of the app homescreen will show you more modes such as anti-shake, touch shots and a timer mode. Add effects through the camera itself and see how the image will look before you click the picture is taken as the effect is visible on the screen when you are about to take the picture. Capture amazing moments such as the tiny wisps of smoke emanating from your colleague's cigarettes or your cat jumping on a trampoline.
These effects include a faded white-out of the background concentrating in the centre. The extent of the white-out effect can be changed using two fingers with a pinch. The image gives you a perfect sharpened v/s blurred area.
Cymera also does a great job at fine-tuning classic features like brightness, contrast and saturation by complementing them with new age features like face recognition. The advantage of this is the fact that you can increase and decrease the magnitude of facial features.
That's right! You can now widen the eyes and extend the smiles of the people you have captured in your images. You can even increase the fairness and skin tone on their face. Make yourself slim or fat with a simple scroll bar. Add a world of different hair styles and place it where ever you want.
Add in make-up and here's where the face recognition feature kicks in all the more to detect the precise locations where the desired make up will look best.
Further to that, you can add over 20 different filters that add their own composition to your favorite images and give it a completely unique look altogether. Cymera also gives you the popular feature of adding frames to get the perfect final touch for your edited images.
After the final image is ready, click on the save and upload button that appears in the centre of the screen. Enjoy the story telling mode where you can add in more than just one image and tell a story through the photos you edited using Cymera.
So that's Cymera for you. It is one of the most well-designed and surprisingly underrated camera apps available on the Android platform. Join the league and be on your way to become the best semi-professional photographer you can be.
The advent of the DSLR distinctively marked the onset of a powerful new era in photography. Today, it still stands as one of the most trusted and high-performing digital cameras utilized by millions of hardcore photography enthusiasts.
Surprisingly, the DSLR obsession has followed even into the realm of Android with a host of new photo editing apps trying hard to replicate the feel and features of the DSLR. The Camera FV-5 is a perfect example of such an app trying to harness the power of the DSLR for the Android community.
Features and Functionality
Camera FV-5 is an app that gives you all the effects of a DSLR on your phone. In order to further help you understand the functionality of this app, here's an all-inclusive list of its core features:-
Camera FV-5 gives you access to a massive variety of photographic parameters, which can be adjusted and are very handy. These are the ISO, light metering, focus and its modes, the white balance and the program mode.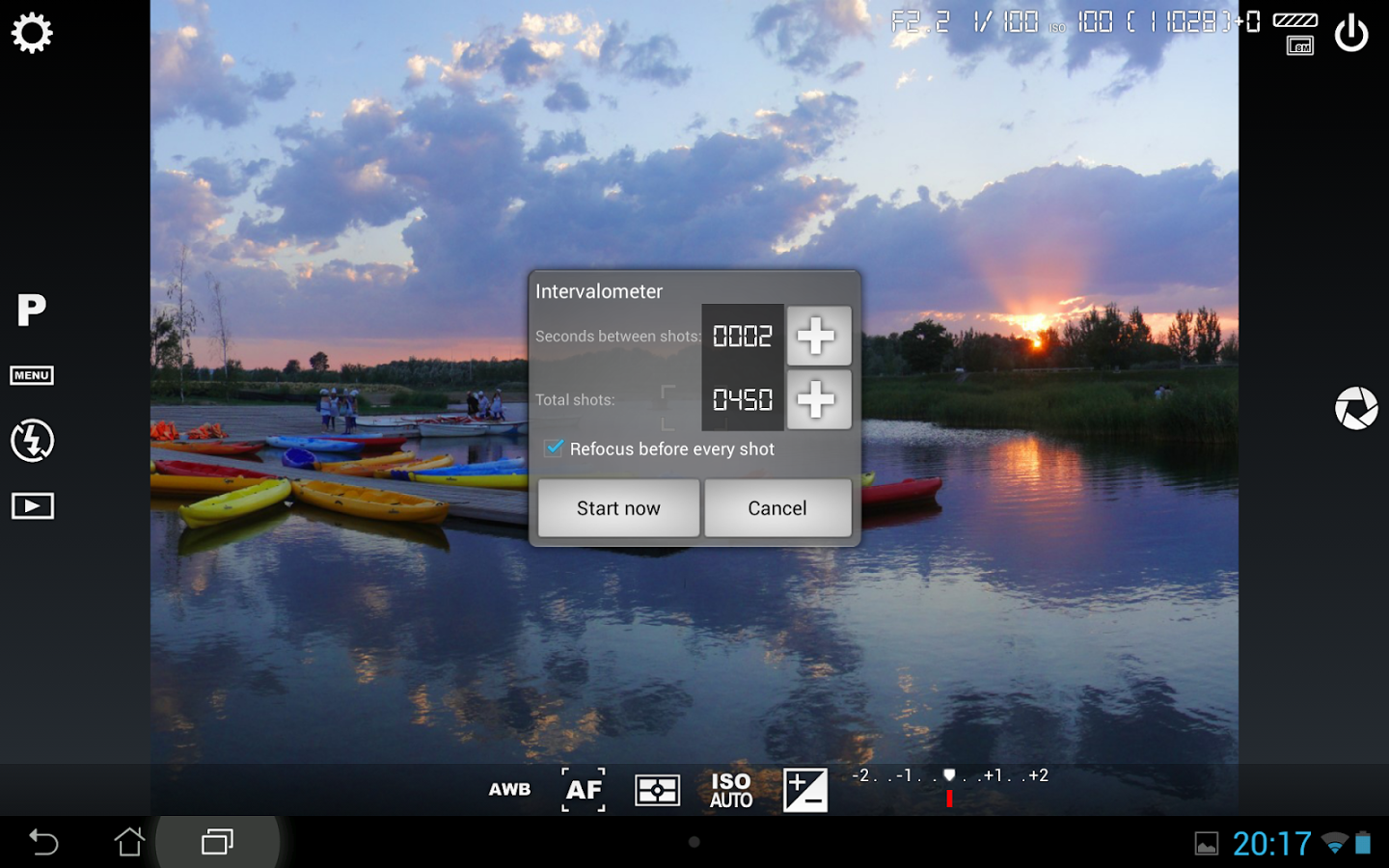 The 35mm equivalent focal length setting in this app allows you to freely enjoy multi pinch zooming. Use all the popular DSLR-equivalent viewfinder displays like exposure time and aperture and bracketing settings. You can even utilize the built-in interval-o-meter feature to access stunning time-lapse photography effects (even bracketed/HDR timelapses) and unlimited time-controlled picture series.
You can even take super long exposure in your pictures that help in panning and long exposure support, which lets you take beautiful night photos and light trails. The exposure times are as long as 30 seconds, but you need to make sure you keep your hand steady to capture these images properly.
Take your time in shooting those pictures with the self-timer for as much delay as you need. For lossless photo capturing and perfect post-processing, you can also create JPEG and PNG images.
If you're tired of the manual focus you can shift to auto mode and a enjoy touch to focus and infinity focus including a compact focus lock switch. Camera FV-5 also gives you access to the most advanced viewfinder with RGB histogram.
The user interface is available in more than 25 languages. It avoids scene modes and in turn gives you full manual control over your photographic parameters just like in a reflex camera. This helps you control every single aspect of your edited pictures.
Camera FV-5 gives you the closest DSLR experience you can get on your Android phone and for those days when the photography bug has got you buzzing, this app is just what you need. Although it has quite a steep learning curve for casual photography fans, Camera FV-5 gives you nearly all the tools you need to pass yourself as a professional photographer without owning a high-end camera.