Comics and memes have always been regarded as unofficial baptizers of intentionally or unintentionally entertaining events into pop culture superstardom. They're funny, crass, thrilling, entertaining, thought-provoking; but all in all absolutely engrossing to read.
So if you are a connoisseur of frivolous and hilarious sketches and caricatures, then your search ends here. We bring you 3 super-cool Android apps that will ensure you have your comic entertainment wherever you go and even test your funny bone a bit by creating your own memes and comics that you can share with your friends and family for endless giggles.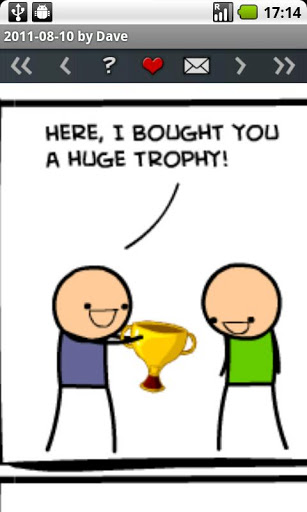 Mr Kris Wilson's creations of controversial LOL-inducing characters make its way to your Android device through this politically incorrect-named app. This web comic that makes its way to your screen every morning comes from explosm.net
Cyanide and happiness are the ever so controversial comic characters that express their thoughts on life on an everyday basis.
These stick figures spew out stupid ideas of the authors that have been making a more than a million people laugh every day.
The top features of this app include:
Comic Archive: An all access feed to over 1,800 C&H comics in a very easily-navigable archive.
You can also get new comics the second they're available, or somehow violate the laws of time and get them even earlier!
Shake the phone for random comics from the archive list.
The app also enables Portrait/Landscape viewing.
Favourites: You can also save your favourite apps and then store them for later viewing. These can be shared with your friends over a multitude of social networking channels.
Animated Shorts: Watch streaming C&H animated shorts
News: Read all about upcoming events, books, announcements, and the likes.
Memes originated in the dark and wacky forums of 4chan and Reddit and soon found their way to the mainstream in just a couple of months. The stick figures of the new generation and the characteristic representations of the world of human emotions all clubbed into one app.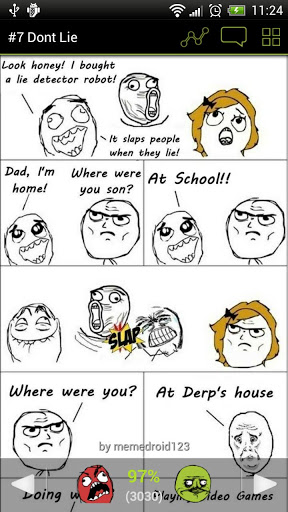 Memedroid is your ultimate meme generating Android app that enables you to be a part of the meme community and share your favorite memes with your social groups.
Memedroid enables you to:
Create your own memes
Share the memes made by you on social networking channels like Facebook, twitter, myspace etc.
You can also share these self-generated memes on the integrated community of the app that includes the world of meme crazy fanatics who create, share and enjoy the meme world.
You can also rate these apps and view the top memes of the day, week and month.
The app is ad free.
You can choose from a wide range of memes available in the app gallery
There also exists an offline app store.
RoidRage
Rage comics are essentially the godfathers of modern memes. The legendary and rage-inducing "trollface" character was born as part of these comics, which are now use by millions of "trolls" to intentionally rile up random people into angry Homer Simpson moments for their own enjoyment. The RoidRage meme app will help you keep the forum boards and comment sections bustling for hours through their huge variety of Rage image packs. It is a very Android specific application and has been designed exclusively for this platform. The best features of the app are as follows: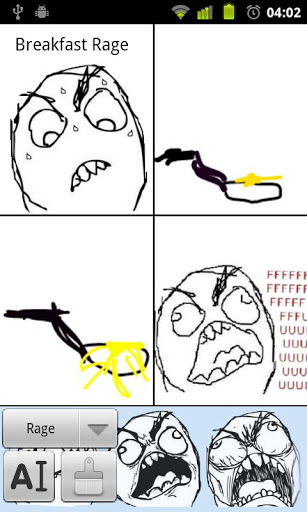 RoidRage has over 500 interactive rage faces and meme themes to choose and create your own meme out of.
You also have downloadable add-on image packs that are over and above the existing themes provided.
RoidRage gives high resolution .png format comics that are sharable on Facebook, Twitter and Instagram.
RoidRage has a very fast search functionality that helps you find your previously viewed memes in a jiffy.
You also have a Painting/Drawing functionality
The panels on the app are flexible and can easily be added and removed.
Full multi-touch scaling and rotating of faces (single touch resize also supported)
Enjoy no ads as RoidRage is completely Ad free.
So there you go. 3 awesome Android apps packed to the brim with fun features that will always give you something or the other to kick the boredom out of your mind. As they're integrated with a massive community, they do come at a price, but are completely worth their value. So go ahead and download them today.