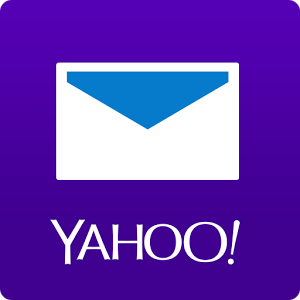 Yahoo Mail
It's alright. You do not have to feel embarrassed. No no, don't you pretend like you don't know what I am talking about, you know exactly what I am saying. Yes, it is a little something that begins with a 'Y', it started out when we were little and we ended up making embarrassing e-mail IDs on it that we once bragged about. Don't forget that it is that very thing that made you cool at one point in time. Yes, I am talking about none other than Yahoo Mail!
I know it is old and every one has moved on to Gmail, with classier email accounts. But, remember — old is still gold. And when you have a topnotch email service at your disposal, why not make use of your old Yahoo Mail account and test out the refined version of their mailing functionality. You might just like it.
It is time that we came out of the closed and proudly download an app that will make using our Yahoo Mail accounts easier, that app being Yahoo Mail. Upgrade to the official Yahoo Mail app – the best way to get Yahoo Mail on your phone or tablet.
The Yahoo Mail app is the fastest, simplest way to search your friends, contacts, photos and attachments. And it's so much more than mail. You can find sports scores, weather, entertainment and the day's headlines, all in one app.
Powerful email features
-Switch between all of your Yahoo accounts in one place.
-Never miss a message with customized alerts.
-Search faster than ever across all of your messages, contacts, files and photos.
-Send files, attach photos or take new ones while composing a message.
-Never run out of storage with 1000GB of free space.
Go beyond mail
-Stay on top of the stories you care about with the News section.
-Easily check today's weather, stocks, sports scores, horoscopes and more in the Today section.
-Get real-time updates for your flights, events and package shipments in Yahoo Today.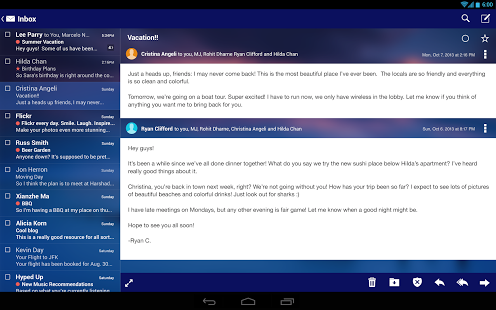 Helpful tips:
-Swipe left or right in Message View to navigate between messages.
-Access all your Folders, Drafts, Sent Mail and Contacts from the sidebar.
-Bulk-sort your mail by selecting multiple messages at once.
-Read messages in full-screen with a tablet-optimized experience.
Also, here are the new features that Yahoo Mail offers:
– Performance and stability enhancements
Yahoo Mail just got smarter with new features in Yahoo Today:
– Get real-time updates for package shipments from Amazon and more.
– Customize and read your daily horoscope.
– Edit your favorite sports teams so you never miss a game.
– Flight notifications now support Orbitz and CheapTickets.
– Personalize Yahoo Today.
It is only natural to move on with the evolution of technology but when it comes to Yahoo Mail, there is a bit of nostalgia attached to it in all of us. And since we still have a somewhat active Yahoo email account, why not make its usage more convenient? Thus, Yahoo Mail for Android is a must for all Yahoo Account owners!
aCalendar
Yes, it is true that every smartphone has a calendar but if you are someone who uses their calendar as a planner then the basic calendar that is built in the phone is not good enough. Yes, there are planers available separately, however, nothing can beat aCalendar – the Android Calendar.
The usage of a calendar is beyond which day falls on which date. It is much more, including birthdays, anniversaries, important meetings, events and much more. And one needs tools to make this easier, for example, colour coordinating a calendar based on personal and professional events. This makes planning our lives much easier. Thus, aCalendar is ideal to plan our day to day happenings.
aCalendar includes the following features:
– intuitive navigation with smooth transitions between day, week and month view
– 48 colors per calendar, 12 per-event colors if supported by the calendar (Android 4.1+ with Google calendars only)
– flexible recurrences (e.g., every 2 weeks or every 3rd day – first select weekly or daily, then set the interval)
– birthdays with photos from your address book and editing
– Fullscreen widgets for all 3 views plus floating 7 days
– uses Android's native calendar backend and synchronization
– no battery drain (aCalendar gets push updated from the system instead of using frequent polling)
– moon phases and zodiac signs for birthdays
– QR and NFC barcode sharing of events
– free
– no ads
There is also a aCalendar+ version with the following features:
With aCalendar+ you get a dozen of extra features including more views, advanced settings, Tasks, more color themes and public holidays.
Also you'll find business-oriented features like invitations, free/busy settings and sharing as text or file.
Finally your purchase helps protect the habitat of the endangered Mountain Tapir as they donate 10% of all revenue to rainforest conservation through our friends at World Land Trust.
Here is how aCalendar, the android calendar is used:
– move forward and backward by swiping vertically or volume rocker
– switch between calendar views with a horizontal swipe (opens the day or week you start the swipe gesture on) or double-tap for day view
– tap to open event
– long-press to add new event
– long-press on mini-month to go to today or jump to date
– tap on photo to open quick contact menu
– 3-finger-tap to go to today
TRANSLATIONS
native language support for around 30 languages. Those are mostly user-contributed, please contact me if there is a bad translation or you'd like your language added!
PERMISSIONS
aCalendar only asks for mandatory permissions for its functionality: Read and write contact data for birthdays as well as read and write calendar data for events. 'Send Email to guests' is bound to 'write calendar data' by Google. NFC is for sharing events by touching another NFC-enabled phone, and requires manual confirmation.
APP2SD
Unfortunately app2SD cannot be supported, because home screen widgets do not work from SD. This is an Android limitation. But, aCalendar is optimized not only for speed but also for size.
So if you need something more than the usual, run-of-the-mill, in-built phone calendars, aCalendar for Android is the go-to app!
Microsoft Word
Word is one of the most widely used Microsoft software platforms through the ages. One can simply not do without Word, age no bar. From the time we start using computers, Word is one of the first things see are taught. Word is also one of the things which comes in handy for the rest of our lives. Therefore, it is present in desktops, laptops,- and even our smartphones. So why should it not be a part of our tablet experience?
Let's go ahead and give a long-awaited welcome to Microsoft Word for Tablet. Word documents look better than ever on your Android tablet. When you edit or create documents, you can be confident they will look exactly how you want across PC, Mac, tablet and phone. Word has the familiar Office look and feel along with an intuitive touch experience, so you'll be up and running in no time.The free Microsoft Word app provides a core experience for viewing, creating and editing docs on tablets with a screen size of 10.1 inches or smaller. You can unlock the full Word experience with an Office 365 subscription.
Word documents look beautiful
• Images, tables, charts, SmartArt, footnotes, equations are all there, nicely formatted.
• Word docs look great, just as they do on your computer.
• View email attachments and access Word documents from OneDrive, Dropbox, OneDrive for Business, or SharePoint.
• Pick up from where you left off because Word knows what you were working on last, no matter what device you were using.
• Print Word docs.
• Open file types like doc and docx.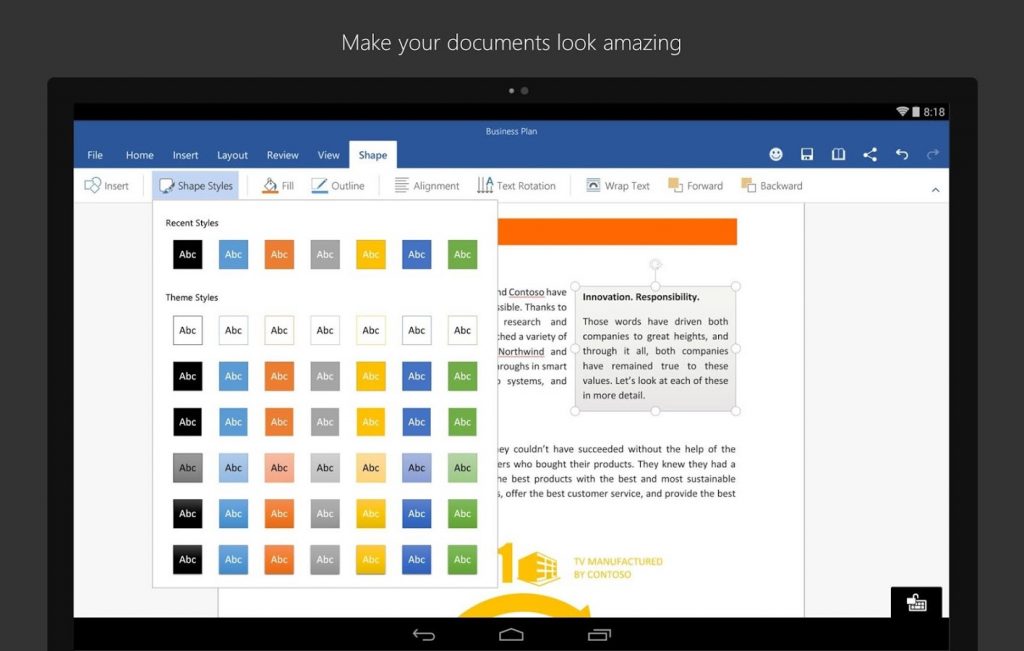 Create and edit with confidence
• When you edit a document, your content and formatting are maintained across all your devices – PC, Mac, tablet and phone.
• Express your ideas exactly the way you want, with rich formatting including fonts, pictures, tables, textboxes, shapes, footnotes, page layout and more.
• Review documents by tracking changes and adding comments.
• Simply share your work with others by emailing the document or a hyperlink.
A familiar Microsoft Office experience
• It's easy to pick up the app and get started, because it's like the Word experience you already know.
• The familiar navigation and menu options are built for a touch experience. No keyboard required.
Requirements:
• Android tablet with a screen size of 7 inches or larger
• OS version: KitKat (4.4.X)
• ARM based processor
• 1 GB RAM or above
Sign in with a free Microsoft account to create or edit docs on tablets with a screen size of 10.1 inches or smaller. A qualifying Office 365 subscription is required to unlock the full Office experience. Office 365 is also required to create or edit on tablets with a screen larger than 10.1 inches.
If you don't have a subscription, you can buy Office 365 Home or Office 365 Personal within the app. With an Office 365 subscription, you get the full Word, Excel and PowerPoint experience on Android tablet, iPad, iPhone and iPod touch, and you can install full Word, Excel, PowerPoint, Outlook and OneNote on PCs or Macs.
Since Word is so essential, it needs to be present in all our devices. It is, after all, more convenient to use this software on a tablet than on a smartphone. Therefore, Microsoft Word for Tablet is a must download app!