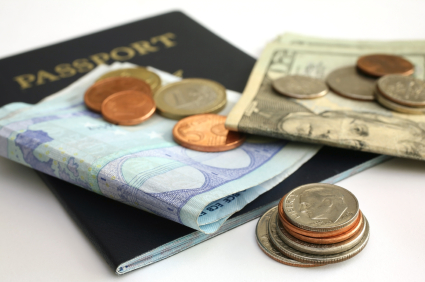 As someone who is just about to set off on a worldwide adventure, I've been using quite a few different Android travel apps lately. Today, I'm going to talk about some of my favorite apps that have made exploring the world as easy as possible – all from the comfort of my office chair.
Use WhatsApp to send and receive 'text' messages for free
I have a Samsung Galaxy S3, and I'm certainly not letting that thing roam when I'm in a foreign country. I can't afford to pay $5 per MB of data, and the SMS costs when roaming could send my bill into the thousands of dollars.
WhatsApp is a good way to keep in touch with your friends without paying for the high costs of roaming. It runs off a Wi-Fi connection instead of mobile networks. There are plenty of other messaging apps that can do this, but WhatsApp is the most widely-used instant messenger of its kind in the world – which means that many of your friends are probably already using it.
Your Apple friends might use iMessage to communicate with one another, but WhatsApp is just as good. Plus, it works cross-platform across all mobile devices – so you can stay in touch with friends using Android, Blackberry, Windows Phone, or iOS.
Wi-Fi Finder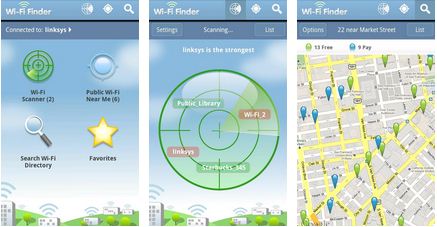 Speaking of avoiding roaming costs – the best way to stay connected in a foreign country while sticking to a budget is to seek out comfy Wi-Fi hotspots. Today, Wi-Fi hotspots are as common as coffee shops (and often located in the same locations). But finding these hotspots isn't always easy.
Download an app called Wi-Fi Finder to instantly scan for wireless signals in your area. The app will take a few seconds to find nearby public Wi-Fi signals and it will also identify what kind of signal that hotspot is – like a library, Starbucks, hotel, etc.
Whether you're in a foreign country or walking down the street in your own city, having a Wi-Fi Finder app on your phone is never a bad idea – especially if you're as stingy with your data plan as I am when traveling.
Finding cheap flights
You could write a phonebook-sized novel about different ways to find flights using Android apps. There are thousands of flight and hotel-oriented Android apps out there, but only a few are worth your time.
I'm not being paid by any of these companies, but trust me when I say that they consistently provide the lowest airfares among the entire Android app market. And to make each app even more legitimate, they all tend to bring up the same low price for flights within a few dollars of one another: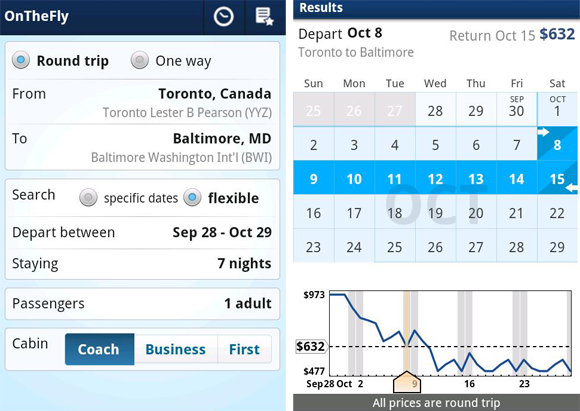 -ITA Software's OnTheFly: Powered by Google, ITA Software's OnTheFly is the easiest way to look at flights between cities over a long date range. Want to fly away at some point over the next month but aren't sure when the cheapest flights are? OnTheFly will scan hundreds of airlines over a chosen period of time in order to output a number of different airfare possibilities.
-Kayak: Kayak is one of the most well-known travel companion websites in the world, and the company has made an Android app that is well worth a download. Instead of being forced to choose a departure airport from one country to another, you can simply choose, say, Australia to New Zealand and Kayak will give you the cheapest route between those two countries for your chosen type period.
-SkyScanner: Does the same job of each of the above two apps, but has an interface that I find easier to use. Download it for free here.
Remember – the most important thing to know with these apps is that they're excellent for looking up flights, but they're not always great for actually booking those flights. Find a cheap flight, write down the flight number, then contact the airline directly and book it.
Finding cheap hotels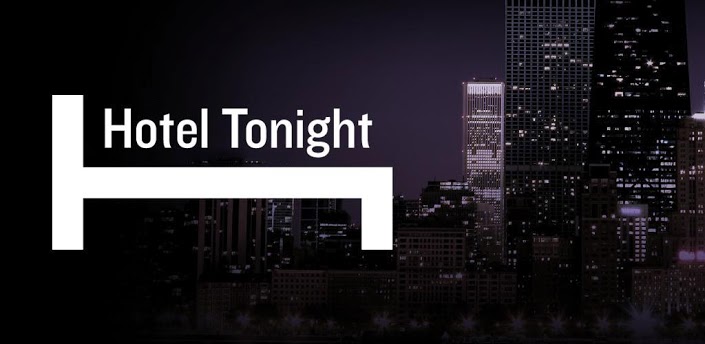 Hotel Tonight: You've probably seen the ads for HotWire on TV. HotWire helps hotel owners fill empty rooms at the last minute. And an app called HotelTonight works in a suspiciously similar way. The discounts are similar and users can save hundreds of dollars on premium hotel rooms in cities across North America and Europe. Supported cities are being added every month, but Hotel Tonight works best in Canada, the United States, and the UK. Just open up the app around noon each day and you'll find a list of hot rates in your current city. Rates are even updated until 2am – great for late night travelers looking for a place to call it a night.
Keeping track of flights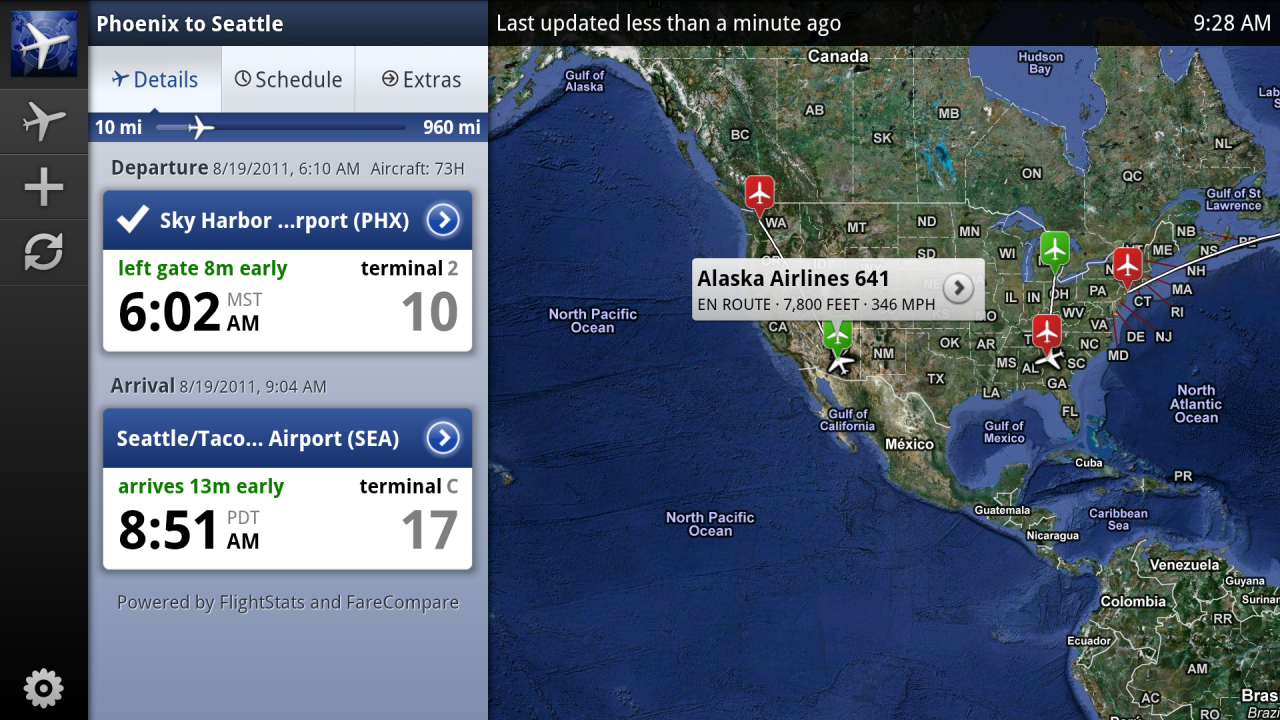 FlightTrack: If you travel throughout the year, then you're going to want to shell out $5 for FlightTrack. This app tracks flights throughout the world and provides real-time status updates for gate changes, delays, cancellations, and all of the other airport headaches travelers have to deal with. Check out FlightTrack here.
Choose the best seat on your flight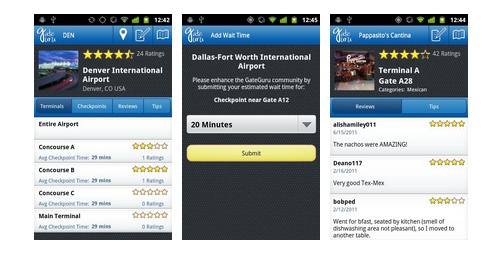 SeatGuru: This app is a bit nerdy, but if you're going on a long flight, it's worth it to choose a good seat. You've already paid hundreds (or thousands) of dollars for your ticket. Why should you settle for a bad seat? SeatGuru has a freakishly accurate knowledge of most airplanes operated by most major carriers. It will tell you which seats have the most legroom and which seats are located uncomfortably close to the lavatories. Unfortunately, the Android version of SeatGuru isn't great – it doesn't include a lot of airplane information and many users are forced to walk onto an airplane having absolutely no idea where they should sit. Still, it's worth a try for free.
Find fun things to do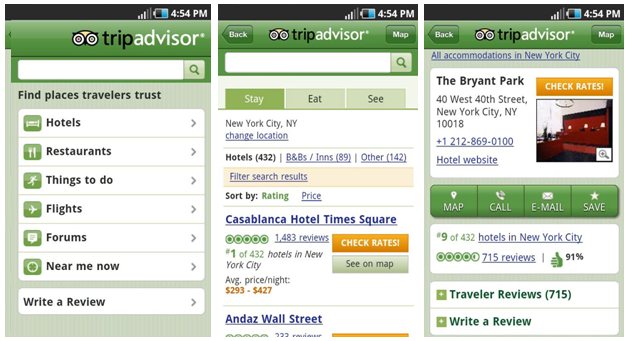 TripAdvisor: TripAdvisor is one of the kings of the online travel world. Although TripAdvisor is packed with information about everything to do with travel, one of its best features is its ranking of the most popular attractions to be found in a particular city. Only in town for 24 hours and want to pick the best three sights the city has to offer? Open up your TripAdvisor app and see what's nearby. You can pick and choose from free attractions or even just sights – great for travelers on a budget.
There are hundreds of useful Android travel apps out there, and I've only mentioned a few in this article. If you're travelling in the near future, be sure to download all of the above apps to cover the basics – flights, hotels, attractions, and internet.