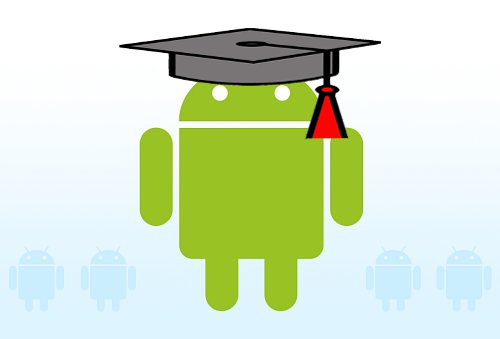 For those who had issues with giving up an addiction to their smart phone, here's a reason not to. Don't worry we're not selling you an early copy of Temple Run 3 or the next iteration of Angry Birds to get you hopelessly hooked onto it again. What we have for you is a one-of-a-kind educational tool that will help you make the most out of your Android smartphone love.
Instead of limiting students to their heavy and extensive GMAT prep books, the Android app world has come up with a solution to digitize those books and bring your a super convenient and highly comprehensive learning experience through the B-School GMAT Guide Android app. There's no need to go to those time of books with a sullen face when you can now have it all on your Android device, because with this little gem in your app tray, studying just got a whole lot easier.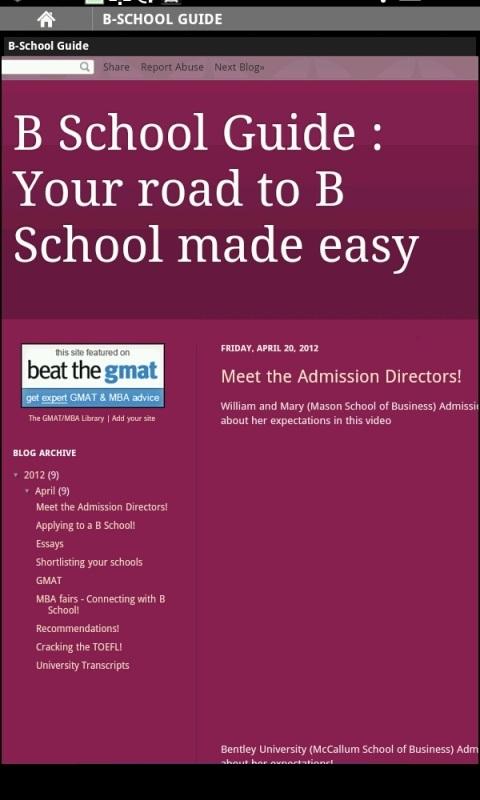 GMAT is a premier exam that is the road to glory for prospective international students looking to study further at top Ivy League and other elite universities abroad. As a part of its course, it is imperative for a student to crack the paper with flying colors and nail a score that preferably ranges above 700.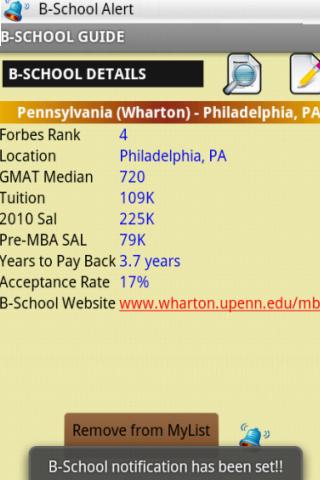 Furthermore, it is important for the student to know about the recent happenings be changes in the curriculum, the top schools at present, news and reviews about them etc. to make the best and the most informed decision.
The B-School GMAT Guide app looks to give the users all of this and much more through it's extremely user friendly interface, which makes navigation through study material a piece of cake.
The objective of the B-School GMAT Guide app is making it simple for students to shortlist the B-Schools in their league and their score.
From the app you get the details of top 70+ B-Schools in the USA all as per the Forbes listing
All of this gives a clear heads up on the Tuition fee, Past year average pay package, Required GMAT score, Location and link to college website.
Following are its core features:
The B-School planner detailing the steps to get into various B-School charts out step by step what all is expected out of students.
GMAT prep forums like gmatclub, beatthegmat, manhattangmat keep publishing new data in the sites and to keep in the loop and to not miss out on a thing, the app has an integrated RSS reader that updates the minute something has been posted onto the site.
As mentioned above, the publications post new and improved data and in the Social Media boom of today it is necessary to have a social channel to feed data on to as well. The very same is done through the Twitter handles of each of these sites. Through the B-School app, you get an aggregated set of tweets that have been put on to the app directly.
Use the Search feature on the college from the main listing using B school names or Location. Add /Remove from Shortlist (Your favorites) and take advantage of the partial search with auto complete to refine your search.
Pick your favorite B-Schools and set alerts for them in addition to the RSS feeds.
Get direct links to the B-School pages that tell you the insights that matter to you.
What more? You can work offline in the app as well.
Created for the ultimate MBA prep, this app gives you an 'All you need to know' for your road to glory.
With less than an MB in size and compatible with Android 2.2, the B-School GMAT Guide is a great way to get an uplifting boost for your educational journey by many miles. Remember, the people who truly succeed in education and careers are the ones who identify the significance of studying smart instead of just studying hard.