Christmas is just about here, and that means that holiday-themed apps are exploding in popularity on the Google Play Store this week. And by holiday-themed apps, we mean Grand Theft Auto Vice City.
Okay, GTA wasn't the only big app to hit the Play Store over this past week. Here are a few popular choices from your favorite Android app store:
Elf on the Shelf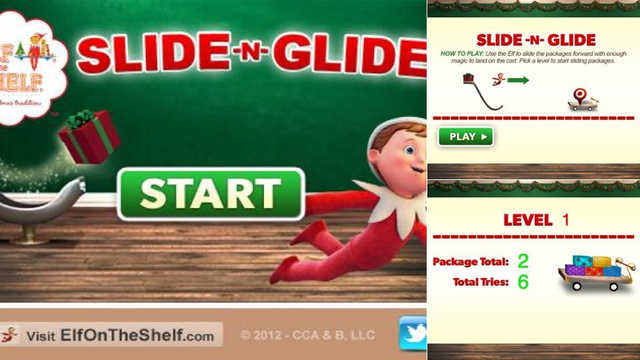 See? There were holiday-themed apps released this week. Elf on the Shelf is one family-friendly Christmas app that delivers "secret" gifts to users and then asks them to deliver these gifts in the days leading up to Christmas by using a fun mini-game. It's a great app for kids to try and it keeps them entertained over the Christmas holidays.
Download Elf on the Shelf for free here
Get Charitable
Elves are a common holiday theme. But so is charity. At least that's what the creators of GetCharitable think. This app involves a simple but genius concept: users download the app, login with their Facebook account, and then receive a new desktop wallpaper every day that features an advertisement for some company that has paid to be there.
These wallpapers aren't as ugly and intrusive as you may think, and even better – all ad revenue goes towards charities like Hunger Relief International.
Download GetCharitable for free here
Weather Live
Okay, enough with the holiday apps. Christmas only comes once a year, but weather never leaves. A new app called Weather Live aims to replace your default Android weather app with beautifully-animated live weather backgrounds.
Current conditions from light fog to snow to sunny skies are replicated in the background of this app, and users can customize the layout of the app in any way they like. Weather Live's motto is that it's "The most beautiful weather app. Ever." The only drawback? It costs $0.99.
Download Weather Live for $0.99 here
Grand Theft Auto: Vice City
Return to the streets of Vice City as Tommy Vercetti in the GTA: Vice City app for Android. At a price of $4.99, Rockstar has actually upgraded the graphics for Android while retaining the unique look and feel of the game. The controls have also been tweaked to take advantage of touchscreens, and although it's no substitute for a good gamepad, the Vice City app holds its own. The Android version also includes the complete GTA campaign, so this is the uncompromised Vice City experience.
Download Grand Theft Auto: Vice City from the Google Play Store by clicking here
Google Zeitgeist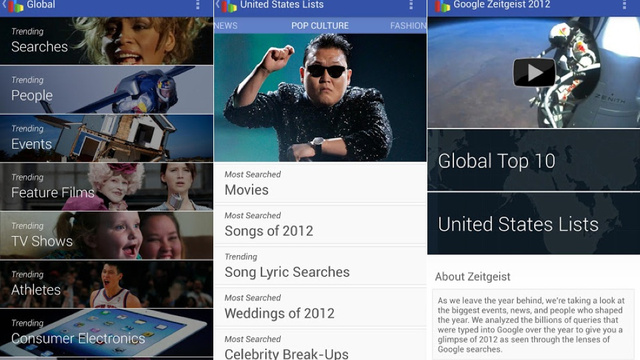 Google has decided to show us just how weird we are by releasing an app called Google Zeitgeist. Zeitgeist shows the most popular search trends for the year of 2012 in a number of different categories. Some trends – like Gangnam Style – are predictable. But others – like a massive increase in searches for "what is love" (seriously) were a tad unexpected.
With over 1.2 trillion searches in total being tracked over the course of 2012, there's plenty of data for you to comb through on Zeitgeist.
Download Google Zeitgeist for free from the Google Play Store by clicking here