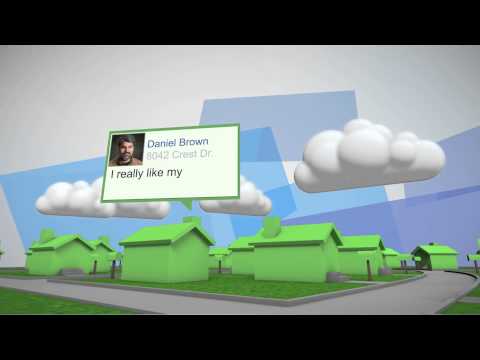 As global netizens who played a part in the social networking revolution over the last decade, we have integrated our virtual life with our real one by staying active on Twitter and Facebook 24×7. It has helped us get connected to people all over the world, but most of us don't even know the names of our next door neighbors let alone the names of people who live in our community. It is an unfortunate consequence of investing ourselves too much into globalization while ignoring the importance of building a healthy community network with the people who live around you.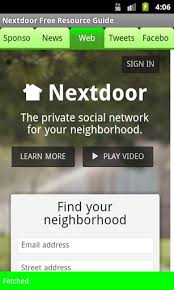 Luckily, there is an ingenious new Android app however that aims to bridge this gap that is called Nextdoor. It is another social network, but with a whole new target audience. It aims to help you build an online network with the people living in your locality. Using Nextdoor, you can now get to know the people around you, talk about things that matter in the neighborhood and cultivate a strong community culture. It quickly lets you share information with your neighbors and do things like organizing a neighborhood watch, or posting about crimes or giving advice about daily household care.
Nextdoor is strictly about connecting with the people who live around you. When a user signs up, he must input his real name and address and define his neighborhood. The user must verify that he lives in the neighborhood either via credit card confirmation or by having the company send him a postcard that he can then verify he received.
Existing users can also invite their neighbors to the community group. Once the user is established as a resident, he can see the status of his neighborhood including the residents that haven't yet joined Nextdoor.
The main page shows news feeds similar to Facebook's status updates. The user can view and share posts and communicate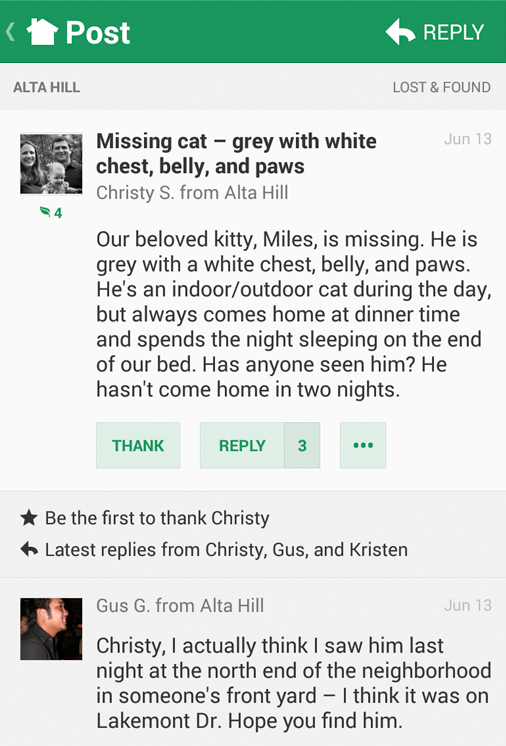 with others easily. Users can also send and receive urgent alerts on their phone, using the "Crime and Safety" section. So if there is something wrong going on in the neighborhood, the user can send out an alert that pings every other Nextdoor user in the neighborhood, whether they are home or not.
If a user sees a stray dog that may belong to someone, or set of keys in the park or a shady looking man walking around the neighborhood, then he can also take a snap and the neighbors will be able to see it. It is like having CCTV cameras around the neighborhood.
Each neighbor has a profile with basic information that can be hidden for privacy. The Nextdoor Android app has many features of which "Recommendations" is the most interesting one.
If the user is looking for a good hairstylist or a capable mechanic, the user just has to check the list and see how many thumbs up the person has received. The user can post about a garage sale or ask for items to borrow and send invitees for neighborhood events and also create multiple groups like one for dog lovers or one for only parents.
If you are interested in getting to know your neighbors but skeptical about going from door-to-door, then just download Nextdoor and make the introductions online.
No longer will you have to distribute fliers around the neighborhood or put up posters of your lost dog on every street lamp. Just grab your phone and post whatever picture or information you want. Just get Nextdoor and always stay connected to your neighborhood when you are out in the world.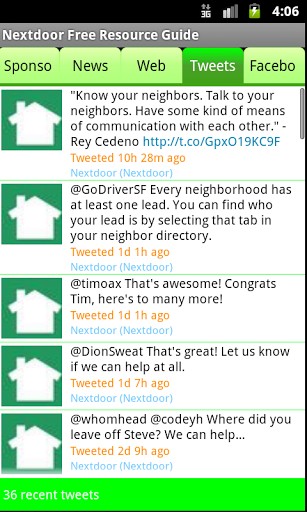 The Nextdoor app for Android is only available in the US as of now, but the company has plans to expand internationally in other English speaking countries like Canada, South Africa and the UK.