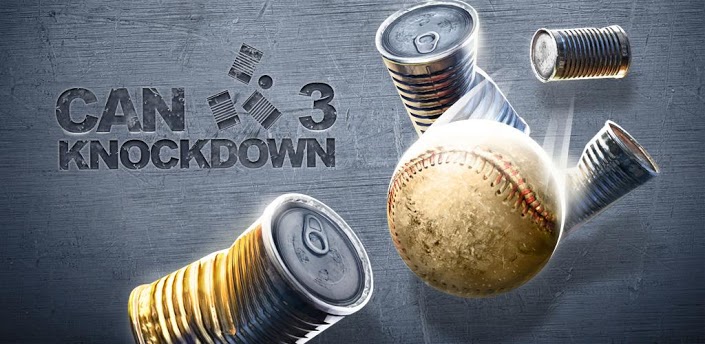 As children, we all remember that one game of concentration and steady nerves at the theme park that had us throw a ball at a stacked up pile of cans and knock them all down. None of us could resist giving it a go at least once to try and cash in on the huge teddy bear and other cool gifts that we could take home if we made the perfect throw. We enjoyed it and wished we could play it forever as it was a nicer ending addiction than the ones brought in by several of the videogames available in the market today.
Lucky for you, the Android developers from Infinite Dreams have found a way to recreate your childhood dream on your Android with a game called Can Knockdown 3. Yes, the third iteration of this popular game is finally here to make your can knocking experience more engaging than ever. Can Knockdown 3 is a game that supports one of the best graphics on the Android market. The developers have made a firecracker of a game with the stimulating in-built 3D graphics that make you feel like you are in the alleys of a street down town.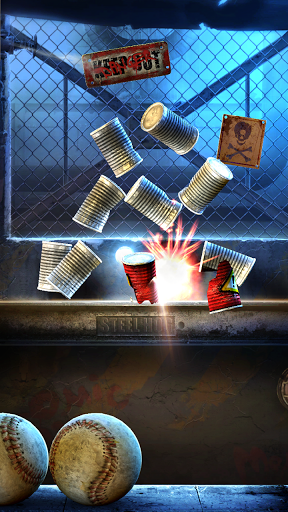 With the perfect integration of visceral sounds like the rattling of chains and falling cans coupled with its real life adapted visuals, Can Knockdown 3 is one game that you're going to be stuck to for hours on end. This free Android app is supported by solid software and frequent updates that make it even more appealing to casual gamers who are tired of shelling out money on too many apps.
The game is remarkably simple and is set in the light of the traditional game we played at carnivals at children.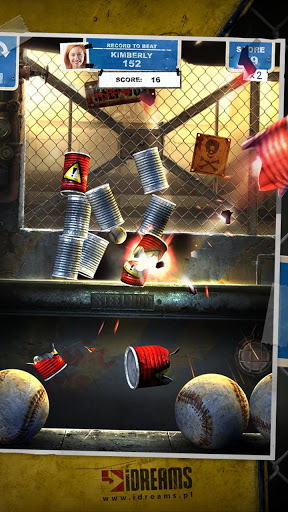 Can Knockdown 3 allows you to pick from 3 baseball balls that roll in onto the ledge in front of your screen with cans set in front of you to knock down.
Initially, the cans are set layered one on top of the other.
The game is made even more interesting by giving you a huge variety of levels and challenges within levels to choose from that make the game more challenging and enjoyable.
As the levels of Can Knockdown 3 proceed, the challenges get tougher and tougher. In addition to challenges there are extra points as well.
For instance, there exist special cans that are explosive. Aiming at them directly sets off a spectacular explosion that sends all other cans in its vicinity crashing to the floor by default.
There is also a penalty ball colored in toxic green that brings down the hard-earned points you earned by 3000; so be careful with your aim.
You get to fire power shots that throw the ball with greater force and gain higher points when aimed with accuracy.
Each level has the cans arranged in different configurations and arrangements. This will force you to stop and strategize in order to find out where the sweet spot would be to aim the perfect shot to cause the most damage to the stacked cans.
There also is a can that holds an extra ball in it and aiming on it adds another ball to your arsenal. You also have badges that you can collect as you proceed and make points.
A key strategy in making highscores is using the first ball itself to knock down all the cans itself as the remaining unused balls fetch you bonus points.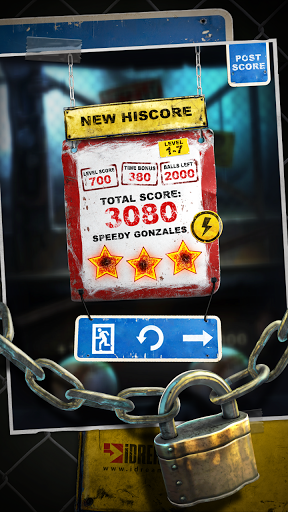 You also have tricky puzzles that have construction equipment and tools swinging in the air so that you can't aim straight.
The Can Knockdown 3 controls are easy to use and highly responsive. Additionally the game utilizes a proper physics engine to give your moves a realistic touch and give you the most solid gaming experience ever.
So what are you waiting for? Join the clan of can crushers and join in on the action by downloading Can Knockdown 3 from Google Play Store for free. With over 15 million+ downloads and universal acclaim backing it, Can Knockdown 3 will help you relive your joyous childhood memories at carnivals with a 3D touch to it.