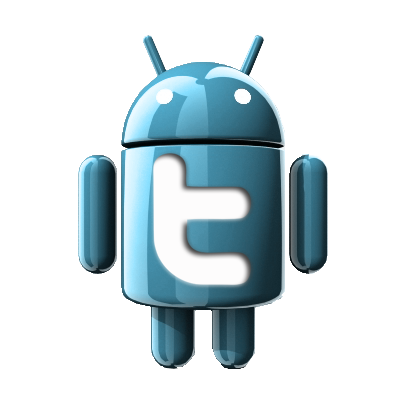 Here's an Android app dedicated to all the twitterati buzzing about across the world sharing fun anecdotes, interesting links and short conversations with each other. The esteemed app being mentioned is named Carbon. Over the years, Twitter as taken over as one of the top two social media platforms in the world; and today, with the help of this brilliant platform, you can follow your favorite celebs, sports persons, scientists, businessmen and all the big names and brands you can think of and see what they are up to.
With its widespread, reach a number of apps have been built around it to optimize the feel of it and make it all the more user-friendly and easy and fun to use.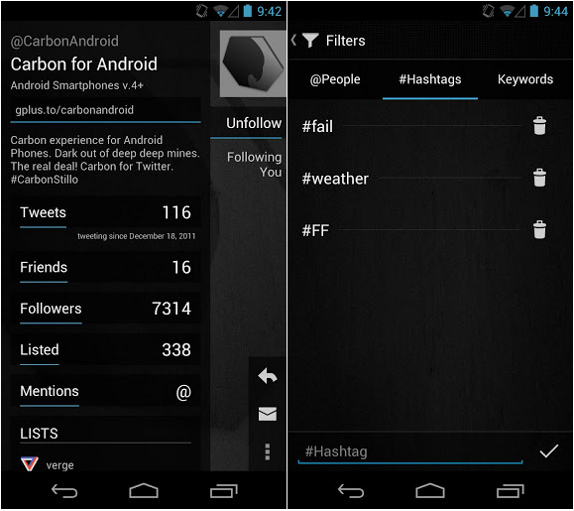 Carbon is an Android app made to cater to the needs of avid Twitter users out there by taking a step forward from Twitter's basic PC interface and optimizing it perfectly for the mobile platform. It has presented itself as a highly regarded and high utility frontrunner in the race for the best Twitter-based apps. It has adopted this awesome social experience on the Android platform with great finesse.
Carbon is essentially a simple, efficient and dashing extension of your everyday Twitter experience for the convenience of usage on your smartphones and tablets.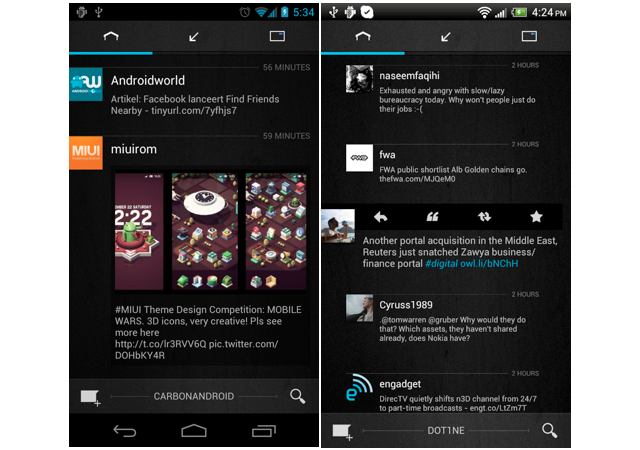 Let us take you through some of the best features of Carbon:
The core and perhaps the most beneficial feature of the Carbon app that justifies its popularity is that it assembles every important element that define the essential Twitter experience seamlessly in one place. You are not required to navigate to different parts of the place to view what you need. This means your Timelines, Lists, Favorites, Searches, Trends, Profiles options are all there for you to jump right into at the top of a button.
In order to refresh your timeline full of tweets, all you have to do its tilt the screen.
The power scroll feature enables you to directly scroll to the top and the bottom using two fingers. You can swipe any two fingers and reach the extremes.
Tap and hold on a particular tweet and this makes everything clickable and you can retweet and mark as a favourite from there itself.
Get access to a quick timeline for seeing everything on your home screen like lists, searches and trends with profiles of people too.
The timeline is rich with all HD pictures. The resolution is not affected due to reduction in size matching your device screen size.
Even the user profiles are displayed in a rich HD style outlay. This adds credibility of the app and is a key strategy in ensuring that users are hooked onto the app and spend more and more time on it.
The conversation view is also holistic and covers the entire conversation with power scroll features to jump up and down. You can see all the chats in a single screen.
You can also view and type direct threaded messages through Carbon.
If you are a Jellybean OS user, this app is perfect for you as all of the features are highly compatible. Background updates occur quickly and this happens over each respective account.
There's a user name auto complete feature too so that you don't have to type in the entre name. Yes this app is the ultimate spoiler for the regular tweeter.
Get filters for hashtags and users and keywords on Carbon.
Carbon is may be in its initial stages and still has a lot to improve on, but it is for free and is consistently getting updates and additional features that are making the experience better every day. For the busy tweeter trapped inside you, Carbon is your ideal tweet-mate. So get it now at the tap of a button by downloading it from Google Play Store.