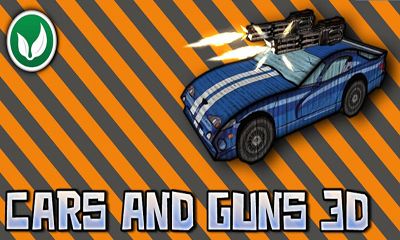 The Android market is filled with car games just like our childhood was and "Cars and Guns" is one such game from the massive list of car games that are available on the Play store today. With wheels flying and cops shooting with guns blazing behind you, Cars and Guns offers an experience a lot more fun than conventional racing games. People who loved unique arcade racing titles like the Burnout series, Carmageddon, Road Rash, etc. will be delighted to finally get their hands on a smartphone game that mixes their need for speed with total mayhem.
The world of car gaming is gigantic and it's almost impossible to ever get bored of playing them. With a particular game, you may have had enough of it and would want to move on, and that's completely alright as each game has so many features that will make gaming for you an everyday and every night thing if you aren't an ardent follower for the car gaming world that is.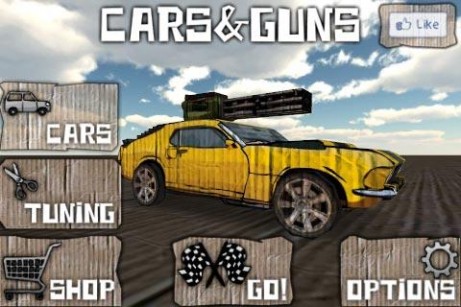 As the name suggests, Cars and Guns is an Android app that that has shooting and racing all packed into one power packed racing app.
The interface and graphics that have gone into the Cars and Guns app may be a bit lower than average and that can be the only feature that may have a low scoring and bring the overall rating of the app down. However, this may just be an inevitable side effect for all the fast-paced action visuals that are a part of this game. The racing gameplay runs like a dream and it's all in sync with a car lover's race game.
"Even if the world was made of paper or cardboard or whatever, I would buy a car to tune it fine" says a line in the app that signifies that the racing game is based in a world of paper and cardboard that looks like a packing box opened and painted and made into a set of racing tracks and cars that would run on it.
When you start the game, you have to set your game up by buying yourself the car you prefer to cover all the levels and race courses. The parking lot is your one stop for everything before the game starts.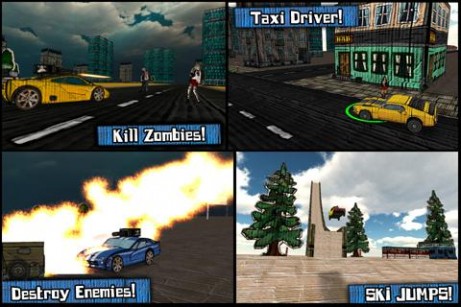 The more the points and seconds you collect, the better the cars you get to drive and dominate with.
In addition to the racing, you are also being shot continuously from behind with a hailstorm of bullets from cops and fellow racers alike.
The controls are rather very simple as you can only move in the forward or backward direction and the controls are on your screen. In addition to this you can also navigate left of right.
The infamous levels include:
Kill Zombies – That make you run over the dead creatures that come in your path and also complete the course in the allotted time.
The Taxi Driver assignment – where you can act like the local pick up boy in the yellow cab as you move around town
Destroy Enemies – where you can run your enemies over or even bang into them to exterminate them
Ski Jump – where you can peak heights scaling and racing up elevations that see your car flying in the air through the clouds and banging down into the ground.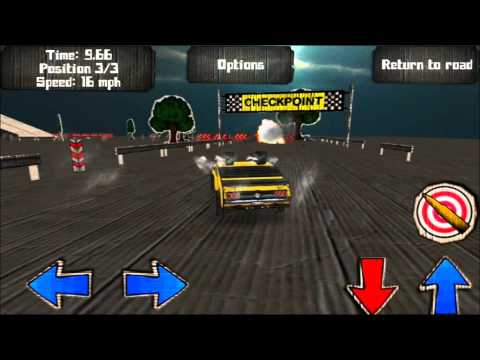 With garbage trucks and Santa cars, new and improved tracks and multiple camera modes, multiple consistent upgrades in the Graphic User Interface and performance updates throughout the app, Cars and Guns is a lot more than your generic racer games that have flooded the Android app market. You unlock new cars with each alternative upgrade with the Hystery machine and the Honeybee being the newest you know this app won't let you down once you get hooked onto it. Ready, set, go! Download the Cars and Guns app today and scorch your screens with this furiously paced street racer.