There are probably just a mere handful of us who have not been into comics. There is a time in everyone's lives, when we are young, when the word 'workbook' is automatically associated with 'comics'.
There is a wide range of comics and a wider range of genres, but everyone has had that one favorite superhero comic, stacks of which we will still find in each other's book cabinets, proudly displayed as a symbol of awesome childhood.
Comics have had a special connection with those people as well who are repulsed by text heavy reading. Comics are stories but better because we get to enjoy amazing artwork. I, in fact, used to buy comics more for the art than for the story. Not only do I own a huge collection of X-Men Evolution but I am fortunate enough to have inherited an amazing stack of Superman comics from my father.
This was just a small example of the obsession we share with comics. And as we grow older, we find new ones to keep us hooked to them. But since hard copies are quickly becoming a thing of the past, there is an app to keep the love for comics alive and it is called ComiXology!
Get swept away in the most immersive comic book and graphic novel reading experience available on your phone or tablet. There is no superpower necessary for you to be a super fan. Just download comiXology, and get ready to take comics further.
Villains plotting, Vixens seducing, and heroes saving the day. For Marvel fanatics, DC devotees and comics' newbies, comiXology offers you instant access to more than 50,000 digital comics and graphic novels. Whether you are hooked on caped crusaders, zombie slayers or inter-galactic love affairs, with comiXology you will experience and enjoy comics like never before.
What it features will blow your mind:
– Read all your comiXology comic books and graphic novels.
– In-app cart purchasing for all your buying needs.
– Experience cinematic, immersive reading with Guided View technology and a reader that lets you easily scan, zoom and flip pages.
– Same day as print releases.
– Digital first titles you won't get anywhere else.
– A massive collection of foreign language comics and classics.
– Search for and add books to your Wish List.
– You can read your comiXology purchases on all your devices.
– Enjoy our cloud-based platform with automatic sync across all of your devices.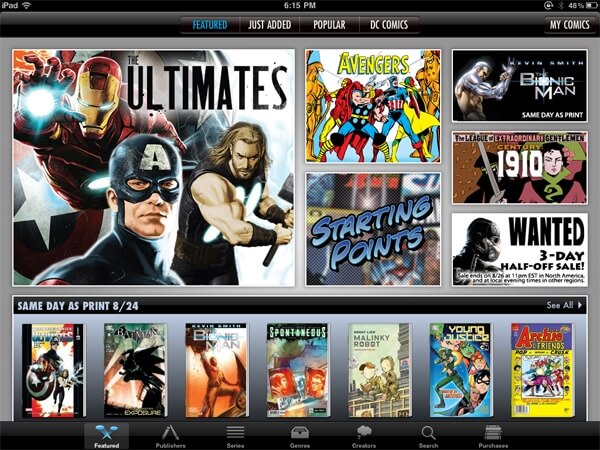 ComiXology's 50,000+ strong library includes:
Marvel Comics: The Avengers, Iron Man, Spider-Man, Deadpool, Daredevil, Captain America, The Hulk, The Fantastic Four, Thor, Wolverine and more…
DC Comics: Batman, Justice League, Superman, Man of Steel, Green Lantern, Smallville, The Dark Knight, Watchmen, V for Vendetta, Sandman and more…
Image Comics: The Walking Dead, Saga, The Adventures of Spawn, and more…
IDW: Star Trek, Doctor Who, Judge Dredd, G.I. Joe, Angel, Transformers, Bloom County, My Little Pony, Teenage Mutant Ninja Turtles and more…
Disney: Mickey Mouse, Cars, Toy Story, Donald Duck, Finding Nemo, The Lion King, Monsters, Inc., Tron, Epic Mickey and more.
You will also find titles like Dilbert, Doonesbury, The Simpsons Comics, Red Sonja, The Green Hornet, Vampirella, Adventure Time, Diary of a Wimpy Kid, Atomic Robo and many more.
This app is going to fulfill all your comic desires so download comiXology and dive into a world of art with dialogue bubbles!