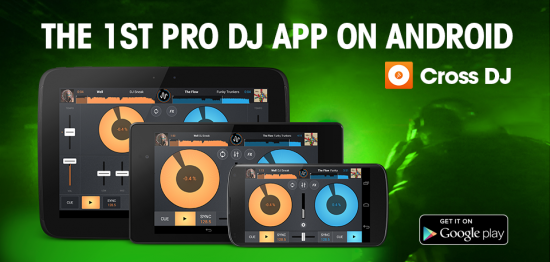 There was a time of the classics which we enjoy till today. Not necessarily in the same classical form though. But we will get to that later. Then there was an era of pop stars and boy bands who were everybody's heartthrobs after which came a time of a bit different kind of music. This kind of music goes on till today but what has emerged along with the mainstream music is DJing. Today DJing has become main stream and is an independent genre which was not so till some time back. Earlier it was just there to accompany the mainstream. The classics are given a 'DJ' sort of a twist and we have started liking the edgy beats added to the old classics.
Electronic Dance Music, popularly known as EDM, has emerged as type of music exclusive to DJs.  Basically DJing is the cool thing now. Everybody is into it and I am pretty sure that a lot of us have given becoming a DJ a thought. Well, to kick start your career as a DJ, there is an app called Cross DJ which is a fun app that also helps you decide whether you should take that road seriously or just limit it to the app.
Cross DJ mixes tracks in perfect sync on a powerful audio engine. It has been engineered by Mixvibes, digital DJing pioneer for 15 years.  It has a lot of features in a few different areas. These are as follows:
MIX IN PERFECT SYNC
• Accurate BPM detection of your music, down to the last decimal.
• Stable Sync: One-press and the 2 tracks never go out of phase.
• Split Mono: Pre-listen your music tracks before mixing them.
• Progressive, manual pitch bend.
• Customizable, manual pitch range (4, 8, 16, 32, 100%).
• Accurate Beat-grid editing: make any track sync properly.
• Parallel waveforms mode to visually check if your tracks are synced.
• New Quantize feature: hot cues and loops are automatically set on the beat.
• Smart-seek: Tap on the waveform to fast-forward & get a seamless jump.
• Automix: Let Cross DJ mix your tracks and play music automatically, from any sources (playlist, album, etc.).
• External mixer: control EQs and cross fader with hardware mixers.
OUTSTANDING AUDIO PERFORMANCE
• Best mix performance for an Android DJ app.
• Low latency: music reacts instantly to your actions.
• Extremely realistic scratch sound as on real turntables.
• 15 effects (Bi-filter, Low-pass, Hi-Pass, Delay, Echo, Phaser, Flanger, Cut, Crush, Bliss, Brake, Roll, etc.).
• Keylock mode: change BPM without affecting the tone.
• No load time when starting-up the app.
• Autogain: automatically equalizes the levels of 2 tracks.
• SoundCloud integration: Play streamed tracks in seconds.
• SoundCloud integration: Explore and mix all SoundCloud music
INTUITIVE INTERFACE
• 2 turntables, full-fledged 3-band EQ mixer – with DJM EQ preset.
• Sampler: 12 sample banks + possibility to record your own samples.
• Large buttons, optimized for small screens.
• Crossfader with 3 modes: cut, autofade, normal.
• This music player is compatible with MP3s, AAC, FLAC and more.
• Multiple sorting options: Sort your library by title, artist, album, BPM or length.
• History pane: display previously mixed tracks.
• Navigation by folder.
• Adjust the tempo by moving the turntable forward / backward.
• Large control pads: XY effect pad, 16 hot-cues pads.
• HQ live recording of your mixes.
• Display remaining time of your tracks.
• Optimized for mobile & tablet.
• Mix Soundcloud : Explore, play and mix all SoundCloud. No premium account needed.
• Optimized for Intel processors.
You can enjoy this huge range of features if you have an android 4.1, 4" screen, 1GB RAM and a dual core processor. This is just the phone requirement. There is also a laptop version of Cross DJ available for the DJs who want to go that extra mile.
Now you can become the star of every party by making people dance to your tunes and who knows, maybe the next thing I will be writing about is your sold out concert!