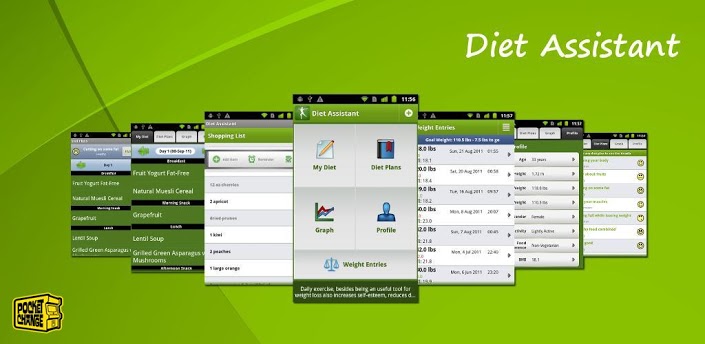 I am not suggesting that we should come under the pressure of sporting the socially acceptable good looks but we do need to take care of our health and fitness. And come on, let us be honest, who does not want a hot body?
A lot of us are inspired to have a fit physique internally and some of us are influenced by celebrities. However, unlike celebrities, we cannot afford a dietician, a trainer, our own health smoothie company (I am guessing that that is what these stars do). And most of our fitness issues are related to that fact that we let unwanted fat live inside us. The best, FREE, solution to this problem is a wonderful app called Diet Assistant. It takes care of all our weight related issues by helping us in taking giant leaps towards our perfect body weight.
It is a simple app – all we need to do is tap in the target weight and the purpose for our new diet, sit back and allow DIET ASSISTANT: WEIGHT LOSS to present us with brilliant meal options that will tantalize our taste buds and send our metabolism into overdrive!
Not just that, this app has partnered with POCKET CHANGE to offer us awesome and real awards just to use this app.
The app contains meal plans for vegetarian, pescatarian, and high-protein diets along with many more. If we are looking to lose weight, maintain our weight, or simply embrace a healthy way of eating and living, this is the application we need.
The other features on the menu are:
• Range of diet plans across nutritional categories
• Dedicated shopping list per each diet plan
• Options to amend diets and meals to users tastes, with guidance relative to their diet plan
• Forum facility to discuss ideas and dieting tips with other users
• Weight-loss manager & coach (kilograms, pounds or stones)
• Weight Chart / Graph
• Built-in BMI (Body Mass Index) calculator
• Customizable weight & shopping list alerts
• Forum to share our weight loss experience
• Earn awesome rewards & prizes with Pocket Change
• Sleek & intuitive UI
• Personal pocket-size weight-loss manager
• Works as our personal dietitian & nutritionist
• Home screen widget
• Diet and weight-loss tips & tricks
• Database backup & restore
Whether we go for the in-built menu options or create our own health boosting meal plans, DIET ASSISTANT – WEIGHT LOSS app is your perfect companion as we look to revolutionize our life. We can track our weight against our targets and talk with fellow dieters in the built-in forum to stay motivated and on course to reach our goals!
You think this is too much goodness in one app? Well, you need to use it to believe it. So say adios to days when you feel like a balloon because now you do not have any excuse for wanting those six pack abs and not being able to get it. Everything you need to become the next supermodel, or just fit, has been taken care of. All you need to do is give your laziness a kick outside the door!