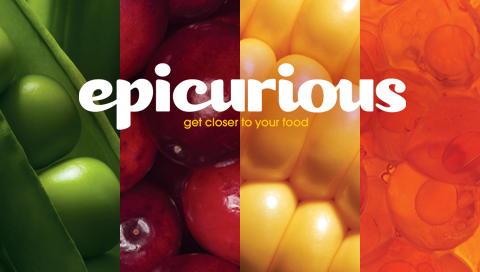 Had a knack for cooking but never went to any cooking class? Never bought any recipe books for whatever reason? Well there's a moment to rejoice. Epicurious: Your cook book on your device is here to save you. You must've gone through thousands of recipes and hoping to learn how you can cook all these magnificent dishes in a jiffy. Unfortunately, there is a lot of groundwork and effort needed to understand and execute the perfect dish.
But what if we told you that there's an app to throw all those problems down the kitchen sink and help you attain the culinary skills of a Michelin star-rated restaurant head chef? And that too with all of it being tuned to your own pace, leisure and comfort? Sounds like it's too good to be true, doesn't it? Well, we bet you'll never be more pleased to be wrong in your assumptions once we introduce you to this one-of-a-kind Android cooking app.
All you need is your mobile device with an Android powered OS and the fun begins. Out of the thousands of apps already competing feverishly by helping people create a delectable cuisine for themselves in hassle-free ways, the Epicurious recipe app for Android makes its entry in style and offers a lot of substance to go with it.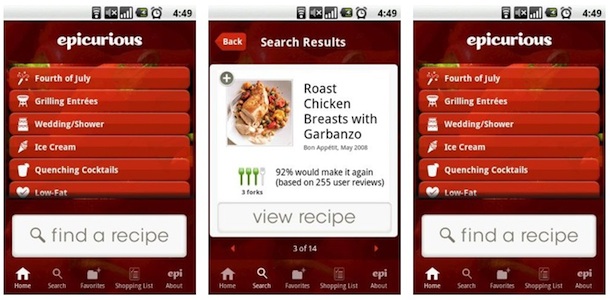 From the award winning food site Epicurious.com, which includes more than 28,000 delicious professionally tested and created recipes from popular cookbooks, top chefs, leading restaurants  and renowned magazines, this Android app brings to you all of its vast array of resources in the palm of your hand to empower you to become a brilliant chef.
The Epicurious app even has a voice search which enables the user to speak instead of typing the recipe he/she is using.
The interface of this Android app is remarkably simple and well laid-out. It has various titles under which you can search for various cuisines and special recipes.
Click on whichever option you want and a whole list of yummy recipes will unfold on your Android device screens. The number of recipes under few titles runs in thousands. If you like a particular recipe just click on the plus sign on the left hand top of the page and you can add it to your favourites or add to your shopping list so you can buy the ingredients when you desire or email it to some contact and have it right in front of you the next time you're out shopping.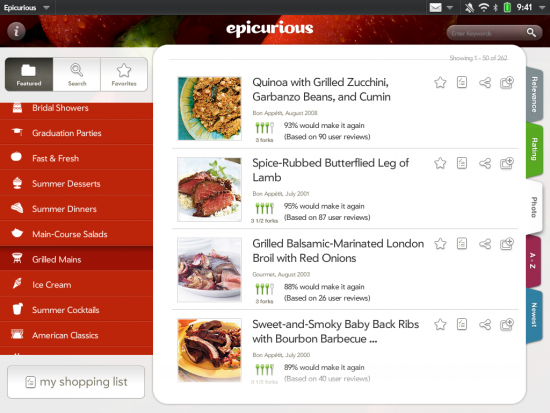 One can view the recipe and can cook it very easily by following the steps given. You can plan a whole menu with the help of the different suggestions given.
There is an option for 'food search' where you can type the main ingredients and you get information on the:
Meal/course,
Cuisine
Dietary consideration
Dish type
Season or occasion where they could be used.
There are simple recipes too for those who don't know how to cook and are just in the app to give it a go on a lazy Sunday with nothing else to do, or for the ardent beginner.
You can save recipes to your favourites list as well and ensure that you never miss out an opportunity to cook your favourites when the time permits.
There is a widget on the home-screen too for even a better user experience and for quicker access to the delicacies that water your mouth the most. The widget also shows you 'the recipe of the day' so that you are in tune with your cookery on a regular basis and never miss out a thing.
Epicurious also has a good blend of food articles and guides to help you cook for holidays and parties, everyday cooking, entertaining, healthy cooking, seasonal cooking, cuisines from around the world, kitchen equipment etc.
Believe a bit in the prediction for the day? The Food horoscope will see what the stars say you should be eating. How about that for a food app?
The Epicurious app is a truly amazing recipe app with an interactive interface with really neat graphics. So get your cooking hats on and start sharing your delightfully delectable recipes through e-mails or other social networks and become the next Jamie Oliver with your own massive following of cooking enthusiasts.