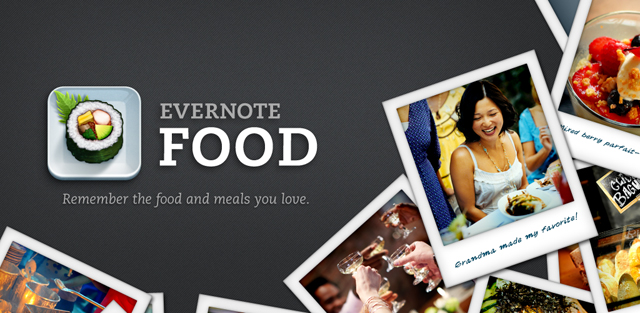 When hunger pangs strike hard and there is a lack of a competent chef in your vicinity, what do you do? Well, you look for food to order and/or call someone to get you do it. Well, what if it's 3 am in the morning, and there's no store opened and nobody at home but you and a fridge full of cooking ingredients? You look up to your Android device and search for the food app that will take you through a crash course in culinary perfection and appease your hunger in a few moments.
Evernote Food is a brilliant little Android app developed by the Evernote corporation. It ventures into the line of food app making as well with expertise in the app developing category. Evernote Food is set to sweep you off your feet and dazzle your tastebuds with its intuitive and feature-packed experience.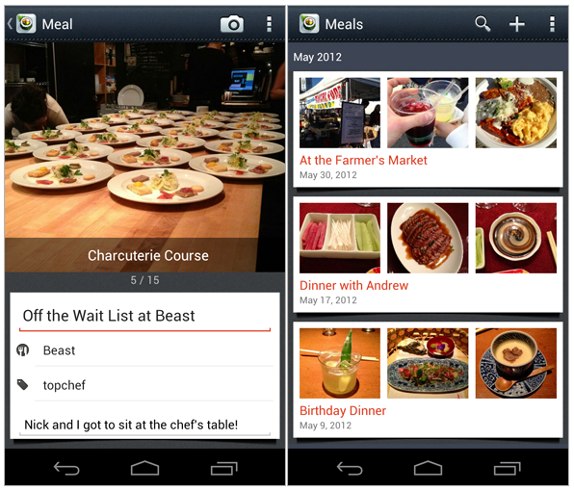 The Evernote Food app consists of 4 major categories which can be seen below
Explore thousands of recipes
Build your own cookbook
Build a restaurant wish list
Remember the food you love
All of the above features are designed with uber high-def graphics that do full justice to the Evernote heritage.
Once you start off with the exploration of countless recipes, a list appears to you left of the category you are in on a tablet and the centre of that page has a list view of the recipes available in it.
So choose from a variety of Baked Pumpkin Donuts with Chocolate Glaze, Cranberry Orange Steel Cut oats, Wild mushroom and Crescenza Pizza, Pop tarts and so much more.
Once you enter into the recipe, what you have is a step by step guide on how to go about cooking the scrumptious meals ahead of you, which makes every dish look like a piece of cake to pull off.
The details in terms of the required ingredients, the methodology of cooking the dish and the time is all written on the section where you are in.
Further, there are images in high-def quality to see how accurately you have cooked your meal. All you have to do is scroll in the list and you have everything already made available to you.
The next feature is building your own cook book.
Now if you happen to be an ardent foodie, then there's no way you won't access this part of the app. Building your own cookbook becomes an essentiality and this is where your digital copy of your cook book is stored.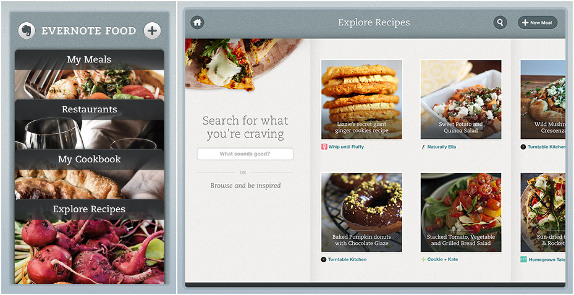 You can type in your own recipes and add in ingredients and inspirations from other recipes that you saw across the app.
You can also locate restaurants in the vicinity by selecting where you want to eat in terms of specifying the location and the cuisine that you feel like munching on.
This is further accompanied by a road to reach the place on the map so you don't get lost on the way and make it with hunger in your stomach intact.
You can also save your meals and have a sneak peek into what all you recently saw so that you can remember that delicacy you made and would probably want to make it again too.
With a strong average rating of 4.5 stars on Google Play Store, Evernote Food 2.0 is set to take on your appetite head on and leave your taste buds tingling.