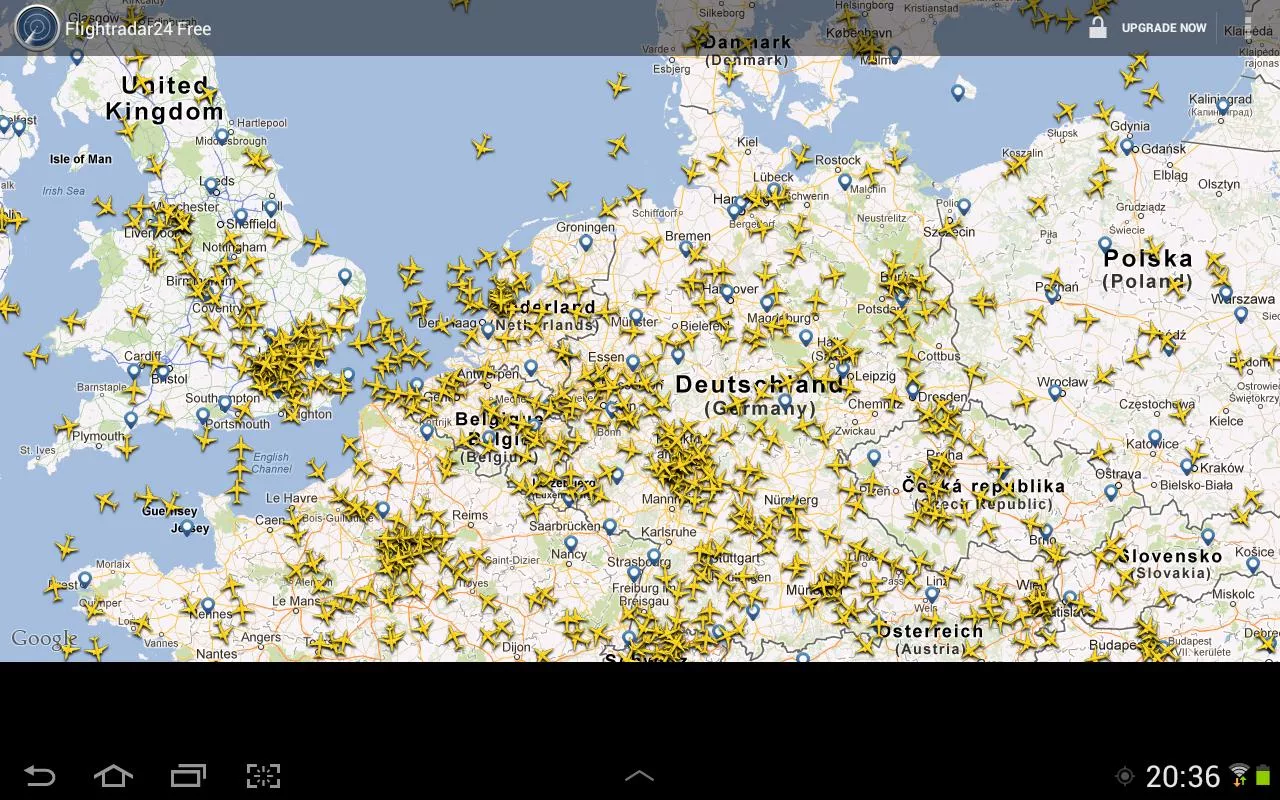 There are all kinds of people in this world. Some are satisfied with knowing that their mother's flight will be two hours late so they are happy and decide to take a longer nap. Some of us, on the other hand, are not happy just by knowing that the flight is late. Our curiosity gets the better of us and we wish to know exactly where the flight is at the moment.
For those of us who think like this, somebody very considerate created this amazing app called Flightradar24 – Flight Tracker. This app can turn your phone or tablet into an air traffic radar and see planes around the world move in real-time on a detailed map. Or you may point your Android device at a plane in the sky to find out where it is going and more.
This travel app is available in more than 140 countries and the features that add to its popularity are:
–  Watch planes move in real-time on detailed map
–  Identify planes flying overhead by simply pointing your device at the sky
–  Experience what the pilot of a an aircraft sees in real-time and in 3D
–  Tap on a plane for comprehensive flight and aircraft information such as route, estimated time of arrival, actual time of departure, aircraft type, speed, altitude, and high-resolution picture
–  Easy to search for individual flights using flight number, airport, or airline
–  Easy to filter by airline, aircraft, altitude, speed, and more
–  Easy to set bookmarks to enable quick navigation to areas of interests
–  Turn the device into the arrivals and departures board of any major airport and get real-time status updates for flights plus current airport weather conditions
–  Realistic aircraft symbol
– Set up custom alerts based on airline, aircraft type, flight number or registration
How to Use It Effectively
This app is easy to use and works this way:
Most aircrafts are equipped with so called ADS-B transponders that transmit positional data. Flightradar24 has a rapidly growing network of several thousand ground stations around the world to receive this data that then shows up as aircraft moving on a map in the app. In an expanding number of regions Flightradar24, with the help of multi-lateration, it is able to calculate the positions of aircraft that do not have ADS-B transponders.
Traditional radar data is also used in the app thanks to a direct feed from the US Federal Aviation Administration (FAA).
There is one thing however, this app does cover most of the regions thanks to its expanding coverage but there are a few regions that it does not cover. And since it is a paid app, it would be advisable to check it out first before purchase it should you be looking for some specific region that happens not to be covered by Flifgtradar24.
In Summary
Here is an overview of the areas it covers:
Europe: close to 100%
North America: 100% of US and Canada via slightly delayed radar data. Real-time coverage for most of US, Canada and Mexico for ADS-B equipped aircraft
South America: Substantial coverage in most countries including Brazil, Argentina and Chile
Asia: Substantial coverage in most major Asian countries including Japan, India, Indonesia, South Korea, Thailand, UAE, Malaysia, Taiwan and many other countries. Rapidly expanding coverage in China
Oceania: Nearly complete coverage in Australia and New Zealand
Africa: Substantial coverage in South Africa. Limited but growing coverage in the rest of the region
This is a very interesting app which can also prove to be educational when it comes to the world geography!