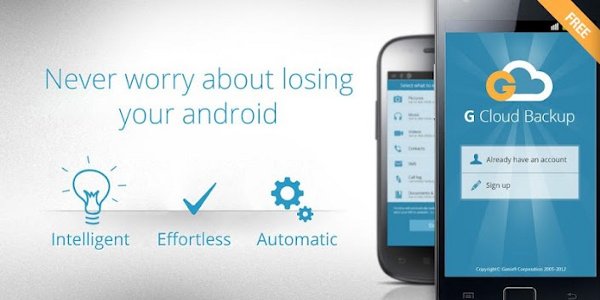 As 2013 cruises on, the evolution of cloud computing technology is setting the stage for yet another IT industry revolution. Although the cloud computing services available today have only begun to scratch the surface of their limitless potential, even as a casual user, you must be familiar with cloud service providers such as Dropbox and Google Drive by now. Genie9's G Cloud Backup app for the Android platform is the one of the latest entries in the race for cloud service dominance on mobile devices.
If you are looking for a convenient one-stop solution for all your data storage and retrieval needs along with top-notch security protocols on your Android device, the G Cloud Backup app will fill that void with utmost efficiency. The intelligent and secure backup of all your essential personal and professional data is what best defines the objective of the G Cloud Backup app.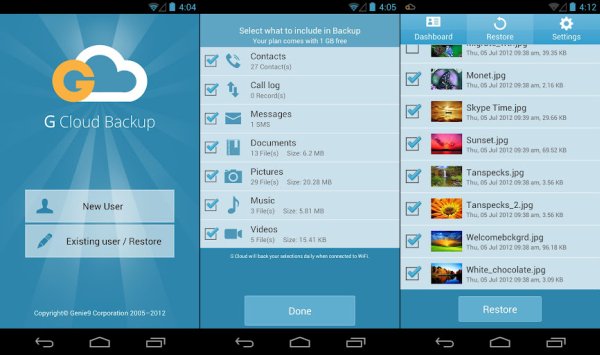 Adding G Cloud Backup to your arsenal of Android apps will enable you to backup all your important data on your Android device, including contacts, documents, SMS messages, media files and call logs to a protected cloud location. One of the biggest selling points of this app is the fact that it is absolutely free to download. It comes with 1 GB of free data storage for your Android device and further gives you the ability to earn up to 8 GB of free data storage, which makes it a much more economically viable option over its competitors. You do not need to have root access to utilize this service either. To get started, simply navigate to Google Play Store and download the G Cloud Backup app on your Android device.
G Cloud Backup utilizes the renowned Amazon S3 cloud storage for maintaining your data backups. It uses state-of-the-art security mechanisms to fortify your confidential data and ensure privacy with the help of secure data transfer via Secure Socket Layer and data encryption using the AES-256 standard. To backup your data, you simply need to go to the app homescreen and choose what you want to add to the cloud storage. Once you have confirmed your choice, G Cloud Backup will backup your data and subsequently also sets up daily automatic backups whenever your Android device's battery life is adequate and is connected to WiFi (or 3G/4G as per your needs).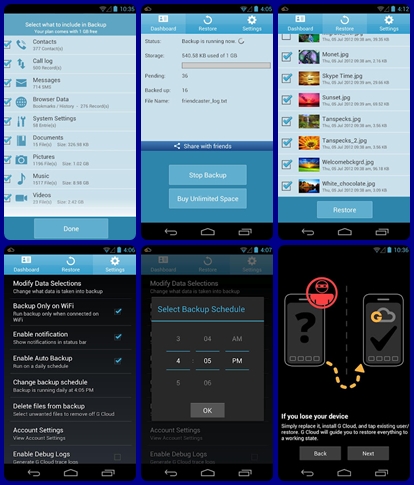 The G Cloud Backup app offers support for backing up all file formats without any hassles and also allows easy mobile to mobile restore service. You can transfer your cloud data securely to a new Android device with just a tap of a button. It sports an elegant and extremely user-friendly interface that makes the navigation of its extensive range of features absolutely convenient.
The data backup system of the G Cloud Backup app operates with intelligent proficiency and uses a set of pre-arranged configurations that can be completely customized by you via the settings menu. The settings menu allows you to schedule backups according to your convenience and also preset backup conditions depending upon your device's 3G/4G/Wi-Fi connection and battery levels. Another fantastic feature offered by the G Cloud Backup app is the ability to backup data from external SD cards.
Users who want to unlock the free upper limit of 8 GB of cloud storage for their Android devices can do so by simply using social media tools such as Twitter and Facebook to get more friends to sign up for the G Cloud Backup service. Users who require a higher storage threshold can opt for any one of 2 paid tiers – the 16GB and 32GB model, which can be availed via yearly subscription or a one-time lifetime payment ($32 a year or $80 lifetime for 32GB of storage).
FINAL VERDICT
Although the G Cloud Backup app attests to the highest standards of service and security in cloud storage, its 18 GB and 32 GB payment models are pretty steep in comparison with the prices offered by other competitors who provide the same or more storage capacity for lesser prices. However, if you are looking for a premium quality cloud storage service to backup all your texts, confidential documents, contacts, call logs, media files and system configurations, along with seamless integration of your information across different devices, then the G Cloud Backup app will blend in perfectly with your Android experience. With G Cloud Backup on board your smartphone or tablet, you never have to worry about the loss of all your important data on your device due to loss or theft again.