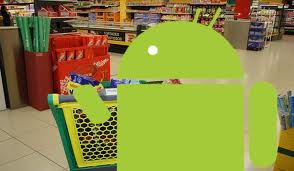 There is a famous saying that says 'You can't pray on an empty stomach'. And to fill an empty stomach, you need food; and for that we need the necessary ingredients to cook our food. We go to the stores and pick up all what we need, but it's common that in our hurry or absent mindedness, we end up forgetting certain things and leave our dishes without the right flavors.
Fortunately, the Android app market has shown that there's no problem that it can't take care of for you by offering you a brilliant collection of shopping-oriented apps. Among these, there are plenty of apps that help you make a list of things you need from the grocery store and organize your shopping lists to make your supermarket trips way more convenient. One of the nifty and superbly designed apps that fall into this category is the Grocery Smart app for Android.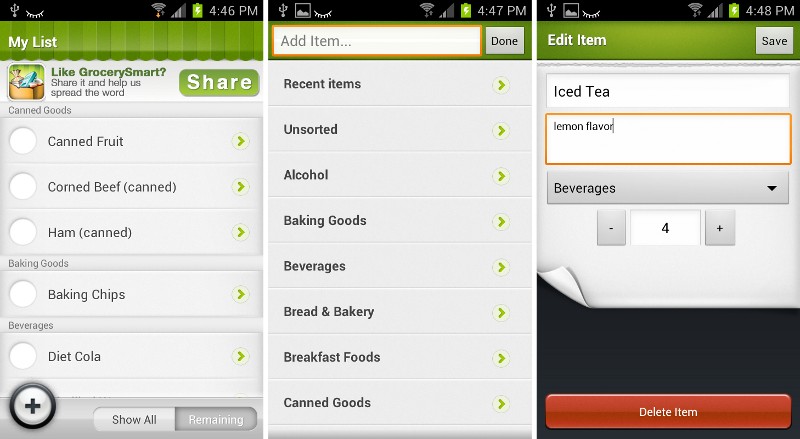 The Grocery Smart app interface is very simple for all users to navigate. It gives you the options of making a new list and one of my cards. A 'My list' tab also exists that stores your list and shows you the number of items in total one has to buy.
By pressing the + button on the New list option the user can give a name and then save the list under that name.
You can make multiple lists under multiple names and share it with others
The My Cards feature helps you to scan and store your existing loyalty cards.
To start making your list, tap on the My List option, once this opens you will find a "+"button on the bottom left side . Simply tap on the "+"and a whole list of items under various headings unfolds on the screen.
There are a range of headings to choose from be it from recent items, unsorted, alcohol,  baking goods,  beverages ,bread &bakery, breakfast foods, canned goods, cleaning supplies, dairy, deli, frozen foods, health & beauty, home & garden, infant and childcare, meat, office supplies, organic foods, pasta, sauces, world cuisine to name a few.
All of which are arranged in an alphabetical order for your ease.
Once you choose the heading you need, the Grocery Smart app still goes a step further by giving you a multiple choice of items you can choose from. When you are simply spoilt for choice get a more detailed list of what you need. For example – If you open the Dairy option, you will get a varied choice of dairy products like different types of cheese, breads, bread dough, choice of flavoured milk, eggs, fat free dips to non-dairy creamers to smoothies and yeast to name a few, again all in alphabetical order.
Simply click in the squares provided before your choice of heading. The user can click as many items as they want under the various headings.
Once that is done, click the "Done" option on the top right hand side. A list is automatically made which you can see by going back.
If you go back to the home screen of the Grocery Smart app, you get to see the total number of items to be purchased under whichever name list you have made. This gives you an idea of how many items are to be shopped.
In the list there are circles provided before each item that you can simply click on as you keep making your purchases. They can be assigned a tick mark by you and subsequently a line runs across the item ticked confirming that it has been purchased.
You can check your list as you shop and make notes as you make your list or shop.
Once done you can simply empty your list by clicking on the option given below and the entire list is cleared.
The user can keep adding or deleting items as per requirement.
Sync your grocery list with the website at www.grocerysmart.net and share your lists with others using the Grocery Smart app or the website too.
So next time you hit your local supermarket, get that shopping cart out and waltz right through the lanes with zero confusion on your head to get whatever you want at the best price possible. Download the Grocery Smart Android app from Google Play Store today and smarten up your grocery shopping experience.