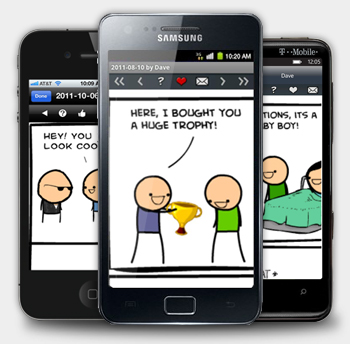 As a kid, comic books and strips were something we all looked forward to keeping track of with great joy and enthusiasm. Even today, some of us still love collecting the latest edition of comics as a hobby or casually glance across the morning newspaper cartoon section to amuse ourselves.
For comic buffs and even casual readers, Garfield and Calvin are two of the most recognizable and celebrated icons that have brought regular doses of entertainment as comic strip characters in our lives. With the magic of smartphone technology all around us, comics and books have made the jump to digitized formats and have reached millions of new fans spread across the world while keeping the old school loyalists constantly entertained as well.
Here are a couple of awesome Android comic apps based on the adventures and misadventures of Garfield and Calvin for comic strip lovers. They are designed based on their traits and characteristics and their vibrant and highly interactive user interface puts you in the middle of the world of your two beloved comic characters so that you can truly enjoy the reading experience and take it to another level.

The Garfield Daily app helps you to feed yourself with all the essential Garfield classic comic strips. This app has a compilation of all the Garfield apps ever created and produced, which falls over a staggering 12,300 full strips. This app is filled with multiple features to give you a comic reading experience like never before.
Here are a few key features of the Garfield Daily app:
A feature that even Odie can promptly do. Navigate using the side bars on the left and right. Click on the right and left side of the pictures to move around. Pinch to resize the screen and enlarge the strip
Garfield slept a lot and so does the app named after him and so the app closes and blanks out after few seconds of inactivity. The navigation and the title bar fades away. All you have to do is touch the middle of the screen to revive it. Touch again to have it go away.
Each day a new comic strip is loaded and if you have a special day in mind you can add that in the time line and go back to the strip of that day.
A done button on the keyboard exists which you can use while searching for something specific. If you have a particular theme in mind like lasagne or sleep or lazy use it to search for a particular strip and get a list of related comics.
Be aware of the drool as Odie selects comics for you a surprise.
Share the comics with a sarcastic saying just like Garfield to show your friends that you re in the mood too.
It's only fair if you say that you can't get enough Garfield. And so to satisfy your thrust on the Information page there is a 'More Garfield' button which brings you to Garfield's website. These have a world of awesome links for you to continually enjoy the experience online too.
Don't stop just now and go get your paws dirty with the Garfield Daily comic Android app for your smartphones and tablets.
Calvin and Hobbes quotes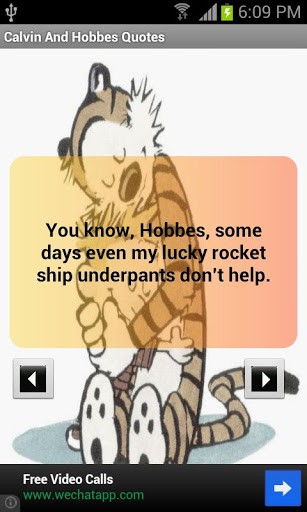 Bill Watterson's prodigy Calvin and his imaginary tiger friend created history with this endearing and hilarious comic strip.
Calvin the little toddler with his super smart brains and sarcastic remarks helped Bill Watterson sell over 45 million copies of the   18 full compilation books that have been in existence form the beginning.
The Calving and Hobbes Quotes Android app simply highlights the best quotes from the author's books said by Calvin.
They will make you laugh and laugh till your eyes start to water.
After gaining that level of popularity Calvin and Hobbes featured in over 2400 newspapers and today on your Android device.
If you want to laugh out loud to some of the best Calvin and Hobbes quotes and share them with your friends, you now know exactly where to go.