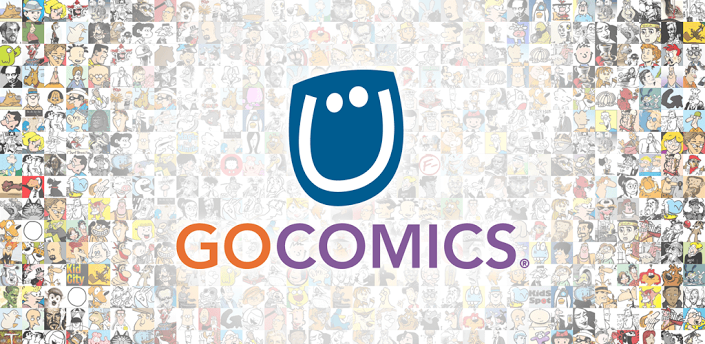 No matter what point in life we reach, comic books somehow always find a way to draw us in and let our ecstatic  inner child out anytime we come across them. Comics and comic book movies never fail to disappoint and always hold a special place in our hearts. It's something that can instantly induce a nostalgic rush in adults and make them feel like kids again. Keeping the value of this beloved attraction in mind, the Universal Unclick developer corporation has devised a splendid Android app named GoComics for all you crazy comic lovers whose first job in the morning would be to turn to the comic strip section of the early morning newspaper or go hunting at your local comic book store to pick up a mint copy of the new Batman comics.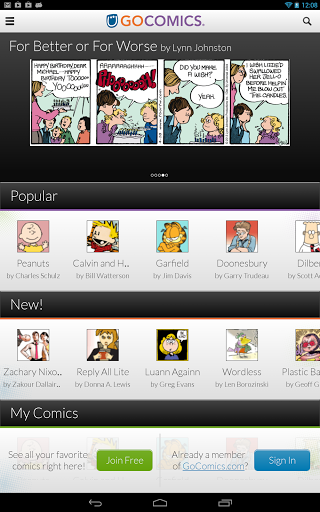 GoComics is THE comprehensive comic book app for casual and hardcore fans. There won't be a moment that you will be bored. This app is a mobile comics portal for almost all the best comics in the world and a definite turn too when a laugh is needed.
GoComics has got all the beloved classics you used to read as a kid such as: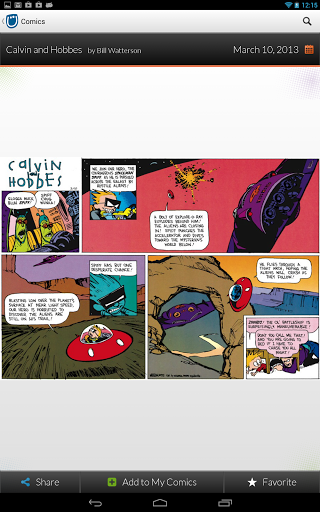 Calvin and Hobbes
Marmaduke
Dilbert
Garfield
Doonesbury
Peanuts
It has a great collection to interest your own kids too with modern day comics like:
Pearls Before Swine
Get Fuzzy
The Boondocks
FoxTrot
Big Nate
GoComics is a one-stop shop for the most diverse set of comic books available on Google Play Store right now with a rich catalog of genres ranging from love to comedy and from witty sarcasm to downright slapstick hilarity.
The user interface is attractively designed and well-implemented and offers easy navigation features to its users.  The comics are split into 3 prime categories – Popular, New and My Comics. Get previews right above the above-mentioned categories for a wholesome view. You can see each category with comics in a grid and list view separately for more accurate viewing.
Check out the Explore and More columns for a little something extra to keep you engrossed in this wonderful fantasy world a little longer.
This colorful Android app consists of comic art designed and written by globally acclaimed satirists, graphic novelists, Pulitzer Prize-winning political cartoonists and other hottest up-and-coming talents.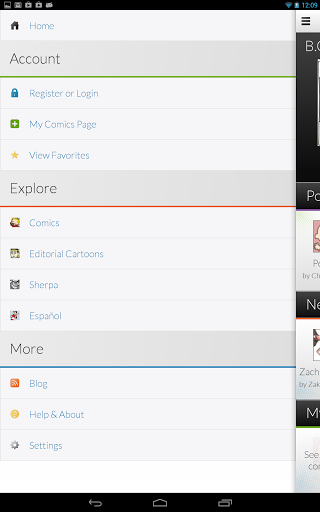 GoComics is updated every day bringing to the tip of your fingers the latest combination of comics.
Let us take a more in-depth look at the features offered by this unique app, which will allow you to engage in the following activities:-
Bookmark all your favourite comic strips so that you can recollect and view them later all at a glance.
Sharing is an important part of life and technology and important when both join hands together and thus you can share all of your read apps through Facebook, Email, Text, Twitter and much more.
With the GoComics app, you can even get access to vintage comics that were launched decades ago to revive the memories of the good old days. Set a date and see comics that have dated back originally to that date too. Revive the Calvin and Hobbes days. Relive all the fun you had reading Charlie Brown and his interactions with the little red-headed girl. Share all you Foxtrot stories with the younger generation, and see Huey and Riley before The Boondocks became a cult classic.
Get an all-access pass to different kinds of comics ranging from liberal to moderate and conservative editorial/political cartoonists that represent that all sides of the strata with their own hard-hitting messages.
With years of experience in writing and cartooning and collectively holding the heritage of 20 Pulitzer Prizes for editorial cartooning, the cartoonists whose comics are featured in GoComics make it difficult for you to put down once you get into them.
The GoComics blog that is updated about 3-4 times a week will give you the greatest insights into the insider news on upcoming comics and comic book conventions.
Budding artists and cartoonists can all be seen here before they break out in the Comics Sherpa section.
So that's GoComics for you. Now you can get all your favorite early morning newspaper comic gags and a whole lot more whenever you want on your Android device. Jump into this fantasy world and take a trip with your favourite comic book characters as they run into one exciting adventure after another.