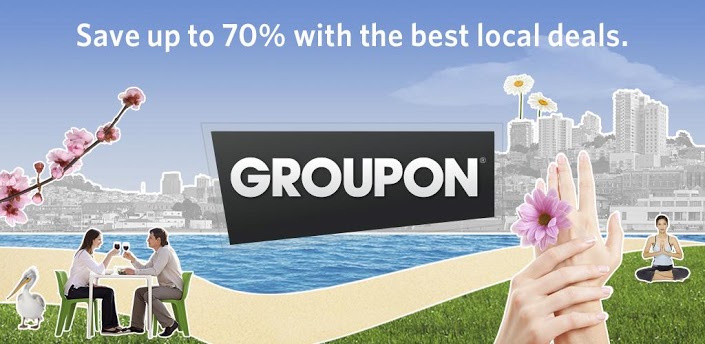 Legend says that the notorious social spectre known as the "shopaholic" can possess anyone under the right circumstances and send you into a spending frenzy. Unfortunately, many of these impulsive spendthrift moments take way more of a toll on our wallets than they ideally should have. This is because not many of us take the initiative to hunt magazines and newspapers to hunt for special offers to help get us the best deals.
Retail therapy is an activity followed by millions of people who now have access to their favorite brands at every nook and cranny that you can think of. So to make that shopping experience a little more worthwhile and bring you the most value from your shopping experience, we bring to you the mother of all shopping apps – Groupon. An Android app that can make both shopping addicts and non-addicts happily pack in their credit cards and dollar bills and head straight to the shopping mall.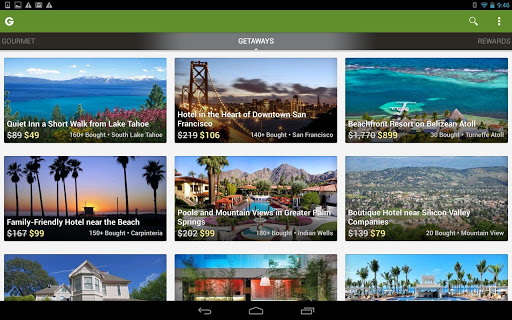 So How Does Groupon Work?
Groupon is simply an app that offers discounts and exclusive offers. A plethora of discounts covering almost every conceivable shopping category. Using this app, you can avail of discounts on spas, discounts on groceries, discounts on restaurants and food, discounts on health and fitness equipment and on sports material. You name it and Groupon has something to offer at a lower price. Worry no more about spending countless hours bargaining and strategically ego-clashing with salesmen to get better prices for what you want. Groupon will give you access to some jaw-droppingly cheap discount offers that will be way more economical than any price you hoped to bargain for.
Groupon works on the simple principle of social shopping and thus the name "Group"on. Let's say Brand 'X' is offering a 20% discount on its line of clothing. But to be eligible for the discount the criteria to fulfil is that along with you, say 49 more people must apply for the discount. This means that once 50 people have applied for the coupon offer all 50 can redeem the coupon and if not none of them can reap the fruit of the low cost.
At the same time if the offer is not valid due to criteria not being fulfilled, nobody loses their money. At the same time to redeem the offer, human psychology drives the user to ask his friends to cash in on the offer too thus spreading the shopping fever far and wide.
Now let's take a look at its primary features:
Groupon brings an eclectic set of new discount coupons every day to your Android device via notifications. Moreover you can customize the groupons as well to match only those coupon categories that you are interested in.
The daily featured deals can range from 10% to 90% all in the palm of your hand. Groupon is also available for user to use in over 500 cities and 11 fiefdoms across the world
You can also: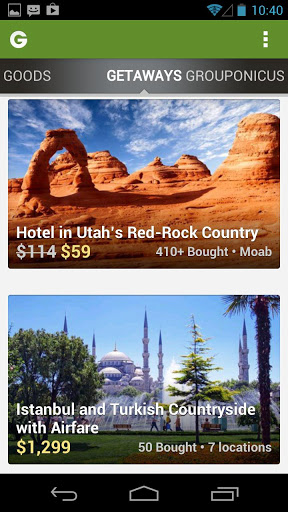 – Track your purchased coupons by location and expiration date
– Buy and redeem Groupons directly from your Android device.
– Save ink and avoid those pesky paper cuts by never printing another voucher or coupon ever again.
A few more extremely useful bonus features you can use:
– Buy local, on-demand Groupon deals for restaurants, spas, fitness centres, and activities nearest to you.
– Use Groupon Getaways to take an exotic vacation or a quick weekend trip.
-Be the change in your community by supporting Groupon Grassroots campaigns.
– Search holiday gifts with groupon deals.
– Share Groupon deals with every friend and relative in your online social circle via Facebook, Twitter, Google+ etc.
– Add the Groupon widget to your device's home screen so you never miss out on the next big deal.
Download the Groupon Android app today and explore the best shopping deals your favourite neighbourhoods have to offer and cash in on all the cool stuff up for grabs at bargain prices.