I don't know about you, but I've never been totally happy with the Android keyboards installed on my Samsung Galaxy S3. The default Samsung keyboard is brutal, and the paid app SwiftKey is noticeably better, but still not quite perfect.
That's why I took interest in the new release from Swype, an Android keyboard that has been in the making for several years. Way back in 2009, Swype was available for free as a public beta outside of the Google Play Store. In fact, back in the early days of the keyboard, it was actually bundled on smartphones like 2009's Droid Eris.
Today, the unthinkable has happened: after several long years in development, Swype has finally launched on the Google Play Store at an introductory price of $1, although a free trial is also available.
Now, before you dismiss this as 'just another Android keyboard' fighting for your attention, you have to realize that Swype is the real deal. The company was purchased by Nuance in 2011 for $100 million. Clearly, someone saw potential in the company and with 250 million global Swype users, it's hard to argue with that.
Download Swype from the Google Play Store today
How it works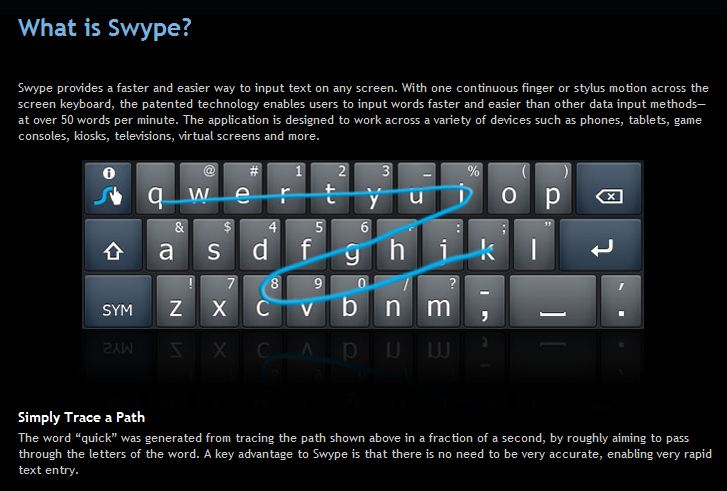 If you haven't tried out a swiping keyboard yet, then you're missing out on one of the most unique and innovative ways to type on a virtual screen. Instead of lifting your finger off the screen for each and every letter, Swype simply allows users to drag their finger from letter to letter while holding it on the screen.
Swype pays attention to where users stop and reverse their swiping motion – i.e. the letters on which they stop. And since nobody's perfect, Swype is also smart enough to correct your mistakes if you happen to stop on the wrong word.
Guinness World Record
The most important thing to know about Swype is that it's fast. Really fast. It's so fast that it holds the Guinness World Record for the fastest time to type a text message. You see, all those milliseconds you waste lifting your fingers off the virtual screen are milliseconds you could spend typing another letter.
Basically, Swype aims to be the worlds' most powerful keyboard that gets smarter the more you use it (just like SwiftKey). The Swype free trial is certainly worth a try and it's a couple bucks cheaper than SwiftKey (which costs $3.99) if you do plan on buying it.
Not to be confused with SwiftKey 'Flow'
You'd be forgiven for thinking that Swype was released a long time ago. But no – it was just SwiftKey Flow, a keyboard that is surprisingly similar to Swype. It uses the same gesture-tracking technology and it was released in November of 2012.
So far, these two keyboards are leading the Android market in terms of usage. If you're getting sick and tired of your default Android keyboard and want to try out something a little different, I highly recommend trying both of these keyboards to see which one you like.
Download the free Swype trial here
Download the free SwiftKey trial here