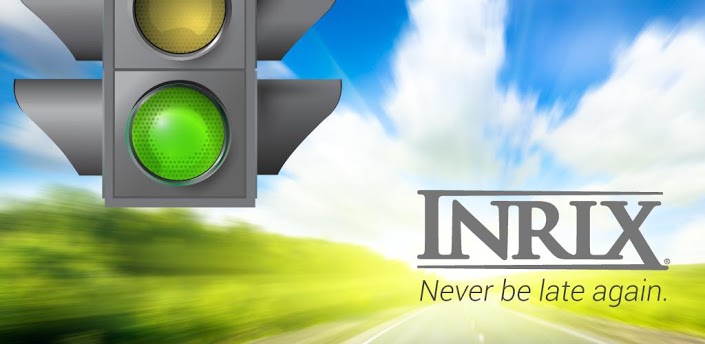 The innovation of GPS navigation integrated with smartphone technology has led to the development of some of the most ground-breaking utility apps for users worldwide. The age of aimlessly wandering around in your car asking for directions and steering through jam-packed lanes to reach places is now slowly and steadily fading away due to these navigation apps. Joining the elite league of navigation apps that assist you in dodging traffic and conserving time, the INRIX Android app certainly looks well-set to take this functionality to the next level.
With increasing intensity of road traffic and complex new road networks popping up every year, INRIX comes in at the perfect time to save you from this navigational nightmare. Other than the core features of navigation, INRIX supersedes all the features found in other competing GPS-based traffic apps as not a lot of navigation apps provide the level of internally integrated service it provides. INRIX is one of the best travelling apps as well and provides services that will definitely be a great tool for tourists in their adventures overseas.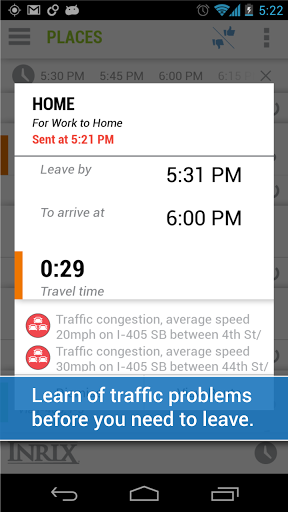 The traffic intelligence gathering capabilities of an individual increase fourfold with INRIX as it provides you with the most accurate traffic data ahead of you so that you always know whether this is the correct route or not. Routing and road alerts are also provided saving time on your daily commute from say work to home and back.
INRIX is a navigating app using GPS data from over 100 million trucks and road censors, cameras, in-car navigation systems. Additionally it also pulls out data from other users in the android platform using this app and other apps as well. This in turn pulls out holistic data from your driving community in the area to give you the most accurate and perfect analysis of the routes and appropriate lanes to use to travel.
This combination of crowd sourced data and GPS enabled vehicle data together with road censors is one of the main reasons why Ford, BMW, Toyota, and most of the top car manufacturers in the world use INRIX for their built-in navigation systems.
When you leave the app running whilst you drive, it will periodically check for alternative routes and tell you which route will save you the most time and least hectic to travel through. This information will be rendered on the basis of results aggregated from real-time traffic conditions that will have a comprehensive database listed with all the hazards and accidents as well registered in its high-end tracking system.
In addition to using it as an app, you are providing the community with efficient service as you contribute to the data for trafficking on other systems. Also using alternate faster routes you are informing others of the similar routes too.
In fact you can help and learn about traffic rules before you leave your house by simply providing the location you want to go to. It will give you a travel time and estimated time of arrival considering traffic too.
Once you create a route, a line indicating the most efficient path will automatically appear on your Android device's screen. If at all a particular road is closed down, the reasons for the close down appear above the map and the time of the incident stating when it was reported.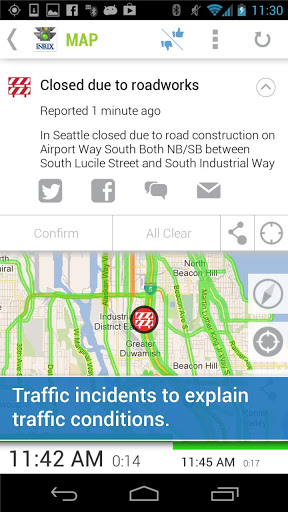 You can also contribute by reporting accidents or issues that may save the time of public.
These may be a break down, construction, water clogging, a signal break down etc.
For travelling purposes, INRIX also has a predictive tool to tell you what the best time to leave in order to reach your destination the fastest along with your estimated arrival time and traffic.
INRIX is an Android app that will help you zoom through traffic just as quickly as it is making its way to the top of the charts on Google Play Store. Once you get used to INRIX, it will become an indispensable driving tool for your car that will save you a great deal of time and money.