The Android world is saturated with Twitter clients and all of them have something or the other in common which makes each app distinct from the other. Janetter is a similar such app that has everything you need for a typical Twitter account and a lot more, which is targeted at mobile social media users. When the platform has so many twitter clients its surface to download it is all but left to choice in order to decide which one is the best. Other than a few small features here and there isn't really much to differentiate from.
What you have is a list format of all your tweets on a blank white screen. Here you can have access to all that Twitter has to provide be it, you friends @mentions, lists that you have subscribed to, Bookmarks that you have added to the app which you can then later on see specifically so that you can differentiate between multiple topics
The default white background can also be changed to black and all the features including a reply, a share, an RT, a favorite us available on each respective tweet.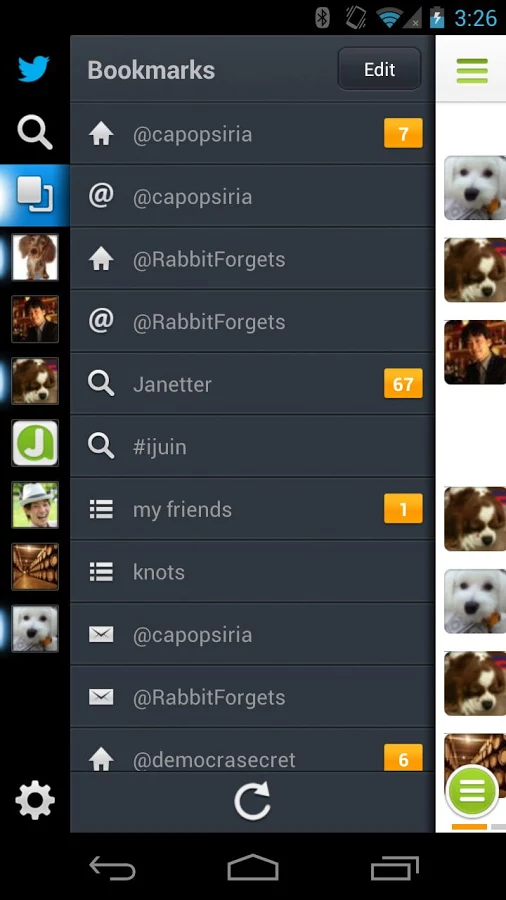 Further to that, each tweet you push out to the world now shows how long ago the tweet was posted to your twitter feed as is on the main portal. These also include images that have been added by tweeters where you don't have to click on it to be taken to a different page. It is all available on the feed itself.
One of the great features associated with this cool Android app is the way profiles are presented for each user. Once you click on it, you see the specifics in a descriptive list and ahead of this, the number of tweets, followers and following, favorites and lists.
The interface on the Janetter app is pretty impressive to navigate through and may just attract you depending on the kinds of color schemes you love. Janetter is set in a typical green and black interface, which can be further customized as per your preferences.
The Janetter Android app has a nifty multi-account functionality where you can add up to 3 accounts for free and up to 7 accounts on the paid version. You also don't need to shift between accounts as there is a multi-account functionality to view tweets.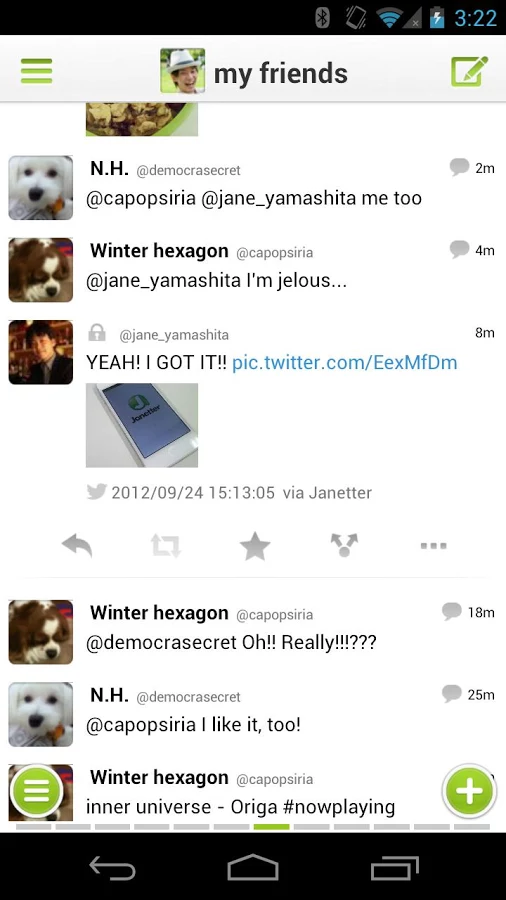 In order to reply to a particular tweet, all you have to do is tap the tweet and there you have it.
The Janetter app also has this keen functionality of hiding tweets with particular keywords, from particular users or from particular apps using 'Mute'. This can be used to save and secure a few tweets from a few different kinds of people.
Again the above can be viewed as a differentiator in order to select the best client for twitter.
The interface and the design is pretty tight as are all twitter clients as all of these are pretty much in competition with one another to be the best. With smaller and minute kinds of changes and additions each app can be called as it is.
Janetter is quite a head-turner on the Android space even though it still has to make an aggressive head start into the market.