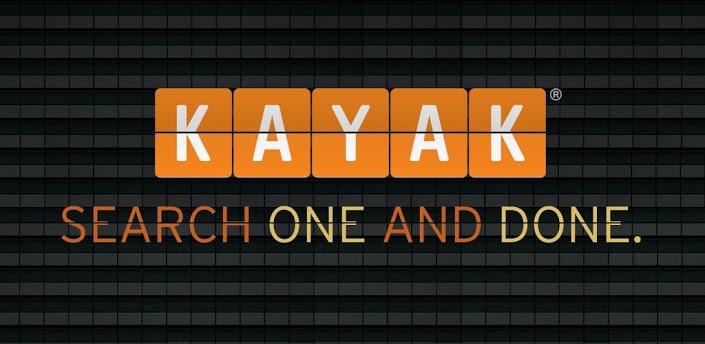 The world is divided into two kind of people – those who ensure they're at the helm of everyplace in the world and then then the typical indoorsy types. Further travelling is an adventure in the outdoors that has not only gotten more people from the latter side to the former, i.e. from the indoor couch-prone lazy Joe to the adventure crazy Joe. The prospect of adrenaline-filled experiences while travelling abroad adds a whole new sense of glory, pride and downright enjoyment that along with an average trip. Why is it so? The existence of the elixir of life right in the palm of your hand – Your Android device, does this for you. What a boon it is to have such a device will be clarified in the words that follow.
Travelling apps have become the norm for a serious traveler and even for those who don't exploit this utility, you really must. Kayak is one such Android app that is an indispensable travel tool and one of those "Hey! Hope we didn't forget to take that.." kind of gear that you would ideally like to carry on a trip with you.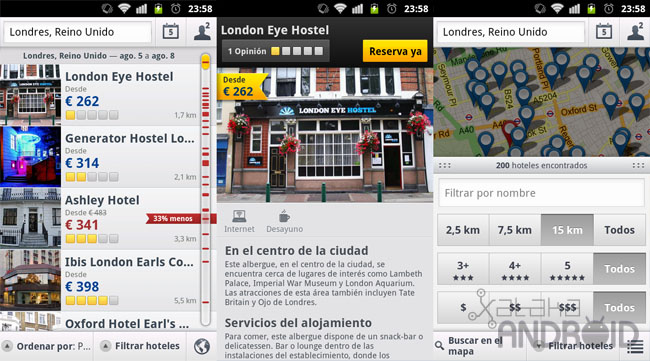 On downloading and launching the Kayak Android app, it presents itself by greeting you with its warm orange and black colored interface. The home screen gives you a list with the following options:-
Hotels
Flights
Cars
My Trips
Flight Tracker
Price Alerts
All of the above take you into respective pages with a whole load of research left for you to do and a travel world within your phone to explore.
For instance – the Flights tab will take you to a typical booking interface type page to look up all the possible flights.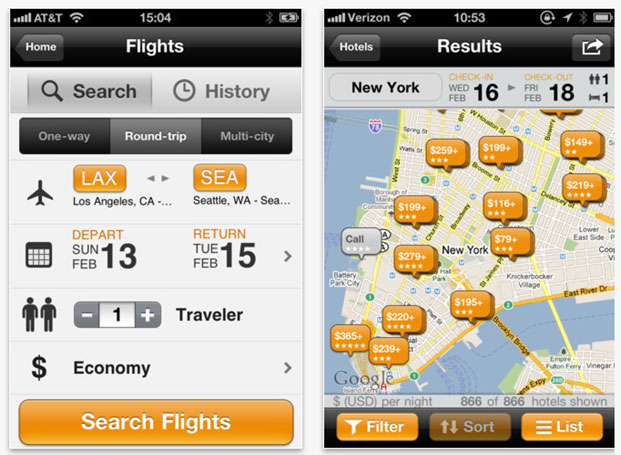 For travelling from Utah to Minnesota add in the 'from' and 'to' and the dates in the calendar below you – you also get options with an auto-predict feature built in to the app, also add in the number of travellers and the class and hit the search flight button! – The app will look up the best flights for you and even suggest other places nearby with connecting flights and multiple price ranges.
Once you pick a flight via the menu options, you can see multiple avenues on it to book from, simply slide you finger to see options where you can call, directly book or 'get in email' for your ease.
In connection to this, you also have a flight tracker built into the app where the tab enters you into the flight map and ask you what flight you want to track. Type in the flight you want to check up on and you will be shown its precise location of the flight on the map. Pretty neat wouldn't you say?
Searching for Hotels too is a breeze, with all you having to do is add in the basic date and checking in details and you get a huge list of Hotels.
You can book directly from the Android app with the given rates for each hotel and to add in more spice, you have a map directing you to the place and photos about the place too. If that's not all, you can have a look at the reviews and you're good to select the best place for you to stay.
You can also save a set of all your vacations and all of that is available to you with all details of the trip.
You can book yourself cars too from the Kayak Android app and allot your preferred class of travel and other rates that you are comfortable with while moving from place to place.
You can also create price alerts and filter by exact date, lowest fare and top cities.
Lastly, you can also create an essentials list for packing and travelling to ensure you never miss out on anything adventurous.
Kayak is your one stop shop for fulfilling all your adventure travelling needs. So before you pack your bags and trekking boots, make sure you pack this cool little app in your Android app tray too by downloading it for free from Google Play Store.