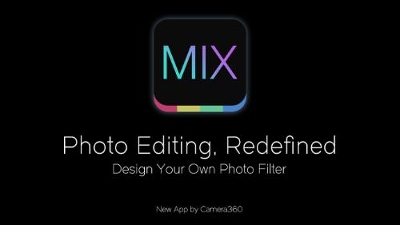 This app is for those who have reached a stage from thinking that Instagram is so cool and has so many filters to choose from; to thinking that it barely has anything. It is like a 'been there, done that' situation where the editing options offered by Instagram or any other basic photo editing app is not good enough anymore.
MIX by Camera360 has been created by the PC World Award winning creator of Camera360 and HelloCamera, it is the most creative and comprehensive DIY photo editing app.
This app has a plethora of features on offer, significantly higher than any other photo editing app yet:
– DSLR-like Depth of Field experience
– State of the art bokeh blurring
– Advanced selective color adjustment
– Non-linear & non-destructive workflow
– Design and save your own photo formulas
– 115 Handpicked filters
– 40+ Original textures
– 10+ Professional adjustment tools
– Fast multi-layer processing
– Easy sharing to Instagram
Created by the team behind the popular Camera360 app, MIX is the most creative and comprehensive standalone DIY photo effects layering and blending app. Designed as the perfect companion to Instagram, MIX has close to 200 handpicked effects and filters. These effects include light leaks, tilt shift blur, grunge textures, comic effects, starry night texture, grit and grain textures, original vintage filters, sky textures, frames and much more – all mixable, all adjustable, all savable, all FREE!
In addition, MIX by Camera360 comes outfitted with over 13 professional adjustment tools most notably, Bokeh Blur, Selective Color Adjustment, Level Enhancement, Vignette, Tilt Shift Blur, Depth of Field, Color Balance, White Balance, Highlights. All of these adjustments are added as layers giving you unprecedented control over every aspect in your composition.
MIX's non-linear editing architecture and non-destructive workflow empowers but also simplifies the creative process of designing complex photo filters. MIX by Camera360 will be populated with adjustable formulas created by photographers and digital artists from around the world. No longer will you be limited to choosing photo presets produced by others, you can now design your own signature filters and get featured in MIX and Camera360.
With its intuitive UI and streamlined workflow, MIX by Camera360 is user friendly for any skill level. Whether you're a photo enthusiast, designer, or a professional photographer, MIX gives you complete control over every aspect in your composition.
Perfect Companion to Instagram
What Instagram is to photos, MIX by Camera360 is to photo filters.
It is designed to be the perfect companion to Instagram, you can now make your photos stand out in Instagram with unique effects created in MIX.
Unparalleled dSLR DoF Effect
Love the blurring effect created by dSLRs? MIX's unique dSLR DoF blur effect mimics the blurring and bokeh effect of dSLRs under different apertures. Now you can leave your bulky dSLR camera at home and still create dSLR like photos with MIX by Camera360.
Complete Control
MIX by Camera360 enables you to transform your photos in almost every way imaginable on-the-go. Packed with close to 200 filters, dSLR-like blurring effects, textures, light leaks and other professional adjustment tools, MIX is like photo editing in Manual Mode, it gives you unprecedented control over every aspect in your composition.
Save Your Edits for Future Use
It enables you to design your own signature effects. Not only can you customize your photos, you can save your creative photo editing experience for future use. With MIX, you can now design that perfect vintage film look you couldn't find anywhere else!
With so much and more to offer, this app proves to be a savior for people who always wanted a professional sort of editing but did not know how to operate PhotoShop. It solves all the photo editing purposes one could possibly think of.