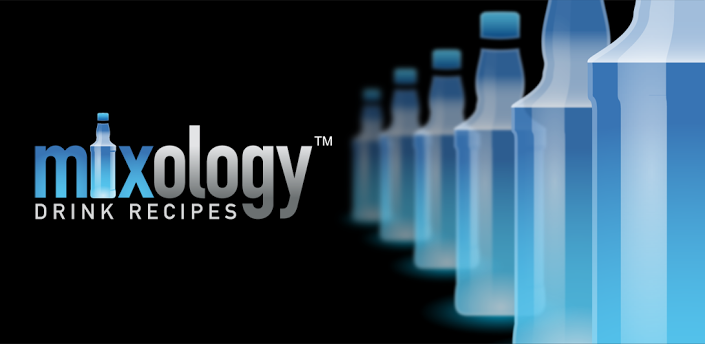 Cookbooks are abundantly available across the Android space and the world of housewives and prospective cooks download these apps on a consistent basis to whip up some amazing recipes. They consist of millions of recipes and encourage sharing your own unique dishes and uploading them to these own apps. Communities are built around these and each app has a user interface designed for users to use.
But what about apps that teach you to stir up some fancy drinks to wash down your delicious snacks and main course dishes? There aren't too many of them available; however, the Mixology Drink Recipes app for Android is more than enough to compensate for that.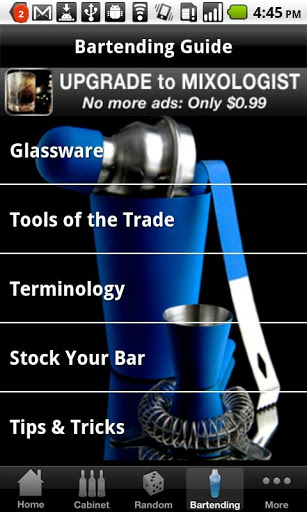 As the name suggests, Mixology is an Android app made for bartenders and ones who love making alcoholic and non-alcoholic drinks at home or for those who want to make a career in bartending.
Let us take you through the main highlights of the Mixology Drink Recipes app: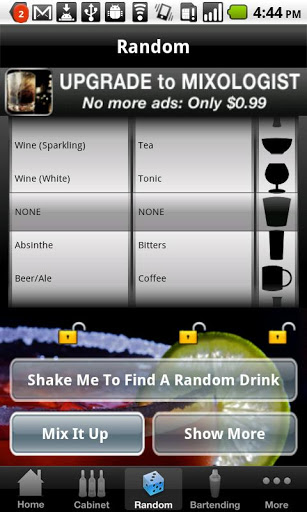 The many million combinations of drinks: Mixology helps you to browse and search through more than 7900 drink and cocktail recipes. These are mixed and created using over 1300 diverse ingredients.
It will help you explore the nearly infinite possibilities of drinks you can concoct using these ingredients that you can use to create even your own unique cocktail recipe.
Metric and Imperial Units: Metric and Imperial (US) units can be chosen for all drink recipes with the click of one button on the "More" tab.
The Liquor cupboard: With all the types of drinks and mixes and liquor experiments you have you can enter them into the cabinet. This serves as a place for all you did so far after which you can further go and search from ore drinks to add and those that you are able to make on the other.
Random Drinks: The random drinks tab is the ultra-cool feature that gives you a casino style feel to the drink making experience. This tab has a slot machine with 3 filters.
Pull the lever on the slot machine and find and probably discover a random drink to mix.
The 3 parameters include an ingredient, a particular kind of glassware and a mixer.
The combination of the three opens whole new avenues to mix up random drinks that may whack you out completely.
The 1300+ ingredients have been broken down into 87 categories, which makes this app remarkably user-friendly to navigate.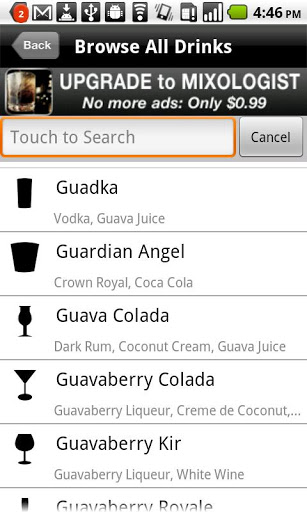 The Liquor Store Locator:  This is one of the more astounding features of this app that not a lot of cooking apps have and probably something that separates this bartending app from the rest. The Liquor Store Locator feature gives you the ability to locate stores in the nearby area. Using GPS tracking, you can locate the closest alcohol stores that are around in the vicinity. It makes use of Google maps to get these accurate locations.
Drink Recipe Categories: Recipes have categories and in the Mixology app, they are listed as follows:
Cocktails
Martinis
Shooters
Jello sots
Hot Drinks
Punches
Non-Alcoholic
Favorites
The Bartending Terminology sheet with words from the experts:  Bartending tips and tricks? It's got them all. What kind of glassware goes best with drink 'X'? Don't sweat it! Mixology's gotten that taken care of too. It gives you information on all the secret tools of the trade and terms to flaunt your bartending skills with poise and grace to your customers or friends. You can utilize a plethora of useful tricks and tips including those on how to stock your bar through the 'Bartending' tab.
Awards and Accolades: Over 8500 articles have been written on this app ranging from magazines and books and publications/sites like Mashable.com, Time Magazine, and O'Reilly Media. Furthermore, our team includes a veteran of the food and beverage industry.
Finally, you can also move the app to the SD card barring the 6MB database.
For bartenders or cocktail enthusiasts who want to serve up the coolest cocktails and keep the drunken merrymaking in high spirits throughout the night, this Android app is the perfect little companion. So what are you waiting for? Download Mixology from Google Play Store right away and stir up some delicious cocktails that will leave your tastebuds tingling.
Note: This app is compatible with Android OS 2.1 and above.