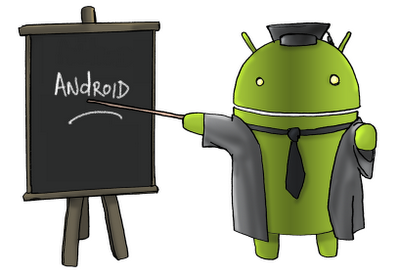 Out of all the host of unresolved problems in the education system, the biggest hurdle has been the lack of a uniform standard of teaching quality. Only elite-level college students get access to learning from the most brilliant professors and world-class library facilities. Unfortunately, the number of college students who benefit from this high standard of education is almost negligible when compared to the total number of college students in the country. Exceptional grades coupled with exorbitant fees are the only way to get admission in Ivy League colleges and live your dream of learning to its full potential. Online learning is a fantastic new medium to resolve this problem by letting you learn from the finest teachers from the best colleges, all from the comfort of your home. Enter Mobento – a free Android educational app that aims to follow this successful trend and bring a quality educational experience wherever you are.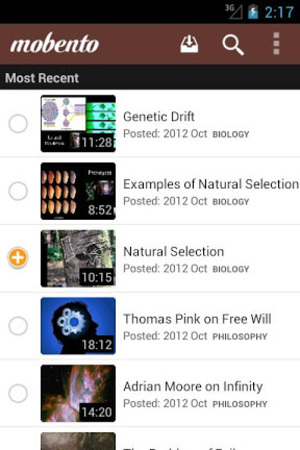 A Brief Overview
Mobento is a video learning app that curates lectures from the world's best rated universities, educational institutes, and research organizations, such as Stanford, Yale, Royal Society of Arts, NASA, Khan Academy, etc. The Mobento learning database has compiled over 680 video lectures ranging over a diverse spectrum of knowledge which includes fields like Biology, Business, Computers, Creative Thinking, Math, Robotics, Economics, and many more fascinating categories.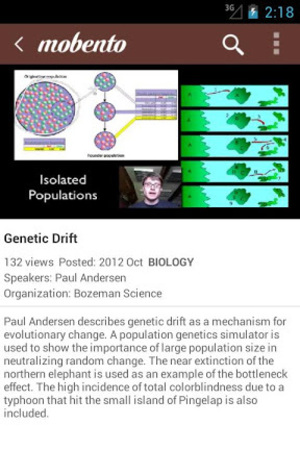 How to Use Mobento
To get started, you simply need to download and install the free Mobento app listed on Google Play Store. Using the Mobento app, you will now be able to soak in knowledge directly from the pioneers and leading innovators in the field of your interest by streaming videos to your Android device using Wi-Fi, 3G or 4G networks. Learn about the design of the Mars Rover, interesting insights on technological singularity, the feasibility of open-source economics, etc. with easy one-touch access on your Android smartphone or tablet.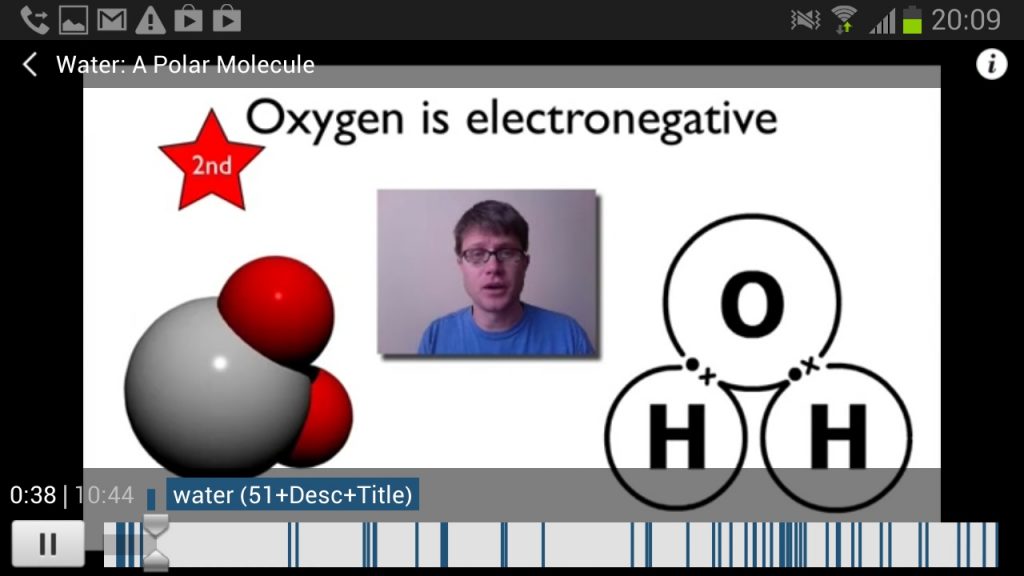 In order to efficiently navigate through its video database, Mobento makes use of an innovative and proficient spoken-word search technology to give you much more comprehensive search results based on your field of interest. Therefore, if you type the words "molecular" "biology", then Mobento will instantly compile all videos where those words were spoken and prioritize the listing of those videos according to the frequency of those spoken words in each video. It will even show you the exact moment in the video when those words were spoken so you can skip to it directly and save time.
Its user interface is easy to navigate through along with being appealing to the eyes. The 3 buttons at the top right part of the app homescreen allows you to access the search feature, main menu, and the download manager. The main menu connects your account and video library, displaying the most popular and most recent videos. Each educational category is presented as a tab displaying the number of videos related to it, which are all listed on the left part of the app homescreen. Each video is highlighted with a small screenshot, the play time, month and year along with its category. The "Save" feature lets you download any video available in the Mobento library which you can save to your Android device and view later as per your convenience.