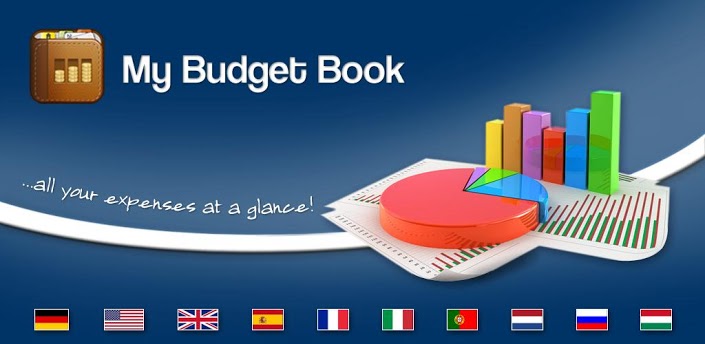 As an employed individual with a lack of expertise in the financial sector, money management may not be your strongest suits despite your level of skill in your own field. This can often lead to strings of budget and tax crises in your life that you could have avoided with some timely intervention and proper organization and tracking of your personal expenses. The more the income, the more are the expenses on various commodities and the need to allocate budgets to appropriately distribute your expenses. Keeping a track of what has been spent where is not only an unnerving task, but also incredibly time-consuming when you have to sort through bundles and bundles of paperwork trying to work out the kinks in your financial activities. Enter My Budget Book – an Android app for to help you organize all your personal expenses and much more at the touch of a button from wherever you are.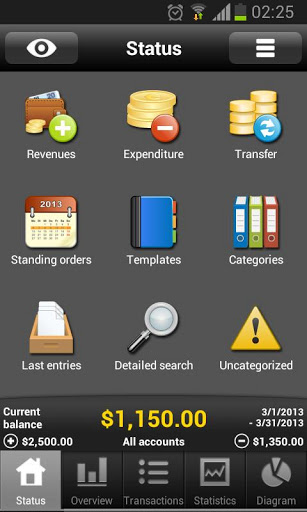 My Budget Book enables you to add your expenses at the start of the month and subsequently track every single transaction that affects your monthly balance with your inputs.
Once you download the app, it is free from the dependency on the internet and can be used independently.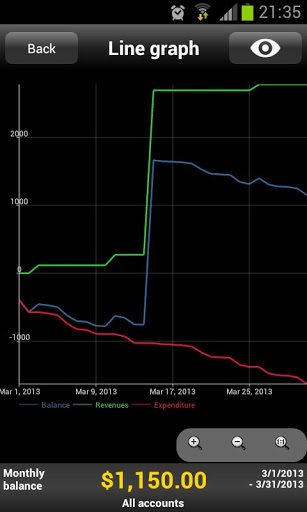 When the app opens up you can see your opening/remaining balance.
If you don't want anyone else to see these sensitive details, you could use the password protection feature of the app that secures your finances from the prying eyes of the outside world.
The Status tab of your My Budget Book app will give you the following categories:
Revenues
Standing  Orders
Last Entries
Expenditure
Templates
Detailed Search
Transfer
Categories
Uncategorised
These main parameters are the foundation of the My Budget Book app.
Another important feature is the feature of multiple accounts co-existing. You may have money coming in from multiple sources and it makes sense to organize these accordingly.
When you enter an account the main balance under "All Accounts" is a summation of all the balances and cumulatively gives you a figure. This may also be in negative depending on the total expenditure and revenue in each respective account.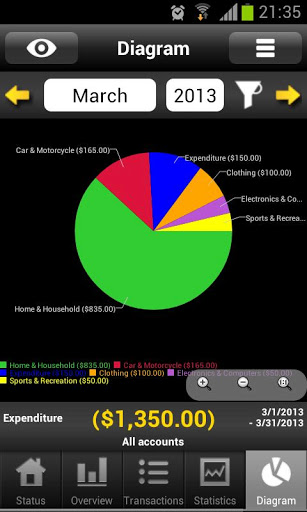 Under the Overview tab, My Budget Book consists of a daily chart of expenditures with a red light for expenses and green for revenues. This is updated daily and gives a daily bifurcation of the transactions with time as well. The total amount displayed on the left is the balance remaining.
This could be viewed months weekly and yearly as well.
The Transactions tab is like a balance sheet with every single detail.
It shows the expenses under each heading like Electricity, Gas, Rent, Insurance, Savings etc. Again the revenues are in green and the expenses in red just like in a virtual balance sheet.
The Statistics tab tells you the finances related to each heading. I.e. the amount that has come in through savings, the total expenses etc. throughout the given time period.
The diagram has a graphical representation of all your transactions in the form of charts and graphs. A pie diagram tells you how much you've spent on what. The image alongside describes how.
And finally a line graph that gives hard core statistics in the form of a line graph with different coloured lines for different headings – Balance (Blue), Expenditure (Red) and Revenue (Green).
Over and above, My Budget Book is available in over 10 languages and over 100 currencies. There is a small learning curve to this wonderful app; however, its utility is enormous.
So there you have it. Use My Budget Book for multiple bank accounts and revenue routes.  The degree of customization, data sorting and presentation is brilliantly implemented and your financial data can be backed up to Dropbox account too. This takes out the extra effort of adding spreadsheets after spreadsheets in your smart phone. Get calculating with My Budget Book and stay a step ahead of the financial game.