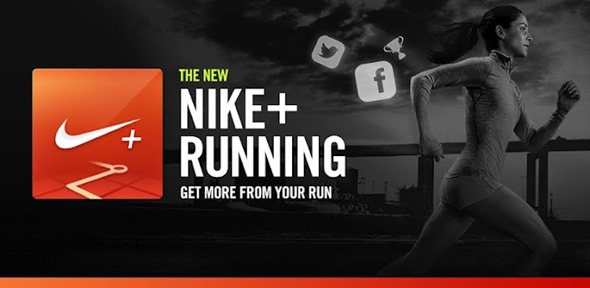 Nike is one of the world's most globally recognizable brands. Along with selling billions of dollars of sports equipment every year, Nike makes a suite of athletic apps for Android. One of its most popular apps is called Nike+ Running, which helps users track their runs, jogs, or walks.
I've been using the Nike+ Running app for the past few weeks and have found it to be incredibly useful. Here is the One Click Root review of Nike+ Running for Android:
The basics
Nike+ Running is a multi-functional app that stays active in your pocket (or backpack, wrist, whatever) as you run. It uses GPS signals to keep track of just about everything you would ever want to know about your run. Here are the most popular features included with Nike+ Running: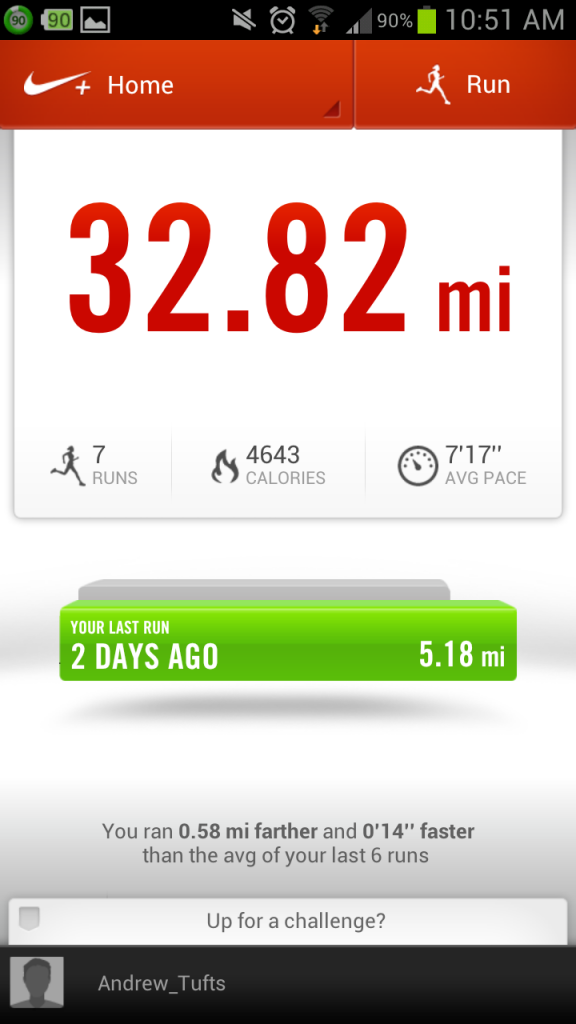 -Track runs on both trails and treadmills
-Distance recording
-Pace measurement
-Total time
-Route mapping over GPS
-Share (i.e. show off) your runs on Facebook
-Play songs while you're running and set certain 'power songs' to give you an extra boost when you need it most
-Track your improvement over time
-Unlock achievements and set new personal records
-Tag your shoes
If you need to take a break while running, Nike+ gives users the ability to pause their run to take a breather. Simply un-pause the app when you start running. When you finish your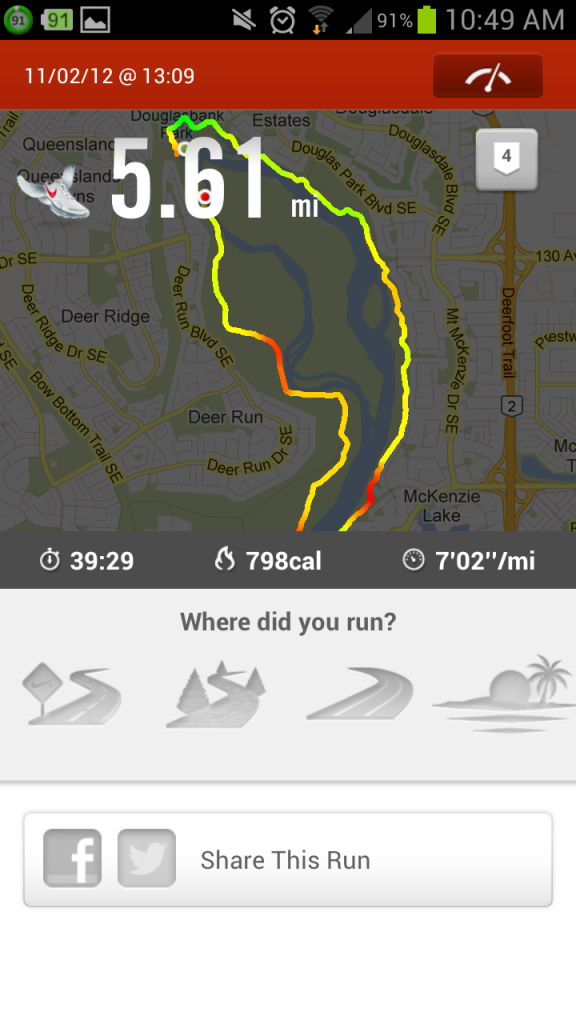 run, simply slide the 'End Run' button to the right and the app will start to calculate your achievements.
The interface is very intuitive and easy to use, and it looks particularly good on the latest model Androids.
Why it's helpful for runners
If you're the kind of person who needs motivation to work out, then the Nike+ Running app could change your life. There's nothing like finishing a run, doubling over out of breath, only to slide the 'End run' button on your Nike+ Running app and find you've smashed through several personal records.
For example, the app will notify you whenever you've run a personal best over a certain distance, like 1 mile or 5K. It will also congratulate you when you've run farther than ever before.
Additional features
As a gamer myself, having achievements and personal records to beat provided constant motivation to beat my personal times. And, watching my total mile count climb after each and every run showed that the hard work I was putting in was actually worth something.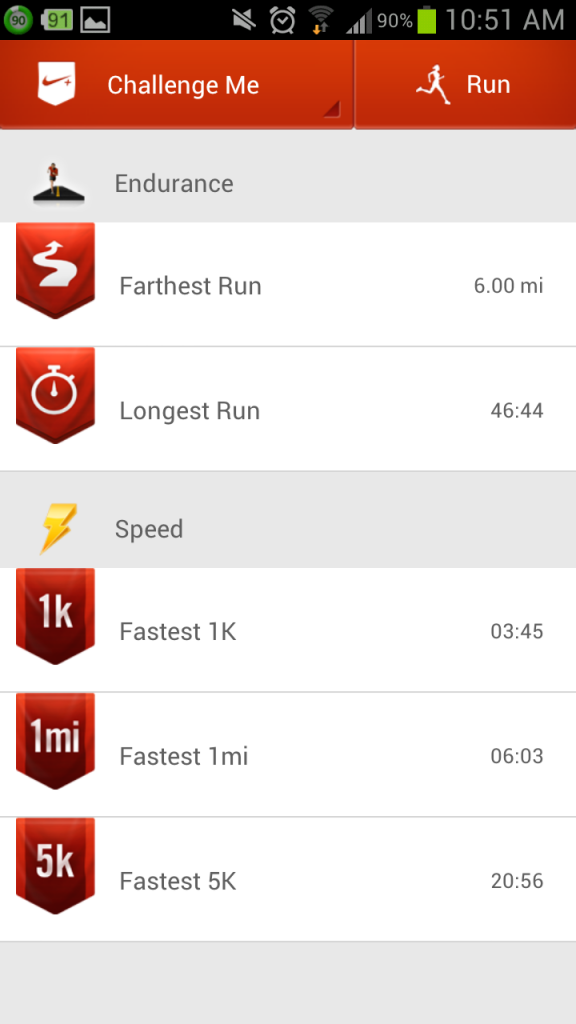 Most users of the Nike+ Running app for Android will stick to its basic functionality – GPS tracking, distance measurements, pace, etc. But the app has a wide range of other features that users may never experience:
Find hot local running routes
The Nikeplus.com website allows users to synch their app online and find popular running routes in their area. In my city – Calgary, Alberta – I didn't find any top running routes, although I could see some of the most popular running spots in town distributed by a heat map.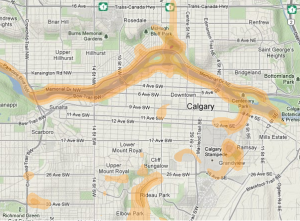 However, when looking at larger cities like Los Angele or New York, it's a totally different story. Along with heat maps on just about every popular running route in the city, the app highlights multiple 'Top Routes' along with their detailed difficulty, elevation, and distance information. There's even a leaderboards feature that lets you see how other runners are performing.
For example, a route called "The Best of Santa Monica" takes users along beaches, footbridges, and piers beside the Pacific Coast Highway: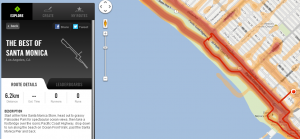 Tag your shoes and keep track of distance
At first, I thought the shoe tagging feature was dumb. I thought that it gave users a way to tag their shoe and brag about how awesome their shoes were on Facebook or Twitter. However, that's not exactly the point of shoe tagging in Nike+. Instead, shoe tagging allows you to track the mileage you've put into your shoes. So, if your shoes are starting to feel worn, you can check how far you've run in them and decide if it's time to buy a new pair. Think of it as an odometer for your shoes
Cheers from your Facebook friends
While the shoe tagging feature grew on me, I don't get the point of social media cheers. You can set the app to post to Facebook when you start your run and then receive cheers along the way as your friends comment or like your status. The Nike+ app will play cheers over your Android every time somebody likes or comments on your post.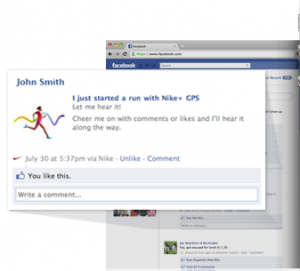 I don't know about you, but I think my Facebook friends have better things to do than give me virtual motivation during my daily workout.
Set challenges
Nike will notify you whenever you break a record. But you can also set goals for yourself over the next week, month, or day. So, if you want to run 30 miles over the next 30 days, the app will help you keep on track.
Additional Nike merchandise
If you want to get even more out of your Nike+ Running app, then Nike offers plenty of merchandise at their official site. There are sportbands, special Nike iPod Nanos, watches, and other interesting things.
Nike+ Running for Android data usage
As my fellow Canadians know, data plans aren't cheap in our country. That's why I was worried to check my data usage after a few runs. How much would I end up paying for this useful app?
Fortunately, this app uses virtually no data. From what I can tell, it uses about 0.5MB of data per run. It tracks GPS signals without actually uploading data to the internet (unless you want it to do so), which means that its real data usage is fairly small. If you want to synch with the Nike Plus website, then I'm sure it would use more data. But with its default settings, the app certainly won't inflate your phone bill.
Conclusion – is it worth it?
Sometimes, people buy expensive exercise equipment but never use it. Not only is the Nike+ Running app free, but it's something that is extremely easy to use and it motivates you to work out more than most pieces of exercise equipment.
I don't consider myself a serious runner, but this app makes me want to be. If you want to start living a healthier lifestyle, this app could give you all the motivation you need.