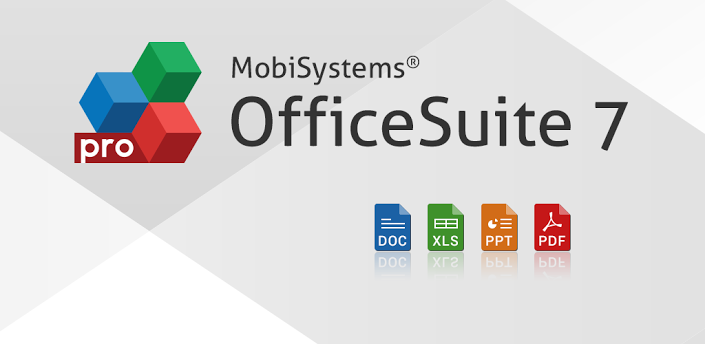 Mobile Systems released the  7th version of its corporate bestselling software OfficeSuite Pro in the form of one unbelievably handy Android app. It's an absolute must-have tool for a working professional in the corporate world. What it entails is everything Microsoft Office on our PC's have. As a person in the world of work, using office applications is a given imperative and the lack of their presence will make you feel as useful as a caveman trying to switch on a bulb by hitting two rocks together and trying to make a spark. It is also known that a good amount of professionals are constantly on the move and use their smartphones and tablets for enterprise work. Keeping these factors in mind, developers have ported the mother of all office apps onto the Android platform on a silver platter.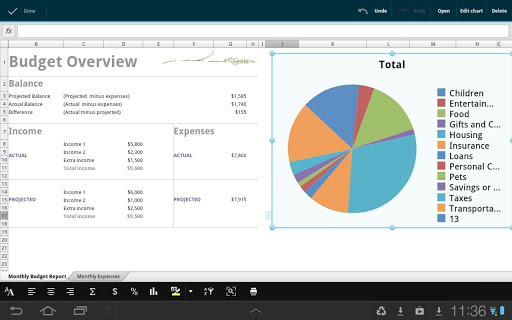 OfficeSuite Pro 7 is a replica of Word, Power point and Excel customized and configured to suit the size of your device. At the same time, it also ensures that it is easy to use and completely hassle-free. Office suite pro 7 is the latest version that has improved features and extensions and to take a look at what all this new version provides, here's a brief list.
To start off OfficeSuite Pro 7 supports a file browser that is integrated with cloud service providers like Dropbox, Sky Drive, Google drive, Sugar sync, Box etc.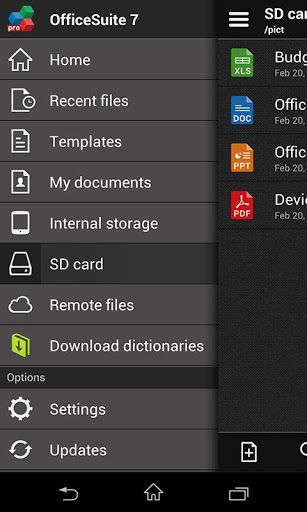 It supports files in the following formats:
Spreadsheet format: XLS, XLSX, XLSM, CSV
Text Format: DOC, DOCX, DOCM, RTF, TXT, LOG
Slides format: PPT, PPTX, PPS, PPSX, PPTM, PPSM
Other formats: – PDF, EML, ZIP
Docs Editor: Styles provided in this new version include advances MS office template styles as well as various other document styles.
A library of tailor made designs that help you to add fashion to the tables. It also has ready formulas which are available for display only.
Spreadsheet Editor: With better selection function and shortcuts along with more ease in keyboard.
Slides Editor:  Offers better animations and slide templates.  You can also import templates from other platforms.
PDF Viewing: It supports a new PDF engine viewing library from adobe which in turn opens big files instantaneously.
It also includes Find/Find Next.
Another key feature in this version is the Side bar Navigation
Templates: Office Suite Pro 7 provides an array of templates including resume and Invoice templates, Travel Planner and Weight Loss Tracker templates to name a few.
Cloud support with newer platforms: Cloud services such as Microsoft SkyDrive is now accessible through this Android app. Additionally Google Drive support has been improved, by adding folder support. This adds a whole new level of optimization when you view the files through the app.
Here's a couple of more important details concerning the Office Suite Pro app's key sharing feature:
In addition to easy File Access and Sharing through which you can easily access, modify and share your local or Cloud stored file with Google Drive, DropBox, Box, SugarSync and SkyDrive you can also just as easily open email attachments and work with Outlook EML files. You can also share documents via Email or Bluetooth.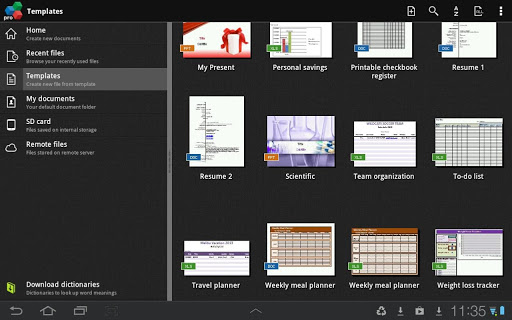 Here are some bonus extensions OfficeSuite Pro 7 provides you:
QuickSpell – a fully integrated Speller that will help you improve your typing accuracy fourfold.
Font Pack – a very special set of fonts including almost all these used in MS office and a few more.
The above features again are only a glimpse of the wide range of features contained within the Office Suite Pro Android app. It is one of the top-rated bestsellers in the corporate category and highly recommended pocket tool for every busy corporate professional on the move carrying an Android device.