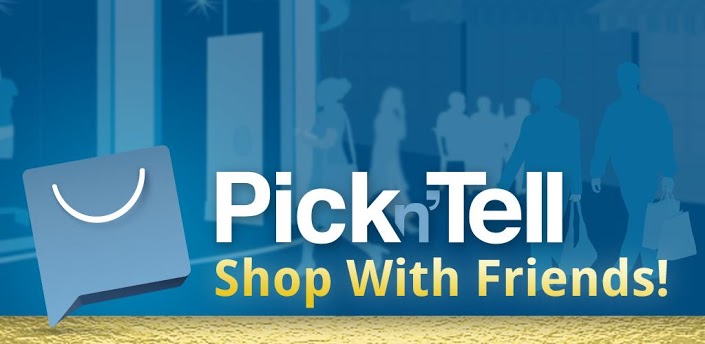 Fashion and technology are both never considered to be complete and are constantly evolving. However, when you combine the best aspects of both fields, it definitely helps take the user experience to the next level. Keeping this in mind, the Pickn'Tell app for Android is an ingenious and innovative new application for fashion shopping. It is designed to be not just a simple shopping tool, but to be your very own virtual shopping companion.
Pickn'Tell is an app that will help guide you in the right direction for all your fashion shopping needs. Everyone knows that shoppers love to get good and honest feedback on their choices before they go ahead and buy something. This is why we all love to go shopping with friends to help get a good opinion on what suits you and what doesn't. However, with increasingly busy lifestyles, you may often have to make solo trips to your favorite clothing stores. This is where Pickn'Tell steps in to bring back the social experience of shopping by letting you share your fashion choices with your friends, and getting instant feedback and advice with easy one-touch access on your smartphone or tablet. To get started with this unique shopping experience, you simply need to download the Pickn'Tell app from Google Play Store for free and you're good to go.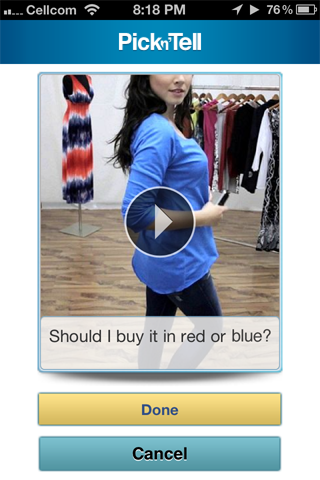 Here are some of the best features of this groundbreaking app –
Making Shopping a Social Experience
Using the Pickn'Tell Interactive Mirror device available in currently limited clothing retail outlets, you can now securely take an instant snapshot or video of you posing in different outfits without any hassles, and instantly share it with your network of friends and fashion experts via your Android device in order to get a second opinion. It happens to be the first ever fashion app to take this innovative initiative. In case the in-store interactive mirror is unavailable, users can also use the self-picture option to share their images and videos with friends. There is no need to be concerned about any privacy violations related to this feature as Pickn'Tell offers you a well-secured platform to share your images and videos with only the people you choose.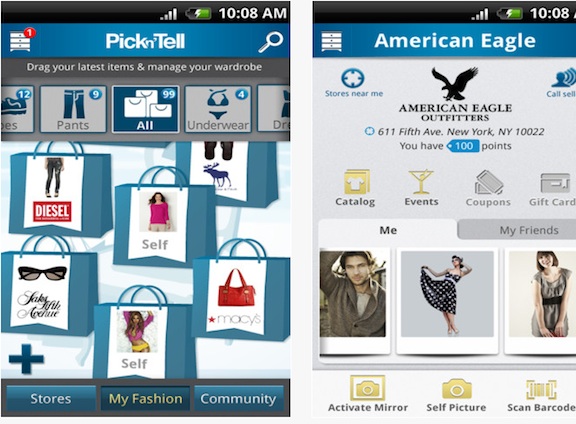 Keep Up with What's Hot and What's Not
Pickn'Tell doubles up as your all-access pass to fashion enlightenment by giving you access to a diverse and enthusiastic community of fashion bloggers, stylists and designers, who help you mold your fashion inspirations better and keep in touch with the latest trends and the hottest designs from different fashion brands. You can browse through the latest fashion brand catalogs to help make up your mind on what to get when you go shopping.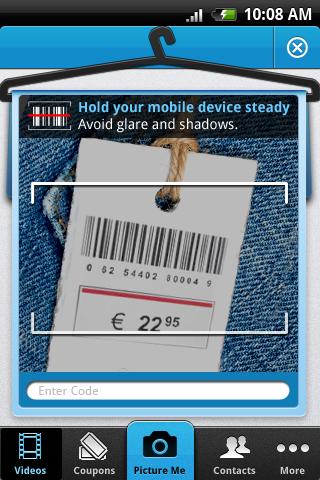 Organized Shopping
Disorganized shopping can be a major headache especially when you want to pick up more than just a couple of things for your wardrobe. Using Pickn'Tell, you can now sort your wardrobe by dragging and dropping your purchased items into their respective categories of clothing. You can also use the "Wish List" option to input any of your favorite unpurchased items which you may want to pick up later, and share it with your friends. Shoppers can also use the in-built barcode scanner feature to get additional product information and know about any relevant offers and discounts related to the scanned item.
Better Shopper-Retailer Interaction
Pickn'Tell is a multi-faceted platform that aims to maximize the synergy between fashion shoppers and retailers. Users can access Pickn'Tell via the Android app or website and view their usage history and share it with their fellow fashion enthusiast friends. The Pickn'Tell in-store device allows them to gather good consumer data and help drive traffic to their platform along with providing fashion retailers a good opportunity to exclusively promote their brands to their target customer base.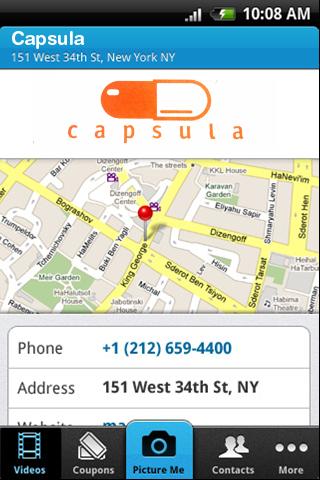 Get the Best Offers and Discounts
Pickn'Tell gives you the latest updates on great upcoming and ongoing fashion sales and events at various retail stores. Find out the best offers and schemes available by simply choosing your favorite fashion brands. Using your device's GPS functionality, it will automatically show you a map highlighting the nearest retail stores with their listed events, sales and offers for your convenience. You can also pick up some eGiftcards for the favorite brands of your friends while you shop, or even check out their Pickn'Tell wish lists and give them an even better surprise by buying their favorite items directly for them. You can even invite your friends to shop along with you by inviting them to events at your favorite fashion retail stores using the in-built person-to-person chat feature. Based on your level of activity using the Pickn'Tell app, you can also gain even more exclusive discounts and coupons from the stores you shop at.