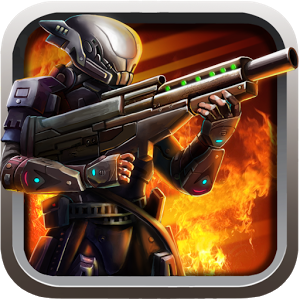 Most action arcade shooting games are based on the concept of survival. And when it comes to survival horror, Android is flooded with zombie games. For a change, gamers wouldn't mind playing around with some other character. Good news is there is plenty of fun in shooting and surviving alien attacks in this game called Alien War Survivors.
Storyline
A good and gripping story packs a punch to any game, and history has it that even the most common game concepts were revived with good storylines. Similarly, this game features an intense story which intrigues the player till the end.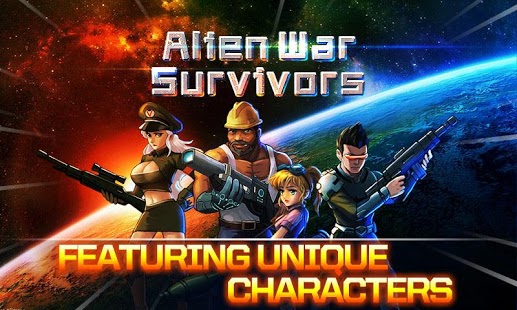 Whatever bit of civilization left on earth is on the verge of extinction, and the player takes the form of the protagonist in creating a hope for the survivors. The player needs to safeguard and salvage valuable remnants of mankind whilst fighting against the alien invasion. Every alien in sight needs to be slaughtered in order to complete a level and hence, rapid shooting is a must. Survivors of humanity must be saved from alien-invaded cities. The key to survival in this game is to keep shooting as fast as we can.
The game rationally boasts of the following features:
Action

– There is a lot of non-stop shooting action and killing and sabotaging can be actually fun.

Alien waves

– Hordes of aliens keep coming at you one after the other; there isn't much time to strategize. Shoot and have fun!

Weaponry

– The game features a huge arsenal of weapons. There are 19 devastating weapons ranging from Shotguns, Machine Guns, Rocket launchers and Sniper Rifles.

Alien types

– 14 different types of cold-blooded aliens to wipe and each has their own characteristics.

Game modes

– There are two different game modes namely Classic and Hell. I guess the name says it all!

Characters

– There are four types of characters unique to each other, with each having their own powerful skills.

Bosses

– No action game is complete without bosses. The game story has 12 merciless and evil bosses to wipe out.

Levels

– The game time is spread across 12 challenging levels and each has its own kill zones and weapons.

Gameplay
Though the game is roughly based on an old look, it is extremely refreshing to play; all thanks to the stunning additions. The graphics is attractive for a free game and the explosions and on-screen actions are mind-blowing. The gameplay engine is pretty smooth and the user interface responds well too, thus adding to the mojo. To top it, there's a role playing element in the game too – We cannot develop the characters much but selecting a particular Hero can bring in drastic changes onto the game levels. This keeps the momentum going.
Verdict
This game isn't the best out there, but it is definitely worth trying for the simple reasons – It's free and it's not about killing zombies. Besides, the game isn't that bad and it doesn't get monotonous like in the case of many other games. Go check out for yourself.