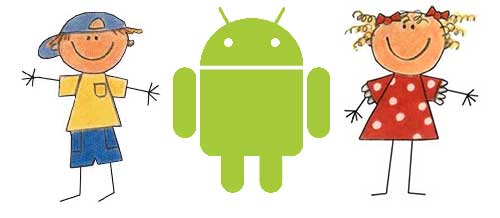 The Google Play Store offers a plethora of engaging Android applications for people of all ages. Many people hold the misconception that smartphones and tablets are just technological wonder gadgets for adults. However, there are plenty of fun and educational apps available for the use of children, and many parents can browse through many of these useful apps which can prove to be a rather useful virtual classroom and playground for your child.
Kids are compact little energetic machines powered by a turbo-boosted sense of curiosity, and exploring their environment with colors is only natural for them to do. However, they can often use your home walls and furniture as a canvas and turn it into a colorful disaster. Samo Coloring for Kids is an app that aims to focus your child's healthy artistic side onto your Android device's screen. The app's effortless and intuitive interface is designed to nurture your child's curiosity by immersing him into a rich, colorful virtual experience for a safer educational experience. Samo Coloring for Kids is already one of the most popular and well-received educational apps on the Android app market, having gained millions of downloads already.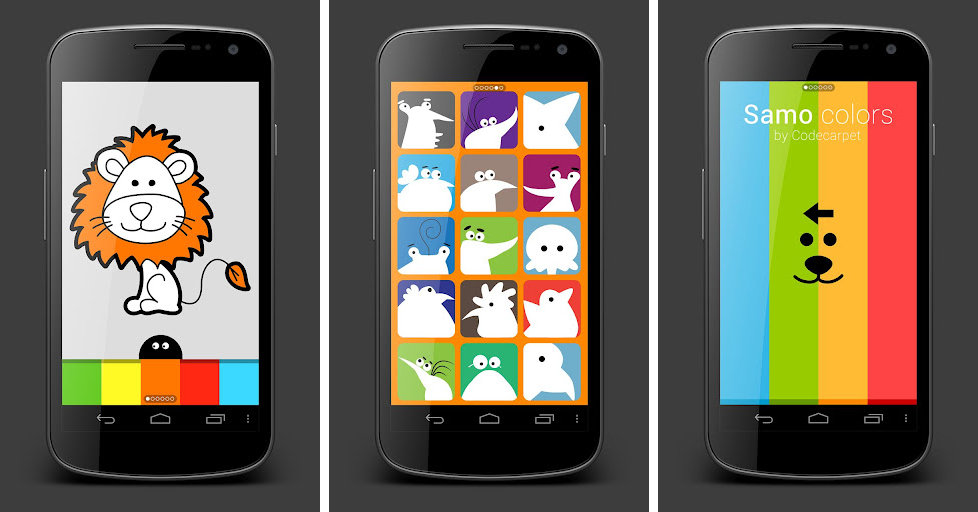 The application is best recommended for toddlers and small children. Its interface is designed keeping the educational simplicity aspect in mind and can easily be understood by the children, which helps them pick up the learning experiences faster. A common complaint by Android users is the constant flow of ads and pop-ups they receive while using an app; however, Samo Coloring for Kids provides an absolutely interference-free experience without any advertisement notifications whatsoever. It reduces the risk of your child accidentally purchasing an upgrade or a new app and above all else, allows your child to solely focus his/her creativity on the creative activity they are engaged in.
Packed with over 27 diverse professional illustrations distributed over 3 free sets, Samo Coloring for Kids offers a great platform for your child to gain educational awareness of his/her environment as a whole.
Set 1 – 6 animal illustrations
Set 2 – 9 shape illustrations
Set 3 – 10 number illustrations (from zero to nine)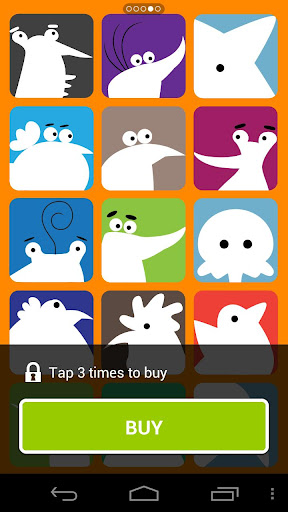 With an additional app upgrade of $2.49, you can further access 27 more illustrations distributed in 2 sets. More new illustrations are regularly being updated for the app in order to keep your child motivated and work on fun new projects. These illustrations are intended to be visually captivating and have attractive themes to get the attention of children and play to their interests.
To get started with coloring, all you need to do is first pick any one of the two available coloring modes named Fill and Draw on the app homescreen. The Fill mode allows your child to color a particular section of the drawn illustration with the color you have picked with easy one-touch access. The Draw mode allows a much more freestyle painting approach letting your child color only the areas of the drawing he/she touches with their fingers only colors the areas touched by the fingers. By simply tapping a particular portion of an illustration, your child can zoom in to it and color it more accurately and use a combination of other different colors as well.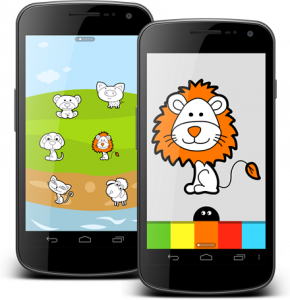 There are some Illustrations which are border-less and some with borders. With a diverse color palette including 30 different colors to choose from, there's no lack of interesting choices of color for your child to choose from. Navigating through the color palette section on the app interface is as simple as using a left or right swipe gesture and tap on the color they want to apply to the illustration. In case your child changes his/her mind or makes a mistake, they can simply undo it with a tapping motion on the area they want to change. Samo Coloring for Kids also gives you the ability to save the masterpieces of your little artist to the gallery of your Android device and treasure the moments by sharing it with your friends and family.
Samo Coloring for Kids offers a fantastic solution to nurture and enhance your child's creative nature in a highly educational fashion. Using a super user-friendly interface with big identifiable touch-sensitive areas for painting attractive illustrations, this app is a great incentive for every toddler's parent who wants to give their child a fun and constructive playground to promote their child's creativity and fine-motor skills to help them have a more self-dependent learning experience.