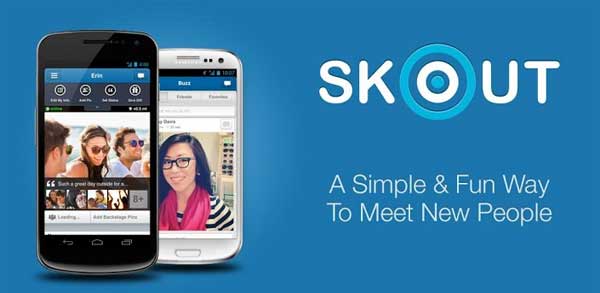 Are you looking for other singles to mingle with or just new friends to keep you company? Well then you've got to download Skout, a social networking Android app with a slight twist. This Android app essentially helps you make social connections based on your location. With the mobile device as the guide, you can discover new friends at the local bar, on the next street or even a whole continent away.
When users first download the Skout Android app, they are asked to sign up either through Facebook or their email address and then edit their profile with basic information including whether they are interested in males or females. The profile fields include age, ethnicity, height, an about me section and also your interests.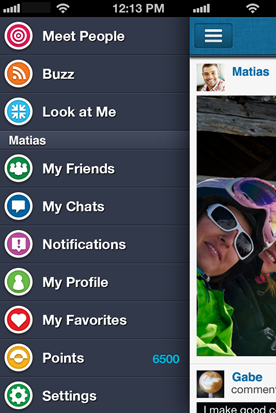 Skout's main screen shows a grid view of various people who are online at that time and you can even change that to the list format. By default the app first shows only people from the local area, however the user can narrow down the search based on gender, location, interests, age and etc. When the user taps on a certain person, he can see his entire profile, photo updates with a comment section, location and other information. Starting then the user can send winks, chat requests, exchange photos and send virtual gifts.
It is always up to the user if he wants to contact another person or respond to someone's request. Once you accept someone's request, you can get notifications whenever they come online next. Also if there is a certain "Skouter" the user does not like then he can report them or block them.
If the user clicks on the button the left of the app, a variety of options are displayed to browse the network. Like "shake to chat" starts a conversation with a random and anonymous person and reveals both the profiles after 40 seconds. A bidding game called "Look at me" lets users bid their points, acquired by inviting friends on Facebook or downloading and installing suggested apps, to attain a higher spot and greater visibility.
Also the "Buzz" feature shows a social feed of local people, friends and favorites. A "Wink bomb" feature lets the user send multiple winks in a single attempt and gain attention. The main menu lets the user see the latest updates, notifications, edit profile and check out the Skout blog.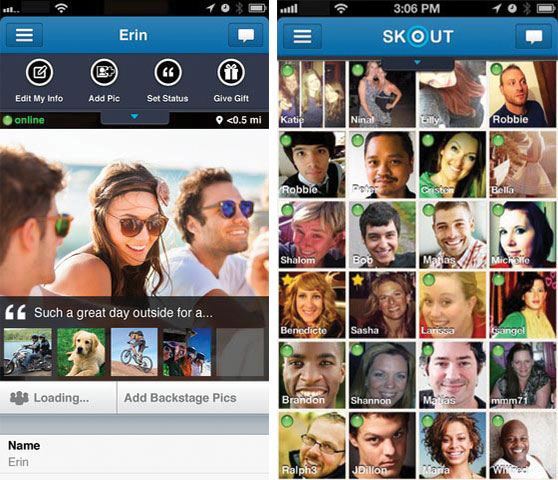 The only drawback in this otherwise free app is that the user needs points to unlock certain features. For e.g.: there is a feature that lets the user find out who checked his profile however the user requires 150 points to unlock it, and the app only starts off who 50 points.
Skout isn't exactly a dating app, but it is more suited to people looking for uncomplicated hook ups or friends along the way.  You get to meet people from around the world or your local neighborhood, which is exactly what a fun and exciting social like is supposed to be.  You can start a conversation with a random person and just drop out of it if things are not working. It is a global network for meeting new people and the singles out there must give it a shot. As they say, start skouting and meet people anytime, anywhere. Download it for free from Google Play Store right away!